Omara Portuondo & Orquesta Buena Vista Social Club - UK Tour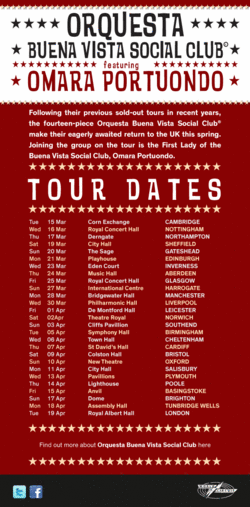 World Circuit have just announced the forthcoming UK tour of Cuban legend Omara Portuondo with the Orquesta Buena Vista Social Club - to hit British shores next week on March 15th!
Omara, often referred to as the 'First Lady' of the Buena Vista, is the last of the original singers to be still performing. Other famous names and longstanding members within the Orquesta are trumpeter Francisco 'El Guajiro' Mirabal, laud virtuoso Barbarito Torres, ex-Zafiros guitarist Manuel Galbán and trombonist and MD for the BVSC, Aguaje Ramos.
The tour starts on March 15th at Cambridge Corn Exchange and takes in 27 dates in all, ending up at the Royal Albert Hall in London on Tues 19th April.
For more details go to:
or see our What's On section