Orchestre Poly-Rythmo de Cotonou - Vol 3 - The Skeletal Essences of Afro Funk (CD Review)
Tagged with: Orchestre Poly-Rythmo Cotonou Analog Africa Vol 3 Skeletal Essences of Afro Funk Vodoun Benin Africa Afro Funk Afrobeat Jerk Fon Melome Clement Leopold Yehouessi Gustave Bentho World Music WorldMusic.co.uk Glyn Phillips Review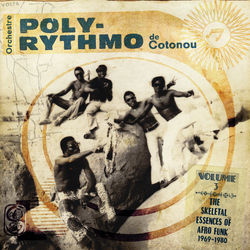 Once again, record label Analog Africa, go back to Benin to lift the lid on another volume of old afro funk from the great Orchestre Poly-Rythmo de Cotonou (the so-called "DNA of Vodou Groove").
"laying down grooves to die for"
With a mixture of rhythms ranging from Jerk Fon, Pop Fon, Cavacha Fon and Jerk Sakpata to Vodoun, Sato, Afrobeat, Bossa and Pachanga, Volume 3 ("The Skeletal Essences of Afro Funk") maintains the unique blend of funk and Beninese beats highlighted on Vols 1 and 2: "The Vodun Effect" and "Echos Hypnotiques".
What's really worthy of note though is the combination of bassist Gustave Bentho and drummer Leopold Yehouessi laying down grooves to die for! Check the main line express train groove of Vincent Ahehehinnou's "Adjiro Mi", or the full-fat 'jerk fon' phonk of Melome Clement's "Akoue We Gni Gan".
Another Melome Clement 'sato' track "N'Goua" is hardly more than a riddim yet it drops with such an unstoppable force, that your body and soul are forced into a trance-like state. Late night dance track to slip into, put everything on automatic and let the music tell you what to do.
Lohento Eskill's pachanga "Vi E Lo" instantly takes you back to Orchestre Baobab's "Utru Horas" in feel (although melodically it's more like "El Carretero" or "Vamos Pa'l Monte"): slow, stately, inevitable, with that peculiarly thick viscous West African sax sound behind and a twanging electric guitar to the fore.
Honore Avolonto's "Akue We Non Houme" is a slice of psychedelic 'jerk fon' with RnB organ, vibrant call-and-response vocals and a hazy yet fabulous bass line in the background dancing its funky ass off.
"gets under your skin and turns your spine to mush"
Much feted singer Lohento Askill (who was also well-known as a salsero in Benin) contributes another couple of tracks both of which have their own special feel.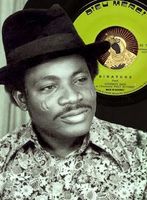 "Ecoutes Ma Melodie" is a French language, Bossa Afro which just gets under your skin and turns your spine to mush - lovely! The b-line is divine! The rippling guitar and organ, the unstoppable hi-hats and rimshots, the rhythm guitar skanks and the backing choir of saxes: there's not a note out of place.
It might be 40 years old or so, but it's a very contemporary sound at the same time. Classical music in the best sense of the word.
His other offering closes the whole album: "Min We Tun So" is a very slow, lyrical, romantic song with sparse lyrics and tasty lead guitar over a gloriously sonorous bass drum, rattly snare and sizzling ride, simple bass and rhythm guitar.
So many good tracks: Yehouessi's "Houzou Houzou Wa" has all the swag and authenticity of any American funk drop; Bernard Zoudegnon's "Karateka" is a hypnotic 6/8 with lovely use of dynamics on the loping snare, shimmering, buzzing, rattling, 'on-the-point-of-distortion' guitars and a swing that insists you rock back and forth on the chair - try it and see how long you can resist!
"yet another Beninese jewel"
The more you listen to these tracks the more the subtle interplays of rhythms reveal themselves. Check out Gustave Bentho's "Houton Kan Do Go Me" for instance. Firstly the organ pushing and pulling underneath the metronomic snare, then the bass line pullulating behind that and the sound of what I think is a shekere being played with the fingerstips driving even the drummer along. Add the rhythm guitar, lead and vocals and you got yourself yet another Beninese jewel.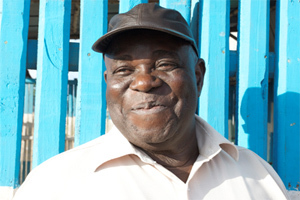 There's 14 tracks in all so plenty to choose from. Melome Clement who formed the band sadly passed away from a heart attack recently (17 Dec 2012), but the music lives on . . .
Orchestre Poly-Rythmo de Cotonou's "Vol 3: The Skeletal Essences of Afro Funk" is due to be released on 29th April 2013 by Samy Ben Redjeb's Analog Africa label.
Available as either CD with 44 page booklet (AACD 073), or as a Double LP Gatefold (AALP 073), or as a Digital Download. CD distributed by Proper Records; Vinyl by F-Minor.
You can hear two tracks from the album here on Soundcloud:
https://soundcloud.com/analog-africa/ecoutes-ma-melodie-orchestre
https://soundcloud.com/analog-africa/a-oo-ida
As well as catch "Houzou Houzou Wa" on YouTube:
Analog Africa on Facebook:
http://www.facebook.com/AnalogAfrica
Analog Africa blog:
http://analogafrica.blogspot.com/
Glyn Phillips (WorldMusic.co.uk) - 7 April 2013