ORIENT NOIR - A West-Eastern Divan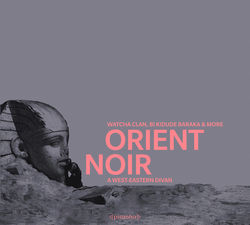 Piranha Muzik have just announced that they are to release the compilation album "Orient Noir - a West-Eastern Divan" (CD-PIR2545) on 17 September 2012.
"tender oriental rhythms and mesmerising melodies"
"Orient Noir" presents a collection of tender oriental rhythms and mesmerising melodies, tastefully selected by the renowned music curator and collector Dr. Bertram Nickolay.
Elegant Arabic-oriental traditions meet the rich heritage of Jewish-oriental music and create an east-west divan of 14 outstanding musical pieces.

Orient Noir leads the listener on a magic carpet ride over a colourful landscape of oriental culture that, even today, seems different and unexplored to us. The west and south coasts of the Mediterranean sea are connected by ancient bonds - maybe this is the reason why the sound of the Orient touches the Western world so deeply.

The musical kaleidoscope gives cultural insight into a region that has recently experienced a revolutionary awakening into a new era. Starting from the North African Maghreb via the Near and Middle East, the music enchants the listener with lively examples of how, much more than in Western culture, music is still deeply rooted in oriental culture and keeps flourishing at celebrations like weddings and religious festivities alike.

Orient Noir features a variety of Nubian wedding dances, Turkish-Sephardic chants and Oriental dance music from Lebanon, as well as typical patterns of popular music like North African Chaabi music and electronic instruments finding their way into today's oriental music.

Watcha Clan (Marseille, France) renew Ofra Haza's old Yemenite hymn and world pop-hit "Im Nin'Alu". Bi Kidude Baraka, the Zanzibari Taarab singer who has just announced her retirement from live performances, sings the melancholic Taarab classic "Pakistani" from Eastern Africa's shore to the Indian Ocean.
Also included are from Beirut, Lebanon Ihsan Al-Mounzer; from Cairo, Egypt Mahmoud Fadl, Salwa Abou Greisha and Samy El Bably; from Jerusalem Ruth Yaakov; from New York City Frank London and Susan Sandler; from Oran and Marseille Maurice El Médioni; from Rabat and Ashkalon Emil Zrihan; and from Vladicin Han, Serbia Boban i Marko Marković. The bonus title features Efendi's Garden's oriental Krautrock rarity from the 70s.

Album website:
http://lnk.piranha.de/orient_noir

Videos:
Watcha Clan - "Im Nin' Alu" (live): http://youtu.be/Kb2SJwTo2-o
Maurice El Médioni - live on French TV: http://youtu.be/Dm-aK3rYUOY
Bi Kidude Baraka - "Pakistani" live: http://youtu.be/USZoFYn53c8

Track-listing (CD):
1. Im Nin' Alu Intro (Watcha Clan)
2. We Daret El Ayam (Salwa Abou Geisha)
3. Doin' The Oriental (Frank London & Boban Marković)
4. Pakistani (Bi Kidude Baraka)
5. Shalom Aleykhem (Susan Sandler)
6. The 2nd Night In Mohamed'Ali Street (Mahmoud Fadl)
7. Las Esuegras De Angora (Ruth Yaakov)
8. Maka Shelishit (Emil Zrihan)
9. Ali's Nay (Ihsan Al-Mounzer)
10. Ya Maalem-Kelbi Razahi (Maurice El Médioni)
11. Ana Bamasi (Samy El Bably)
12. Im Nin' Alu (Watcha Clan)
13. I Ain't Afraid (The Klezmatics)
Bonus track:
14 The Garden (Efendi's Garden)