Philip Henry & Hannah Martin - Best Duo Award (Spiral Awards)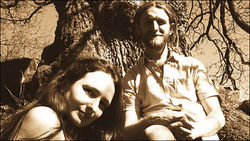 In the world of folk music, the fast-rising Devon musicians and singer songwriters Phillip Henry & Hannah Martin have clinched the Best Duo title in the 2013 Spiral Earth Awards.

The Exeter pair won the award today after a public vote just months after winning the Best Folk Act title in the South West Music Awards. It was a close-run contest with fellow young duo Katriona Gilmore and Jamie Roberts while others short listed in the category were Kathryn Roberts and Sean Lakeman(also from Devon) and O'Hooley and Tidow.

Last year the highly inventive duo supported one of the acoustic world's best known acts, West Country duo Show of Hands (Steve Knightley and Phil Beer) at the Royal Albert Hall and they have enjoyed airplay on BBC Radio 2's Bob Harris and Mike Harding shows and Radio 3's Late Junction.

"I was completely knocked out by this duo" - Mike Harding, BBC Radio 2
"Authentic, haunting roots music from a first class duo" - Seth Lakeman
"Phillip Henry is one of the most extraordinary musicians around- their sound is textured, hypnotic and utterly captivating" - Steve Knightley, Show of Hands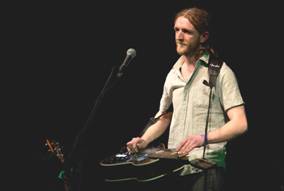 Henry and Martin are one of the most inventive, captivating and sought-after rising acts on the roots scene and Henry is widely regarded as one of the best slide guitarists in the UK. They were 'discovered' by Show of Hands frontman Steve Knightley who first encountered the duo busking on the seafront during Devon's Sidmouth Folk Week. He describes their sound as "textured, hypnotic and utterly captivating".
Certainly it's a sound like no other - mesmerising and other-worldly it is drawn from a wellspring of English folk music, Indian classical melodies, gospel and American blues, interwoven into something truly unique and underpinned by the pair's subtle chemistry.

"The sweet strains rising from Phillip Henry's slide guitar conjure up visions of classical India, palaces and peacocks; then Hannah Martin's clear dulcet voice and delicate banjo strum kick in bringing folky English tones into play; before long Phil will throw in a blast of his trademark harmonica beatboxing, bringing the mix crashing into the 21st century" – Western Morning News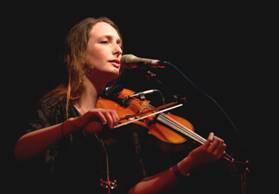 Henry, who studied in Calcutta with India's premier slide guitarist Debashish Bhattacharya, is also a virtuoso on the harmonica and injects show-stopping beatbox harmonica into some numbers whilst singer-songwriter Hannah is a skilled fiddler and banjo player with a real lightness of touch, a haunting voice and a knack for tapping traditional music veins to create contemporary songs.

See Phil and Hannah perform "The Boy Who Wouldn't Hoe Corn" http://www.youtube.com/watch?v=e0gbZylhi0g

The duo have supported the likes of fellow West Country folk roots luminaries Seth Lakeman, Show of Hands, Cara Dillon and Steve Knightley (solo UK tour) and played key festivals from Glastonbury to Sidmouth.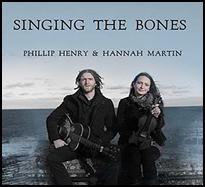 Their wistful debut album "Singing the Bones", released in 2011, garnered praise from the likes of Radio 2's Mike Harding and Radio 3's Fiona Talkington (Late Junction).

In September the duo will release their second studio album, entitled "Mynd", which will focus on music deeply rooted in the landscapes and history of England, particularly their native south-west. It will also include a haunting Hannah Martin penned song "Last Broadcast" about the late American-born Sunday Times journalist Marie Colvin, who lost her life in Syria last year.

Phil and Hannah are currently on tour – dates follow:

15/03
The Live Room
Saltaire, nr. Bradford
www.theliveroom.info

16/03
The Verge, The Old Thirteenth Cheshire Astley Volunteer Rifleman Corps Inn, 48-50 Astley Street
Stalybridge Cheshire SK15 2EX
www.the-verge.co.uk/

17/03
Folk On The Moor
Lee Mill, nr. Plymouth
www.moorfolk.co.uk/

19/03
Bradninch Folk Club
Bradninch, Devon

23/03
Under The Edge Arts
Wotton Under Edge
www.utea.org.uk/

24/03
The American Museum
Bath
www.americanmuseum.org/

Phil solo
28/03
Sunray Folk Club
Broadmayne, Dorset
www.sunrayfolkclub.co.uk/

1/05
The Cellars at Eastney
Cromwell Road, Portsmouth PO4 9PN
023 9282 6249
07746 062033
www.thecellars.co.uk/

02/05
Church of St Thomas the Martyr
Winchelsea, East Sussex
01797 225 333
www.wegottickets.com/Winchelsea

03/05
Tom Thumb Theatre
Margate
www.tomthumbtheatre.co.uk/
www.firstfridayfolk.wordpress.com

04/05
Upstairs at The Lamb
Eastbourne
01323 841414
thelambtheatre.co.uk/

05/05
TwickFolk
London
www.twickfolk.co.uk/

08/05
The Red Lion Folk Club
Kings Heath, Birmingham
0121 472 4253
www.redlionfolkclub.com/

13/05
Colchester Folk Club
Colchester, Essex
01206 500900
www.colchesterartscentre.com/

15/05
Ely Folk Club, The Lamb
Ely
01353 740999
01353 664706
www.elyfolkclub.co.uk/

16/05
Low Bradfield Village Hall
nr. Sheffield
07817 370 422

17/05
Northwich Folk Club
Northwich, Cheshire
www.northwichfolk.co.uk/
24/05
Passage House
Kingsteignton, Devon
07989 180091

www.philliphenryandhannahmartin.co.uk