Pilgrims' Way live session on World on 3 (Jan 27)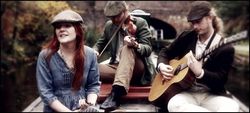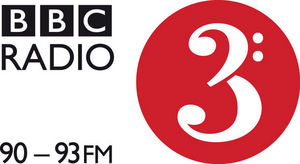 Multi-award nominees Pilgrims' Way will be "live" in session on BBC Radio 3's World on 3, on Friday January 27th, performing several songs and being interviewed by presenter Lopa Kothari.
The band have also just released their first video, featuring one of the most airplayed tracks from their acclaimed debut album.
The Manchester-based trio of Lucy Wright, Tom Kitching and Edwin Beasant, nominated for the Horizon Award (Best Emerging Act) at the 2012 BBC Radio 2 Folk Awards in February, feature in a video of The Handweaver and The Factory Maid, filmed by Cristian Barnett and viewable at www.youtube.com/watch?v=Sq0Xogvr2FQ&feature=youtu.be
Filmed on the Ashton Canal, which runs between Manchester and Ashton-under-Lyne, the musicians are seen on the ex-Ellesmere Port tar boat "Spey" in which Kitching and Beasant have shares. Stockport's famous Lowry-inspiring viaduct, as seen on the Wayside Courtesies album cover, also features and the boat drifts past derelict mills. The film features Kitching on fiddle, Beasant on guitar and Wright on vocals and Jew's harp.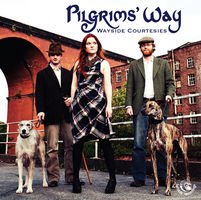 The Pilgrims' version of the traditional The Handweaver and the Factory Maid will also appear on the new 2012 BBC Radio 2 Folk Awards triple compilation album which features numbers by all nominees as well as the BBC Young Folk Award semi-finalists
Described as "the most comprehensive collection of the current favourite, rising and, as yet, unsung stars of the folk world" it is released by Proper Music on February 6.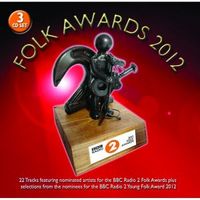 The BBC Folk Awards will be held at Manchester's Lowry Theatre on February 8 and for the first time will be broadcast live on BBC Radio 2 and on BBC tv's Red Button service.
The night before the awards Pilgrims' Way head to the south coast to support June Tabor and Oysterband in the Britfolk Footprint show at Chichester's famous Festival Theatre in Sussex (left). Tickets: (01243) 781312

The band have also been short-listed for the "Best Debut" title in the 2012 Spiral Awards run by popular music website Spiral Earth www.spiralearth.co.uk . The Spiral Awards celebrate folk and roots-grounded music and feature 10 different categories which are open to public voting until March 15.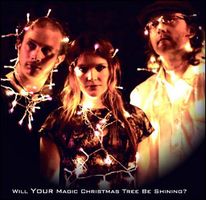 An EP - Shining Gently All Around - released just before Christmas - offers a sneak preview of two tracks destined for their next album, due out later this year. With the upbeat Light Dragoon and Howden Town (aka The White Hare) they demonstrate their trademark brisk and buoyant treatments of English folk songs – feisty, feelgood arrangements full of verve and vigour.

Brimming over with vitality, few bands have made such an instant impact on the acoustic scene as Pilgrims' Way with a mix of material ranging from "devil may care" tunes to poignant ballads and original compositions.
www.myspace.com/pilgrimswaymusic

PILGRIMS' WAY 2012 GIGS AND FESTIVALS
January 26: Topic Folk Club, Bradford
January 27:Bollington Folk Club
February 7: Chichester Festival Theatre, Sussex BRITFOLK FOOTPRINT (supporting June Tabor & Oysterband)
February 12: Abbots Langley Community Centre, Herts
February 17: Bromley Cross Folk Club
Feb 19 Frome Folk Festival, Somerset
Feb 24: Grove Folk Club, Leeds
Feb 25: Ashover Parish Hall
March 2 Black Diamond Folk Club, Aston, Birmingham
March 3: Newhampton Folk Club, Wolverhampton
April 13: Guildford Folk Club, Surrey
April 17: Winchester Folk Club
April 18: Llantrisant Folk Club
April 21: Square and Compass, Worth Matravers
April 22: Halfpenny Folk Club, Llanrhidian
May 5: Haddenham Ceilidhs Concert Room, Haddenham
May 6: Green Note Café, Camden, London
May 7: The Bell, Bath
May 9: Carrington Triangle Folk Club, Nottingham
May 12: Bollington Arts Centre
May 19: Doncaster Folk Festival
June 2: Chester Folk Festival
July 4: Biddulph Up in Arms (with Gren Bartley)
July 15: Ely Folk Festival
July 21: High Lane Folk & Boat Festival, Stockport
August 27: Towersey Folk Festival
September 8/9: Bromyard Folk Fest8ival
Oct 3: Spalding Folk Club
Oct 4: The Musician, Leicester
Oct 5: Norwich Folk Club
Oct 6: Derby Folk Festival
Oct 7: Twickfolk- The Cabbage Patch, Twickenham
Oct 26: Bury Met-English Weekend
Nov 1: St Andrew's in the Square, Glasgow
Nov 4: Wee Folk Club, The Royal Oak, Edinburgh
Nov 28: Dorking Folk Club
Nov 29: Stortfolk!, Bishop's Stortford
Nov 30: Everyman Club, Saxmundham
2012 BBC Radio 2 Folk Awards Nominee: The Horizon Award (Most Promising Emerging Act)
Best Debut - Spiral Awards 2012

WINNER: "Tradition" Award – 2011 FATEA Music Awards