Pinetop Perkins, Delta Boogie maestro dies aged 97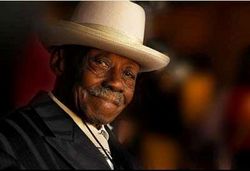 Boogie-woogie pianist Pinetop Perkins, probably one of the last surviving members of the first generation of Delta bluesmen, died on Monday at his home in Austin, Texas. He was 97. The death was announced by Hugh Southard, his agent for the last 15 years.
Pinetop was best known recently from working in Muddy Waters's last great band (replacing Otis Spann); however, in his amazing career he also worked with slide guitarist Robert Nighthawk and more recently pursued a solo career over the last 20 years, which was prolific right through the ninth and tenth decades of his life - a lifetime's fondness for cigarettes and alcohol notwithstanding (by his own account he began smoking at age 9 and didn't quit drinking until he was 82!).
For most of his career, PInetop was a sideman and did not release an album under his own name until his 75th year. From then until his death he made more than a dozen records on which he was the leader. His 2008 album,"Pinetop Perkins & Friends" (Telarc), included contributions from admirers like B. B. King and Eric Clapton. His last album, released in 2010, was "Joined at the Hip" (Telarc), a collaboration with the harmonica player Willie Big Eyes Smith.
His resilience and self-reliance came from being a child growing up on a plantation in Honey Island, Mississippi, in the years leading up to the Great Depression.
Joe Willie Perkins was born on July 7, 1913, in Belzoni, Mississippi. He dropped out of school after the third grade and taught himself the rudiments of blues guitar on a homemade instrument called a 'diddley bow': a length of wire stretched between nails driven into a wall. He began entertaining at dances and house parties at age 10 and soon learned to play the piano as well.
In a 2008 interview with No Depression, the American roots music magazine he stated "I grew up hard; I picked cotton and plowed with the mule and fixed the cars and played with the guitar and the piano. What I learned I learned on my own, I didn't have much school. Three years."
Originally a guitarist, Pinetop concentrated exclusively on the piano until 1943, when a dancer at a juke joint attacked him with a knife, severing the tendons in his left arm. The injury left him unable to hold a guitar or manage its fretboard.
In 1943 Pinetop moved to Helena, Arkansas, to work with Nighthawk. He later joined Sonny Boy Williamson's King Biscuit Boys, before moving on to the band of the slide guitarist Earl Hooker. He also appeared on the recordings that Nighthawk made for the Chess label and that Hooker made for Sun in the 1950s. It was for Sun, in 1953, that he cut his first version of "Pinetop's Boogie Woogie," the song that furnished him with his nickname and became his signature number. He appropriated the tune from the repertory of the barrelhouse piano player Clarence Smith, who was also known as 'Pinetop'.
Pinetop Perkins has also been credited with teaching Ike Turner how to play the piano.
Whilst living in Chicago in 1968 Earl Hooker enlisted him to appear on an album he was making for Arhoolie Records. The following year pianist Otis Spann left Muddy Waters's band and Pinetop was recruited to replace him.
"I played more of a bluesy type than Spann did. I taught myself off records, Memphis Slim, them old piano players, then added to it. Yeah, hard and loud, beat it to pieces."
Pinetop worked for Waters for more than a decade, appearing on his acclaimed comeback albums of the late '70s and performing with him at, among other shows, the Band's celebrated final concert in 1976. Perkins and other members of the Waters group left and formed the Legendary Blues Band in 1980 where he sang and played piano before leaving, in the late '80s, to concentrate on his solo career.
He was gained a Lifetime Achievement Grammy Award in 2005 and won another Grammy in 2008 for the album "Last of the Great Mississippi Delta Bluesmen: Live in Dallas" (Blue Shoe Project), a collaboration with his contemporaries Henry Townsend, Robert Lockwood Jr. and Honeyboy Edwards. A documentary about Pinetop's life was released in 2007, entitled "Born in the Honey."