Rail Band - "Belle Epoque – Vol 3: Dioba"
Tagged with: Rail Band Super Rail Band Dakar Senegal Sterns Africa Dioba Belle Epoque Salif Keita Mory Kante Sekou Kouyate Lanfia Diabate Makan Ganessy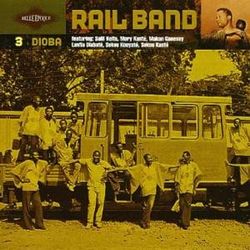 This is just the best, a classic band with 19 tracks spread over two CDs. This as the title suggests is the third part of a story covering 1970 to 1983.
All I really need to say is this is the band that first brought us the talents that are Salif Keita, Mory Kante, Sekou Kouyate, Lanfia Diabate and Makan Ganessy.
Listen to them here & revel in divine, pure music. (Graham Radley)
(Sterns Africa STCD3043-44)