Rhythmtree Festival announce Special Ferry & Festival Ticket Deal
Isle of Wight's Rhythmtree Festival (rescheduled to 24 - 26 Aug 2012), have just announced a special deal on combined Festival and Ferry Crossing tickets.
This special combined price is only available via the Red Funnel ferry company and will be much cheaper than paying for the ferry separately. It also guarantees low cost festival ticket booking fees when bought with ferry booking on the Red funnel website.
To take advantage of this unbeatable offer go to the Rhythmtree Ferry Booking Page:
www.rhythmtree.info/ferry.html
The Rhythmtree Festival have so far announced the following world music acts to be appearing at the Festival (which takes place over the August Bank Holiday weekend):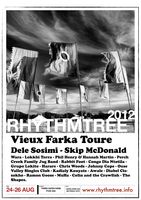 Vieux Farka Toure
Dele Sosimi
Skip McDonald
Wara
Lokkhi Terra
Phil Henry & Hanna Martin
Perch Creek Family Jug Band
Rabbit Foot
Congo Dia Ntotila
Grupo Lokito
Harare
Chris Woods
Johnny Cope
Ouse Valley Singles Club
Kadialy Kouyate
Awale
Diabel Cissoko
Ramon Goose
Muha
Colin and the Crawfish
The Shapes
Check out the Rhythmtree Festival site for more details: http://www.rhythmtree.info and like their Facebook page too: www.facebook.com/rhythmtree