Romany Diamonds, HOME Festival, Dartington (23/6/12)
Tagged with: Romany Diamonds Ricardo Czureja Benjamin Poland Roma Gipsy Gypsy Romany violin accordion Ciocarlia Chaje Shukarije HOME Festival world music review Glyn Phillips world music.co.uk roots folk acoustic Dartington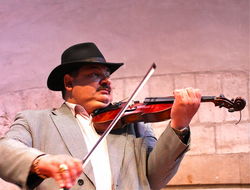 Poland's Romany Diamonds are (currently) a five-piece gypsy band based in the UK. I was fortunate enough to see them last year at a balkan event and was impressed by their virtuosity. So I was looking forward to seeing them again. I was not to be disappointed.
"breakneck speed and with incredible skill"
The concert was musically excellent, with founder member Ricardo Czureja (who looks like a gipsy version of Obelix!) on violin driving the music on from the front - often at breakneck speed and with incredible skill.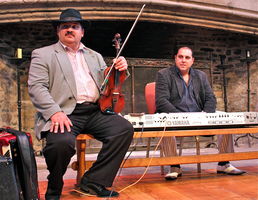 But some things could have been done better: the two guitarists were playing entirely acoustically, but the the violin and vocals and two rather incongruous Yamaha organ keyboards were all miked up and so much louder than the rest that the guitars were entirely inaudible! What a great pity! The imbalance was to last the entire concert.
Also the decision by the band not to announce any of their 18 tunes was a disappointment. The music was undeniably of a very high quality, but audiences like to be spoken to and feel a connection to the artists. Still, the Romany Diamonds were very playful and there was a lot of humour displayed throughout.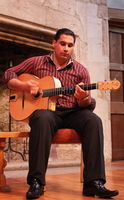 Music included the gipsy classics Dark Eyes (aka Black Eyes, Les Yeux Noir, Ochi Chorniye, etc), Ciocarlia (aka The Skylark), Chaje Shukarije (performed as a rumba), as well as Paganini's 24th Caprice (known to most British people as the theme from the South Bank Show).
There were also musical forms such as czardas, lush bossas, romantic Russian ballads, songs sung in Polish and Roma.
There was even a wonderful version of Kris Kristofferson's 1970 Country and Western classic "Help Me Make It Through The Night"! Yep, you can't say you don't get variety with these guys.
As stated before, I can't really comment on the guitarists since I couldn't hear them and the keyboards were used more to hold together the melodies. But the vocals were fabulous.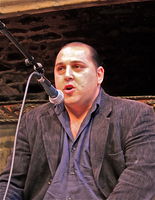 The main keyboardist sang the second number which was slow, yearning and mournful and we were treated us to his incredibly rich voice. Quite beautiful; the rather naughty Ricardo, however, chose to end the tune by blowing a raspberry . . . Quite funny though!
Ricardo himself took the vocals on the fourth number (phonetically the hookline sounded like 'Jai Na Musch', but I might be wrong) in a great tenor voice, slightly thinner than his compatriot's but with all the passion and that particular gipsy timbre that sounds like it has been 'stretched to breaking point' but is still holding. Wonderful. He finished singing his verse, put his violin to his chin, lifted his bow and then . . . Stopped. End of song! Huge laugh from the audience.
"slow, rich, resonant, sonorous harmony"
There were some great duets between these two especially on a particularly jazzy bossa which I know through the Czech Roma singer Ida Kelarova, and on the encore, another romantic gipsy classic in which Ricardo started singing in a slow, resonant, sonorous harmony with the keyboard player.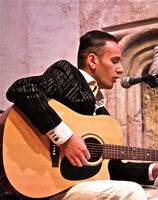 The second guitarist also took the lead vocals on a couple and there was a lovely duet on a waltz between the accordion and Ricardo's son Benjamin on lead guitar.
There were numbers that started off really slow and gradually increased in speed; there were others that started off fast - and then got even faster with astonishing glissando and pizzicato effects on violin.
However the highlight of the concert was the Romanian number Ciocarlia (aka The Skylark) a longstanding showpiece for virtuoso violin.
With what sounded like a "Yep, Shoh, Chee, Cha" * they launched into this superfast piece, which quickly descended into musical anarchy and on-stage chaos as multiple comic interludes ensued, with the rest of the band pitted against violinist Ricardo.
Each member would start a new tune in a different style (rock'n'roll, jazz, klezmer, etc) and each time it was musically torn to shreds by Ricardo, who deliberately 'ruined' each one as he kept "going off on one!" - including some dodgy 'Japanese style' singing!
He then proceeded to turn his violin back to front (ie with the tuning peg end under his chin and the body pointing away from him) and started playing with it like that, fingering from the other end! No, don't ask me how it works, I've no idea! But it was very impressive. From there it was back into the main "Ciocarlia" theme again and the end.
"The Romany Diamonds truly do sparkle!"
The Romany Diamonds might wear their skills lightly and often looked completely bemused to be there at all, but if you ever get the chance to see them, take it: The Romany Diamonds truly do sparkle!
Glyn Phillips
WorldMusic.co.uk
(26 June 2012)
For Romany Diamonds photo gallery, click here:
www.worldmusic.co.uk/romany_diamonds_photos_home_festival_dartington
* Almost certainly: 'Jek, Dui, Trin, Shta' - Romany for '1, 2, 3, 4' (thank you to ElliNoire for that clarification!)