Sadio Cissokho Band, Birmingham (10/11/11) - Review
Tagged with: Sadio Cissokho Senegal kora Casamance World Unlimited Hare and Hounds Birmingham Adama Cissokho Abdouleye Badji Mouctar Ndiongue Edd Bateman sabar mbalax daimbadong eekon kon manding afrobeat Sila Fando world music review Glyn Phillips WorldMusic.co.uk
Sadio Cissokho Band at the Hare and Hounds (10/11/11)
Since I first heard it in the early 80s I have been entranced by the sound of the kora, the mighty African harp central to so much of the Classical and Courtly music of West Africa. The delicate rippling sounds, laser-sharp notes and muscular bass ends of this amazing instrument (made from a huge half-gourd and thick pole) have delighted me for three decades. More recently there's been an incredible surge of kora talent emanating from West Africa and I've sat at the feet of some true masters in the last couple of years.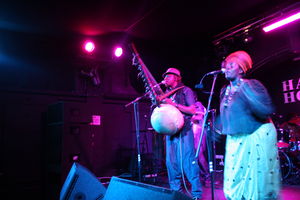 So it was with both excitement and some trepidation that I went along to see the Senegalese kora player Sadio Cissokho and his band perform at Birmingham's Hare & Hounds venue. Excitement at hearing once again this amazing versatile instrument and trepidation as to whether Sadio could bring something new to the table in terms of kora playing. Only a few weeks before I'd seen Seckou Keita (who comes from the same Southern region of Senegal, Casamance, as Sadio) and the memory of his amazing artistry was still fresh in my mind.
I arrived at about 9pm to find the band already well over half an hour into their first set! Now that was unusual indeed in a live music setting! The night, put on by World Unlimited, apparently always starts on time. A very refreshing change indeed - my bad for assuming it would be late. The audience was relatively small, but with much of the floor covered with candlelit tables and chairs, and a mixed audience including some children, it still felt very friendly and inviting - a far cry from the normally utilitarian standing-only Hare and Hounds.
Sadio's band are a five-piece consisting of Sadio Cissokho himself on kora (which he plays standing up) and vocals, his sister Adama Cissokho on backing vocals, his nephew Abdouleye Badji on sabar drums and occasional vocals, Mouctar Ndiongue on kit drums and the band's young Bristolian manager Edd Bateman on bass.
After taking photos for a couple of numbers I settled down to really listen to the music and what struck me was the incredible power combined with empathy and warmth of the band. In many West African acts I've seen the kora is often the dominant instrument within the sound, everything else just there to support it.
Not so with Sadio Cissokho - this was a whole band groove. The kora was just another cornerstone of the whole musical edifice. Sadio is certainly at the wheel driving it all along - but it's the bass, kit and sabar drums that are the absolute engine-house of the band. These guys work as one and produce a sound where all the elements are thoroughly - and equally - integrated. And it is this that sets them apart, this was what Sadio brought fresh to the table, certainly in terms of my understanding and experience of kora music.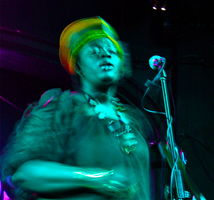 Sadio Cissokho stood in the middle of the stage, his kora strapped around his waist, dressed in a steely-blue outfit, with his little dreadlocks poking out from under his porkpie hat, stepping from side to side with the rhythm and every so often breaking out into some impromptu dancing whilst still unleashing some blistering kora runs. His kora actually had guitar machine-heads all up its length, instead of the more traditional ring system; in fact, Sadio even plays his kora like a rock musician plays his electric guitar, as if it's actually growing out of his body. I began to understand why his publicity emphasised the dance element of his music as he shifted between mbalax, daimbadong, eekon kon and manding afrobeat. This is Casamance Rock, 700 years of griot history plugged into an amplifier.
Stage left of Sadio is Adama Cissokho, his sister and backing singer, with her sparkly rhinestone skirt and orange head-dress, dancing with great abandon, arms thrown in the air and whole body bouncing and shaking.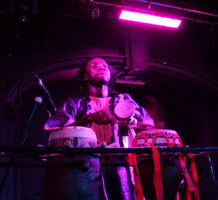 Stage right is his nephew Abdouleye nonchalantly chewing gum, standing behind his special metal frame that houses and raises up his sabar drum outfit. This is made up of two drums, each carved out of single piece of wood with stretched hide skins glued over the top. On the drummer's right was a long almost tubular, lower pitched drum; on his left was the goblet-shaped sabar which has a higher pitch. He played them with an open left hand and a stick in right hand. From time to time he would let loose on the sabar with the stick with incredible energy - it sounded like a machine-gun at times, an absolutely explosive sound! Trust me, this guy was taking no prisoners! Tucked under his armpit was a small talking drum, which he used to occasional but great effect. Sometimes he even came and took centre-stage with the vocals whilst Sadio retreated into the background and hammered out some fabulous riffs on his kora.
Behind and virtually invisible in the dark pit that constitutes the further recesses of the Hare and Hounds stage was Mouctar, the kit drummer; invisible to the eyes, but completely on point with the complex rhythms and dynamics. This was one drummer who made his personality and presence felt through sheer artistry. I loved what he was doing.
Finally, not quite hidden away but making a good job of trying to melt into the scenery was Edd Batemen the bassist. He played his role out well, glueing together the whole sound without impinging upon the essence of the Senegalese vibes.
The whole band were incredibly tight and packed a real punch. Senegalese timing and rhythms are complex and this was a rich mixture of vocals, kora, bass and drums. Yet it's a very addictive groove that not so much hits you in the face as gets under your skin and seduces you. It's subtle, but deceptively powerful.
So, by the end, even this small, fairly reserved audience were all on their feet, dancing and joining in with the call-and-response vocals as Sadio and band took us down to South Africa to play some Zulu music for the sheer enjoyment of it. During the encore a fan - presumably Senegalese - got on stage and started dancing to the delight of the band. It was smiles all round from stage to floor.
Thoroughly recommend seeing this band live. As some of the audience remarked to me: it had all the excitement and rawness of early Baaba Maal or Kanda Bongo Man when they first came over here. Catch them while you can!
Sadio Cissokho and band have an album out called "Sila Fando" which is worth getting hold of too. The only website I can find for them is here: www.eddbateman.com/sadio.
Glyn Phillips
WorldMusic.co.uk