Samba Touré to release new album - Albala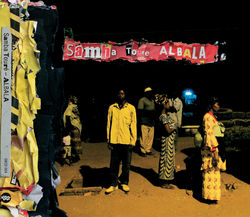 The Malian guitarist Samba Touré is set to release his new album "Albala" on 6th May 2013 on the new Glitterbeat Records label. This new addition to the world of music will be available on vinyl as well as on CD and Download (Catalogue number GBCD 004/ GBLP 004 - UK distribution by Shellshock).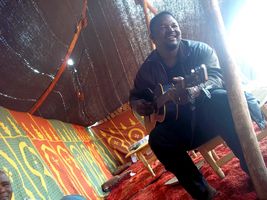 When you meet Samba Touré in person, he comes off as a soft-spoken man, a man who easily charms you with his abundant smile and optimistic gait. But on his third album, 'Albala', which in the Songhai language means "danger" or "risk", a weighted and at times defiant side of his personality emerges. To call 'Albala' his darkest album is an understatement, but it is not a self-absorbed darkness. The cause of Samba's worry is the crashing world around him, and more specifically the troubles echoing out from his beloved northern Mali homeland.

The last year has brought cataclysmic change and upheaval to northern Mali, the tragic details of which have been globally reported. The cumulative effect of these events on Samba's music seems palpable. There is an added gravity to his voice and his words, an additional sting to his electric guitar; there are sharper edges and more complex undertones in his musical arrangements.

On "Fondora (Leave Our Road)" Samba sings with indignation: "I say, leave our road/ All killers leave our road/ Thieves leave our road Looters, leave our road/ Rapists, leave our road/ Betrayers, leave our road." And on the haunting "Ago Djamba (Life Betrays Us)" he warns: "We do not all have the same opportunities/ Here, nobody is born rich but we all have the same value/ Life betrays us."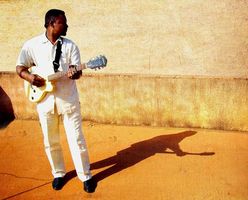 As a band member and valued collaborator of the late Malian legend Ali Farka Touré, Samba established a significant reputation, and through his first two solo albums, 'Songhaï Blues' and 'Crocodile Blues' (World Music Network), his confidence and musical prowess grew proportionately. But 'Albala' is a new flash point. There is more power, there is more grit, the mood is deeper, and aptly, given the album's title, Samba takes more musical risks.

Recorded at Studio Mali in Bamako in the autumn of 2012, Samba is joined by his regular band members Djimé Sissoko (ngoni) and Madou Sanogo (congas, djembe) and guests such as Zoumana Tereta, the legendary master of the soku (a one-stringed violin) and the fast-rising Malian neo-traditional singer Aminata Wassidje Traore. Additionally, Hugo Race (The Bad Seeds, Dirtmusic, Fatalists) contributes an array of subtle atmospherics on guitar and keyboards, with Chris Eckman (The Walkabouts, Dirtmusic etc.) and Philippe Sammiguel in the producers' seats.

On the opening song, "Be Ki Don", Samba sings: "Everybody welcomes Samba Touré." With an album as soulful and captivating as 'Albala', that might not be an over-statement.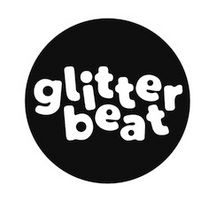 Samba Touré
Twitter: @SambaToureMusic
http://www.samba-toure.com
http://www.facebook.com/samba.toure.official
https://soundcloud.com/glitterbeat/samba-toure-be-ki-don
http://youtu.be/zjoIQWuTTMY (Samba Touré EPK)
http://www.myspace.com/sambatoure
http://label.glitterhouse.com/artists.php?show=59

Glitterbeat Records
Twitter: @Glitterbeat_Rec
http://www.glitterbeat.com
http://www.facebook.com/Glitterbeat
http://soundcloud.com/glitterbeat
http://www.youtube.com/user/glitterbeattv
Biography

Samba Touré is a Malian guitarist, vocalist and composer. With his music he creates a harmonious blend of River Niger blues, traditional Songhai themes and Western influences, and like most Malian songs, Samba's lyrics convey moral messages as well as introducing us to different elements of Malian culture, such as the importance of family. His distinctive style is widely regarded as reflecting and enhancing the enduring legacy of the legendary Ali Farka Touré.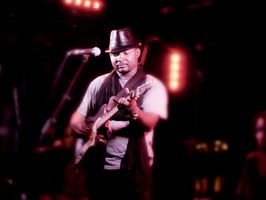 Born on 15 June 1968, Samba grew up in Dabi, a small village in the Timbuktu region of Mali. Samba's father passed away just before his birth, leaving his mother to raise him alongside his brother, Ibrahima 'Bouri' Séré. Although they could not afford formal education, he was surrounded by music from an early age and his mother was one of the first women to sing with the young Ali Farka Touré at the Biennale Festival in Mali.

When he was old enough, Samba left for the Malian capital, Bamako, in the hopes of finding a job. There, he heard the popular guitar-driven dance music of Zaire for the first time and, inspired, began singing and playing guitar in a band called Farafina Lolo (Africa Star), with his brother Bouri on the drums and Baba Simaga on the bass guitar.

During that time, he also fell in love with the music of Ali Farka Touré, a true original who was transposing the traditional music of his native north Mali and single-handedly bringing the style known as "desert blues" to an international audience. Samba was entranced by the master from Niafunké and began to play the guitar in the same style, adapting his playing from traditional string instruments on to an electric guitar.

When Farafina Lolo split up in the mid 90s, Samba briefly joined another group, Super Lolo, before leaving in order to concentrate on composing. In 1997, Farka Touré offered him the unique opportunity to tour with him as part of his band. Delighted, Samba accepted and, while touring across Europe and the USA, his mentor opened his eyes to a variety of new influences. Farka Touré inspired him to create his own blues style and, on his return to Mali, Samba formed Fondo. He then recorded his first solo effort in 2003, 'Fondo', which was a huge success throughout Mali.

In 2005, Samba played on two tracks he composed for Amadou Guitteye's album 'Taama', alongside Toumani Diabaté, Vieux Farka Touré and Baba Sissoko. In 2007, Samba went on to release his next album in Mali, 'Aïto', and performed intensively including many West African festivals. Then, in 2008, Samba Touré was signed by World Music Network, and a year later released 'Songhaï Blues', his homage to Ali Farka Touré and also his first international production. In 2010, Toumani Diabaté turned to Samba to play alongside him on his 'Ali Farka Touré Variations Tour'. It seemed a natural choice to pass the baton to Samba and have him represent Ali Farka Touré's guitar style on the tour.

In 2011 Samba released his second international album, 'Crocodile Blues', for which he later received a Tamani d'Or, the Malian Award for the best international CD of the year.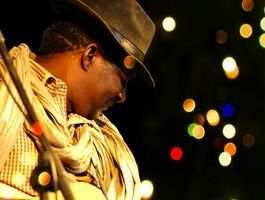 His carefully crafted compositions demonstrate his own style, through his use of a variety of colours, languages, rhythms and feelings. Many of the songs represent different ethnicities and regions, as Samba sings for peace and unity in Mali. Recording 'Crocodile Blues' in Bamako took place during Ramadan and the studio sessions were scheduled for the evening time to aid the flow of the music. The relaxed surroundings and close relationships of all those involved in the recording is reflected in the final result. Samba and his musicians created an album of relaxed beauty and plenty of heart.
He remains a man of great friendship and fidelity singing songs of tribute to close friends, as well as songs of love to his wife and dedications to children and their mothers. Samba celebrates the role of women in the lives of their families and also the life of a nation. Many great women have been pivotal in the development of Mali, and on "Moussoya" which features Oumou Sangaré as a guest vocalist, Samba pays tribute.

After touring Europe in the summer of 2012, Samba went into the studio in Mali in the autumn of 2012 to record a new album and his first for the newly formed label Glitterbeat Records. 'Albala' is to be released on 6 May 2013 and it presents another leap forward for the Malian bluesman.

Listen & share: https://soundcloud.com/glitterbeat/samba-toure-be-ki-don