SHANTEL & BUCOVINA CLUB ORKESTAR - Camden 24/11/11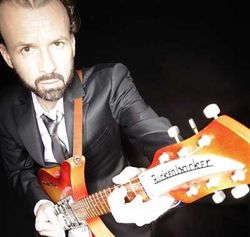 SHANTEL & BUCOVINA CLUB ORKESTAR
Anarchy and Romance Tour 2011
Thursday 24 November KOKO Camden
Doors open 7pm
Support DJ Scratchy
Shantel and his Bucovina Club Orkestar are back for their third mega party at KOKO.
Celebrating 10 years of the now legendary Bucovina Club that discovered the hottest sounds from the Balkans and took them to the clubs and festivals of the world, from Ibiza to Istanbul. Shantel is the undisputed King of the vodka-fuelled Gypsy Beat and a turbo-charged Eurosound. This exclusive UK show promises to be a party to remember.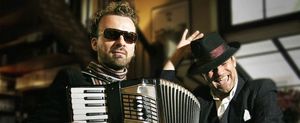 With a background as a respected electronic dance producer for hip label K7, Shantel started playing clubs, parties and festivals around the world with a new sound that had its roots in the Balkans – and from day one drove crowds wild with ecstatic bliss.
Whether he DJs or plays live with a band, Shantel has the knack for turning any venue into a vortex of pure euphoria, where the Balkan bounce takes over and everyone turns into a Gypsy bellydancer on the spot. Love and good vibes are in the air; his last two KOKO shows were no different.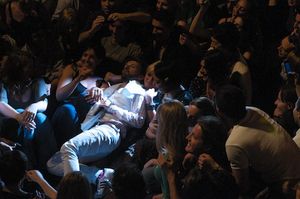 Now reaching nearly 8 million views of his Youtube hit "Disko Partizani" (http://www.youtube.com/watch?v=gViaOYgV8yI), he's brought the Balkans to clubland, and his work has inspired a whole generation of DJs who have broadened their horizons from house, techno and breakbeats to embrace this new sound.
Disdainful of political borders, artificial musical categories and the generation gap, Shantel's music has effectively straddled cultures. It is equally at home at festivals such as the crazy Guca Brass Festival in Serbia, where in 2010 he performed together on stage with the legendary Boban and Marko Markovic Orkestar, to Glastonbury and Roskilde. Festivals see people of all ages dancing to his tunes.
His remix of Mahala Rai Banda's "Mahalageasca" was prominently used in the soundtrack of the Borat movie.

Shantel will be appearing with his full live band and will be performing some of his classic numbers as well as plenty of new material in an evening you'll wish didn't have to end.

UK Exclusive 2011 date - Thu 24th Nov.
Tickets £16 in advance plus booking fee
Koko
1A Camden High Street
London
NW1 7JE
0870 432 5527

Event website:
http://www.koko.uk.com/listings/shantel-bucovina-club-orkestar-24-11-2011
London show promoted by Kazum and Como No

Shantel in the audience @ Koko 2009 Gallery by Carmen Klammer: http://homepage.mac.com/cklammer/ShantelKoko/
Anarchy & Romance Tour.
Official Site
http://www.facebook.com/ShantelBucovinaClub

TOUR
26.10.11 TR-Ankara
27.10.11 TR-Istanbul, Babylon
01.11.11 UKR-Kiev, Cristall Hal
02.11.11 RUS-Moscow, 16 tons
04.11.11 D-Munich, Muffathalle
05.11.11 NL-Utrecht, Tivoli
06.11.11 NL-Amsterdam, Paradiso
07.11.11 F-Strassburg, La Laiterie
08.11.11 D-Loerrach, Burghof
09.11.11 CH-Winterthur, Salzhaus
10.11.11 CH-Aarau, Kiff
12.11.11 D-Erlangen, E Werk
13.11.11 NL-Groningen, Vera
15.11.11 D-Leipzig, Werk 2
16.11.11 D-Bremen, Schlachthof
17.11.11 D-Hamburg, Gruenspan
18.11.11 DK-Aarhus, Train
19.11.11 DK-Copenhagen, Global
20.11.11 D-Bielefeld, Ringlokschuppen
21.11.11 F-Tourcoing, Le Grand Mix
22.11.11 F-Lyon, Ninkasi Kao
23.11.11 F-Herouville/Caen, Big Band Cafe
24.11.11 UK-London, Kokos
25.11.11 F-Paris, Bataclan
26.11.11 F-Rouen, Club 106
27.11.11 F-Cenon/Bordeaux, Rocher de Palmer
28.11.11 F-Marseille, Cabaret Aleatoire
29.11.11 F-Nice, Nikai
30.11.11 FL-Schaan, Saal am Lindaplatz
01.12.11 D-Heidelberg, Halle 02
05.12.11 D-Konstanz, Kulturladen
06.12.11 D-Aschaffenburg, Colos Saal
07.12.11 HU-Budapest, A38
09.12.11 D-Berlin, Admiralspalast
10.12.11 D-Hannover, Pavillon
11.12.11 NL-Zwolle, Hedon
12.12.11 Belgium, Brussels, AB
13.12.11 D-Mainz, Frankfurter Hof
14.12.11 A-Linz, Posthof
15.12.11 A-Wien, Wuk