Show of Hands close to selling out Albert Hall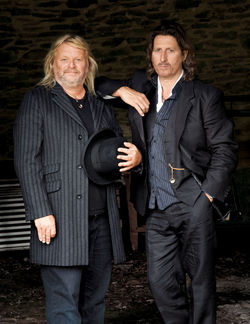 "the most famous unknown band in Britain"
England's premier folk duo Show of Hands, once described as "the most famous unknown band in Britain", are on the brink of selling out the Royal Albert Hall for the fourth consecutive time. This time it's a special celebration as it marks their 20th year anniversary as a duo.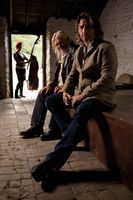 The unique "people's band" that is Show of Hands will celebrate an incredible two decades on the road when they step on stage at one of the world's most famous concert halls for the fourth time on Easter Saturday (April 7th 2012) - an unprecedented feat for a band of their ilk, and a self-funded gamble.
With no record company backing the multi award-winning acoustic pairing of singer-songwriter Steve Knightley and multi instrumental wizard Phil Beer has proved itself a potent, alchemic mix that has already sold out the Albert Hall three times, played festivals from Glastonbury to Cambridge and WOMAD and performed around the world from Canada to Germany, India, Australia and back to their home county of Devon.
Tickets are now close to sell out for the "Big Gig" but some seats are still available in the rear circle and the choir and a handful in the Arena and Stalls, price £25-£40. They can be booked online at www.royalalberthall.com or on 0845 401 5034 (booking fees apply).

The gig will start at 8pm and Steve and Phil will be joined by special guests including Miranda Sykes, the stand-out double bass player and vocalist who has enriched the Show of Hands sound since 2004.
Legions of fans are due to descend on the London venue as specially chartered buses shuttle audience members from all over the UK with others travelling still further - from Canada, USA, Holland, France, Belgium and Germany.
Folk favourites but constantly scuffing at the edge of mainstream, Show of Hands are widely acknowledged as the finest acoustic roots duo in England, playing a wealth of stringed instruments between them from mandocello to South American cuatro. They previously sold out the Albert Hall in 1996, 2001 and 2007.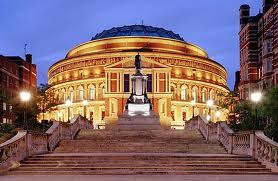 Says Phil: "For the fourth time in twenty years, we are greatly looking forward to another big gig at 'Kensington Village Hall'. What started as a bit of a crazy idea has turning into both a celebration and an affirmation of our commitment to music and the desire to plough on when so many other bands fall by the wayside. As long as the good people keep coming, we'll keep doing it!"
Knightley and Beer, who have rock backgrounds and have guested on Rolling Stones albums and with Peter Gabriel and Jools Holland, are triple BBC Radio 2 Folk Awards winners (Best Live Act, Best Duo and Best Original Song) - the latter in 2010 for Knightley's blast at bankers and MPs Arrogance, Ignorance and Greed, which they performed on TV on BBC Breakfast and The Andrew Marr Show.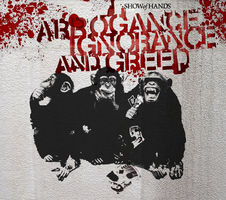 Probably one of the most astute original songs to come out of the recession, it followed on from two other Knightley "anthems" nominated in the BBC Folk Awards – Country Life, about the breakdown of rural communities (2004) and Roots (2006), an impassioned defence of England's musical heritage and identity, triggered by minister Kim Howells' comment that his idea of hell was listening to "three Somerset folk singers in the local pub". A single of the song reached No 4 in the HMV download chart.
Three classic Show of Hands tracks celebrating the band's 20th year can now be heard on Soundcloud, all written by Steve Knightley – Roots, Country Life and Arrogance Ignorance and Greed.
soundcloud.com/showofhandsmusic/sets/show-of-hands-20-years-3-track/
Official videos of the same songs can be found at:
www.youtube.com/watch?v=Rt2Svy-e0x4 (Country Life)
www.youtube.com/watch?v=P5h4PFBuzvw (Roots)
www.youtube.com/watch?v=T-n8ITk6UWM (Arrogance Ignorance and Greed)
Sheer professionalism, an early internet presence, a 'speculate to accumulate' philosophy, constant touring and a rare accessibility to their fans have stealthily built their unique profile over two decades.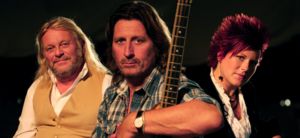 They have produced a vast and brilliant back catalogue of some 25 CDs and DVDs, starting with "Live 92" recorded at The Bull Hotel in Bridport, Dorset and such classic albums as Beat About the Bush (1994), Q Magazine's Folk Album of the Year Lie of the Land (1995); Dark Fields (1997), the much-acclaimed studio album Cold Frontier (2001), Witness (one of MOJO's Top 10 folk albums of 2006), Roots -The Best of Show of Hands (2007) and most recent studio album Arrogance Ignorance and Greed.
Such has been their impact that one Knightley song Cousin Jack, about the plight of emigrating Cornish miners, is now taught in Cornish schools while the Cheltenham Gold Cup-set The Galway Farmer is often mistakenly thought to be from the Irish tradition and is constantly played on the Celtic folk scene.
Roots and Arrogance Ignorance and Greed meanwhile have been sung at rallies and marches including last year's "March for the Alternative" which saw Show of Hands playing Hyde Park.
The "Big Gig" will be as much a celebration of their DIY cottage industry ethos as anything. Says Steve: "The Albert Hall show will be very much a journey through our 20 year repertoire, featuring key songs down the years. Phil and I have played cathedrals, castles, concert venues, village halls and festivals around the world and built up a vast network of venues and an army of fans through ongoing goals of attention to detail and high live production values. We're thrilled to be performing for thousands of the fans again at one of the world's most famous concert halls – the experience of playing there just gets better every time."
And unused as the Royal Albert Hall is to raffles, it will witness one on Easter Saturday when Show of Hands raffle a beautiful mandocello crafted by their Devon-based instrument maker David Oddy. The money raised will be shared between the Alzheimer's Society and the Teenage Cancer Trust.

For an in-depth review of last year's Birmingham Town Hall concert (with support from Richard Shindell) and to get a flavour of Show of Hands at their best, click here:
www.worldmusic.co.uk/show_of_handsrichard_shindell_birmingham_241111