SHOW OF HANDS SCOOP BEST FOLK ACT TITLE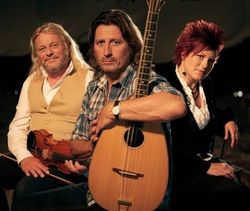 SHOW OF HANDS SCOOP BEST FOLK ACT TITLE IN NEW AWARDS

Exeter's hugely popular Show of Hands have scooped the Best Folk Act title in the inaugural South West Music Awards.

Singer songwriter Steve Knightley, multi instrumentalist Phil Beer and guest double bass player Miranda Sykes beat off competition from fellow Devon musician Seth Lakeman and Cornwall's 3 Daft Monkeys to win the title at the weekend's ceremony held at The Corn Exchange, Exeter.

Among other winners, Devon's Muse were voted Best Live Act whilst Joss Stone won the "Beacon of the South West" award.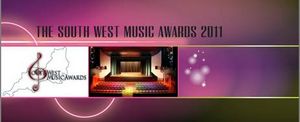 The winners were voted for by venues around the South West and Phil Beer collected the award on behalf of Show of Hands.
Show of Hands are currently on tour around the UK ending back in their home town on December 3 with a performance at Exeter University's Great Hall.

The triple Albert Hall sell-out band are supported by a special guest - the celebrated and charismatic American folk singer songwriter Richard Shindell – and will be showcasing their new album, "Backlog 2".

"Backlog 2" is the result of songs chosen by the band's thousands of fans from the period 1992-2003, during which time Knightley and Beer recorded some eight classic CDs from Live 92 to Beat About the Bush (1994), Q Magazine's Folk Album of the Year Lie of the Land (1995); Dark Fields (1997) , with its haunting Knightley-Chris While title track duet and hugely popular numbers like Cousin Jack and Longdog and the much-acclaimed studio album Cold Frontier (2001) with numbers including Cold Heart of England and Are We Alright?

The 14-date tour will also take in cities including Portsmouth, Birmingham and Cardiff and see the band making first time appearances at The Anvil, Basingstoke; Assembly Hall, Tunbridge Wells; The Waterside, Aylesbury and York's Grand Opera House.

Multi award winners Knightley and Beer also won both the Best Duo title and Best Original Song at the 2010 BBC Radio 2 Awards -the latter for the topical title track of their acclaimed studio album Arrogance Ignorance and Greed, which saw them featured on BBC -1's Breakfast TV and The Andrew Marr Show. See the AIG video www.youtube.com/watch?v=T-n8ITk6UWM

In February Steve will headline the first Frome Folk Festival in Somerset while in May Show of Hands will be one of the headliners at the second Bristol Folk Festival. On Easter Saturday 2012 Knightley and Beer will make a fourth appearance at the Royal Albert Hall to celebrate 20 years of their formidable partnership.

SHOW OF HANDS with Miranda Sykes - 2011 Autumn Concert Tour
Special guest Richard Shindell

* Remaining autumn concert tour dates follow

November

Tue 22 BUXTON Opera House 0845 127 2190
Wed 23 BRADFORD St George's Hall 01274 432000
Thu 24 BIRMINGHAM Town Hall 0121 780 3333
Fri 25 WESTON-SUPER-MARE Playhouse Theatre 01934 645544
Sat 26 BARNSTAPLE Queens Theatre 01271 324242
Wed 30 CARDIFF St David's Hall 029 2087 8444

December

Thu 01 YORK Grand Opera House 0844 871 3024
Fri 02 AYLESBURY Waterside Theatre 0844 871 7607
Sat 03 EXETER The Great Hall, Exeter University 01392 667080