Sierra Leone's Refugee All Stars Rise to No.1 On Radio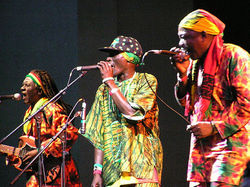 Sierra Leone's Refugee All Stars continue their success on the airwaves for the month of June from listening figures recently released, by topping the prestigious World Music Charts Europe www.wmce.de/. One of the most noted world music surveys, WMCE chart placement is calculated from the votes of 50 high-profile radio programmers across the continent.
In North America, SLRAS is riding high in the top 10 of CMJ's New World chart for the 11th week in a row. Rise & Shine (www.cumbancha.com/slras ) entered the CMJ chart at #7 and quickly shot to #1 where it remained for two weeks.

While on their spring tour in North America Sierra Leone's Refugee All Stars were invited guests on many of the country's most influential radio stations: KEXP, the station where the music matters, posted the band's live studio sessions on their blog recently with their Song of the Day feature of "Jah Come Down". Go download the track and watch live versions of "Jah Mercy", "Goat Smoke Pipe", "Maloma" and "Kali" here: refugeeallstars-audience.fm/
They recently headlined at Womad World Music Festival at Charlton Park in Wiltshire England UK. It was a fantastic show from a dedicated group of musicians whose great music had the thousands of world music lovers bouncing in the open arena stage. You can see some of the action at www.worldmusic.co.uk/sierra_leones_refugee_all_stars_at_womad_2010
or read more about the band at www.worldmusic.co.uk/sierra_leones_refugee_all_stars
Their latest CD "Rise & Shine" is now also available on the Cumbancha label.