Steve Knightley "folk legend" to head Frome Festival
"FOLK LEGEND" STEVE KNIGHTLEY TO HEADLINE FROME'S NEW FESTIVAL
~Show of Hands award-winning frontman to top Sunday bill~
"Folk legend" Steve Knightley has been revealed as the Sunday headliner of England's newest music festival in Somerset.


Show of Hands' inspired frontman, hailed as one of England's finest songwriters, will top the bill on the second day of Frome Folk Festival next February (19th).
Exeter-based Steve, a brilliantly savvy wordsmith and musician, will next year celebrate 20 years of his phenomenal professional partnership with multi-instrumental wizard Phil Beer when Show of Hands play the Royal Albert Hall for an incredible fourth time.
But the BBC award-winning songwriter is increasingly carving a successful solo career alongside Show of Hands and Frome Folk Festival will offer an opportunity to see him take to the stage of former 19th century market hall The Cheese and Grain in a display of inimitable one-man showmanship.
"Knightley dares to tackle subjects other songwriters leave well alone – his best songs are bleak, witty and finely observed" -The Guardian
"A folk legend" – BBC Music
"Touching emotional literacy" – Daily Telegraph
Knightley won the Best Original Song accolade at the 2010 BBC Radio 2 Folk Awards for the topical title track of Show of Hands' last studio album, Arrogance Ignorance and Greed, a heartfelt tirade against bankers and bonuses, MPs and expenses, which not surprisingly resonated with a lot of the population! Together with Phil Beer, Knightley also won the Best Duo title.
He writes most of the material for Show of Hands including classics like Country Life and Roots, both also nominated for Best Original Song at previous BBC Folk Awards. A skilled musician, he also plays numerous instruments from guitar to mandocello and South American cuatro. See Steve performing his brilliant Tall Ship Story here www.youtube.com/watch?v=tnvEmFqraS4
Earlier this year he released Live in Somerset, recorded at The David Hall, South Petherton, following on from his stunningly sparse solo album Cruel River (2007) and Track of Words Retraced (2009). This year he has also taken part in the multi artist Cecil Sharp Project – an against-the-clock songwriting collaboration which will tour the UK in 2012.
At Frome, Steve will be supported by fellow musicians from the talent-rich West Country – two sensational young duos that are making waves on the roots scene - the innovative and singular Phillip Henry and Hannah Martin, from Devon and, from Bath, Show of Hands' unofficial third member --the striking double bassist and vocalist Miranda Sykes who has joined forces with mandolin maestro Rex Preston.
Miranda has worked with Show of Hands since 2004, augmenting their sound with her powerful double bass playing and rich, spine-tingling harmonies. Her new collaboration with virtuoso Rex Preston (The Scoville Units) is an unusual but completely engaging pairing with their much anticipated eponymous debut album due to be launched the weekend of Frome Folk Festival. Rex will also be holding a mandolin workshop on the Sunday. See Miranda and Rex www.youtube.com/watch?v=CxJ-D9R4VEs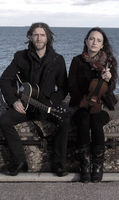 Phillip Henry, one of the country's finest slide guitarists, has been blazing a trail on the festival and folk club scene, weaving together folk melodies of the British Isles, blues, gospel and Indian music in his moving and original compositions and arrangements. Meanwhile his partner Hannah Martin - a singer, songwriter, banjo and fiddle player - blends folklore and legend with beautiful melodies and innovative arrangements, while retaining a strong sense of the living tradition.

"Phillip is a master craftsman on the slide-guitar and harmonica and has a fine, clear voice -he is one of the most extraordinary musicians around." – Steve Knightley

The highly creative duo have appeared at numerous festivals including Glastonbury and Cambridge and this year released their debut album The Singing Bones to critical acclaim with Radio 2's Mike Harding effusing: "I'm completely knocked out by this duo". See http://www.youtube.com/watch?v=e0gbZylhi0g

Also heading to the historic Somerset market town earlier on the Sunday will be 17 year-old singer songwriter Luke Jackson. Kent-based Luke has a startlingly mature voice and has already supported Steve Knightley as well as Martyn Joseph, Little Johnny England, Paul Brady, Megson and Show of Hands at Herstmonceux Castle this summer. See http://youtu.be/8IHF3hsFnaU

Saturday's already announced headliners will be the dynamic melodeon, fiddle and singing duo John Spiers and Jon Boden (founders of powerhouse band Bellowhead), who will host a rare ceilidh in the afternoon before their headline set in the evening.

Frome is located close to Bath, Wells and Salisbury. The new winter festival will be played out at The Cheese and Grain and other town locations and is the brainchild of West Country music promoter Jan Ayers, who successfully brought a folk festival back to Bristol after 32 years this spring.

More acts are still to be unveiled but already on the enviable line up are Bella Hardy, Sean Lakeman and Kathryn Roberts, Belshazzar's Feast, Jenna, Dyer Cummings and Tim Edey & Brendan Power.
Frome Folk Festival will run from 9am-11pm both days. Early Bird weekend tickets, price £58 (£48 concessions) are now on sale from the Cheese and Grain box office on (01373) 455420, online at www.cheeseandgrain.co.uk or via www.seahorsepromotions.co.uk, www.seetickets.com and www.Gigantic.com. A family weekend ticket for two adults and 2 children (aged under 15) is £190. No booking fees apply.
Indoor camping will be available at the town's United Reformed Church, just a stone's throw from the festival venues.
More information at www.fromefolkfestival.co.uk

"One of England's greatest singer-songwriters" – Mike Harding, BBC Radio 2