Terraforming In Analogue Space IRL Remixes 2000 to 2015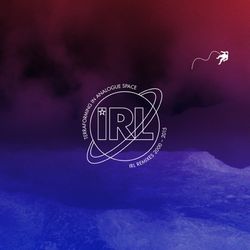 100th release by IRL (Independent Records Ltd.) celebrating their first 15 years and taking a fresh look at their extensive back catalogue which includes Tinariwen, Justin Adams, Juldeh Camara, Lo'Jo, Malawi Mouse Boys and many more.

The remix project has been curated by Nick 'Dubulah' Page (Dub Colossus, Syriana, Xáos) who assembled a stellar team of remixers, featuring Transglobal Underground, Afriqoui, The Dhol Foundation, Penguin Cafe Orchestra, Bernard O'Neill amongst others. 'Terraforming In Analogue Space' is a journey through time, putting what can be often described as a very 'basic' sound (especially with the field recordings) and mixing it with dance, dub, reggae, drum'n'bass, trance and ambient genres. The double album also includes the original versions.
Listen/ share: Tinariwen's "Oualahila Ar Tesninam" (Transglobal Underground mix)
https://soundcloud.com/independent-records-ltd/sets/terraforming-in-analogue/

This intriguing collection of songs chronicles the history of an often overlooked record label that does not just specialize in world music, but did help to transform the global music scene by championing a gloriously eclectic range of artists. As producer, writer and multi-instrumentalist Nick 'Dubulah' Page, of Transglobal Underground, Dub Colossus and Xáos fame puts it "this is one of the great back-catalogues of world music in the UK. The songs are perfect as they are. But I wanted to throw them to the next generation and see how they re-interpret them."

IRL may be judged as one of Britain's great world music labels, but has never enjoyed the recognition awarded to other such record companies, partly because that's the way IRL wanted it to be. Formed by three managers in the late 90's, the whole point was not to have a star label, to make it inconspicuous and be able to release great, real, genuine music of all genres. Having worked with Sinead O'Connor, Republica, Mike Scott, Beth Orton, The Wonder Stuff, Sharon Shannon, Sunhouse, Justin Adams and Damien Dempsey to name but a few, the trio set up the label from their offices in London and Dublin.
The first key figure to bring new music and ideas to IRL was producer and guitar hero Justin Adams, now best-known for his work in Robert Plant's band, the Sensational Space Shifters. 'Desert Road' was an inventive, low-budget DIY affair that reflected Adams' growing fascination with the blues, African and Arabic styles, and it led on to his collaborations with Juldeh Camara and to a series of classic early IRL releases. As a producer, Justin had worked with Lo'Jo, who mix French chanson with North African influences. It was Lo'Jo who took him on his first trip to Mali, resulting in the release of the 2001 Tinariwen album, 'The Radio Tisdas Sessions', produced by Justin and Lo'Jo.

Justin Adams has this to say about IRL's influence and approach:
"Looking at the track listing for this collection, I felt I could see a pattern that wasn't evident at the outset. In post- punk London a few disparate souls seemed to be moving in a similar direction .
Only semi- consciously following in the footsteps of innovators like Brian Jones, Davy Graham , George Harrison and Holger Czukay, and with David Byrne and Peter Gabriel hinting at things to come, our exposure to Oum Kalsoum, Ali Farka Toure or Nusrat Fateh Ali Khan was filtered by ears shaped by Lee Perry, the Clash and Afrika Bambaata."
IRL released the classic 2003 album 'The Festival In The Desert', recorded out in the Sahara in northern Mali and featuring such Malian heroes as Tinariwen, Oumou Sangaré and the late Ali Farka Touré, as well as music from Lo'Jo and Justin, who was performing at the festival with Robert Plant.

Grammy award-winning producer Ian Brennan, who specializes in field recordings of artists with memorable histories and back-stories, introduced the label to the Malawi Mouse Boys, the gospel-influenced group who had made a living by selling rodent kebabs to travellers in southern Africa, as well as the blind singer General Paolino from Africa's newest nation, South Sudan, and the mbira band Acholi Machon from Uganda.

Another key figure in the IRL story is Dubulah who has had a long history as an experimental pioneer of the world/ fusion scene, but only joined the IRL roster in 2014, when his band Dub Colossus released the dub and funk-heavy 'Addis To Omega', a rumbling, rambling set that matched exuberant playing with angry political lyrics. He was back in 2015 with a very different band, Xáos, in which he was joined by the Greek electronic composer Ahetas Jimi and a group of traditional musicians, in a project that set out to give Greece a new musical identity by mixing ancient and contemporary styles. An ideal IRL experimental release.

For their 100th release since forming in 2000, Independent Records Ltd. had wanted to release a special album that praises and celebrates much of their world music catalogue from the past 15 years. It was Dubulah who suggested a remix album - the label jumped at the chance.

Dubulah remarks:
"Curating this collection of remixes was both very enjoyable and challenging (many of the original multi-track masters were sadly not available, so part of the curating also involved making sample packs for remixers). In the context of the current situation, post the Brexit referendum, with the rise in right-wing European nationalism, hate crimes and racist attacks, along with increasing introspection and nostalgia for an imaginary lost England, it seems poignant and relevant to consider the alternative: an outward looking culture embracing the sounds and ideas of the world, and our shared commonality!"

Two of the Lo'Jo tracks were re-mixed by Bernard O'Neill, who has worked with Nick on Dub Colossus and other projects, and appears here under his own name and as Syriana.
Bernard explains:
"To be asked to remix a French icon such as Lo' Jo is a rare and wonderful thing. Hours of discussion ensued regarding remix artists, sources of multitracks, multitracks on formats long forgotten or lost forever. Reacquainting oneself with sample packs, sample rates and many wonderful surprises. This album is a labour of many hands over many years with much love and tenderness visited along the way. In years to come IRL will be viewed as a beacon of hope and eccentricity that brought us jewels from the global village."

This re-mix album takes the original IRL recordings and re-works them in styles that range from dancehall to dubstep, drum and bass and ambient. The original tracks were, of course, recorded by artists from all around the world, and the re-mix team also includes musicians working in different fields in different countries. Dubulah says they were "excited to get their hands on this material because it has got soul – 21st century soul!"
Track listing:
CD 1/ LP - The remixes:
1. Tinariwen - "Oualahila Ar Tesninam" - Transglobal Underground mix
2. Justin Adams - "Desert Road" - Dub Colossus mix
3. Justin Adams & Juldeh Camara - "Ngamen" - Radar Station mix
4. Terakaft - "Djer Aman" - Afriquoi mix
5. General Paolino - "Congratulations South Sudan" - Lunar Drive mix
6. Malawi Mouse Boys - "Ndinasangalala (I Was Happy)" - The Dhol Foundation mix
7. Malawi Mouse Boys - "Manja (Clap Your Hands)" - Dalek Romeo mix
8. Imed Alibi - "Maknassy" - Eccodek mix
9. Lo'Jo - "Sur Des Carnets Nus" - Syriana mix
10. Lo'Jo - "Yalaki" - Boyscout mix
11. Xaos - "Pindos Full Moon" - TJ Rehmi mix
12. Dub Colossus - "A Voice Has Power" - Insentisi mix
13. Acholi Machon - "Convoy" - Penguin Cafe Orchestra mix
14. Xaos - "Processional" - Stereo Mike mix
15. Lo'Jo – "Carnet US Vatican Radio" – Bernard O'Neill mix

CD 2 - The original tracks used for remixes (core samples):
1. Tinariwen – "Oualahila Ar Tesninam"
2. Justin Adams - "Desert Road"
3. Justin Adams & Juldeh Camara - "Ngamen"
4. Terakaft - "Djer Aman"
5. General Paolino - "Congratulations South Sudan"
6. Malawi Mouse Boys - "Ndinasangalala (I Was Happy)"
7. Malawi Mouse Boys – "Manja (Clap Your hands)"
8. Imed Alibi - "Maknassy"
9. Lo'Jo - "Sur Des Carnets Nus"
10. Lo'Jo - "Yalaki"
11. Xaos - "Pindos Full Moon"
12. Dub Colossus - "A Voice Has Power"
13. Acholi Machon - "Convoy"
14. Xaos - "Processional"
Weblinks & social media:
http://www.terraformingmusic.com

http://www.independentrecordsltd.co.uk

Twitter: @IRLSpirit https://twitter.com/IRLSpirit

Facebook: http://www.facebook.com/SpiritIRL

Stream & share: Tinariwen - "Oualahila Ar Tesninam" (Transglobal Underground mix)

https://soundcloud.com/independent-records-ltd/sets/terraforming-in-analogue/s-q0Uip
PR Contact:
For more information on this press release, please contact:
http://twitter.com/ilkamedia |