The Bombay Royale - You Me Bullets Love - CD Review
Tagged with: The Bombay Royale You Me Bullets Love Hope Street Melbourne Australia Bollywood Hindi surf music kitsch Jaan Pehechan Ho Sote Sote Adhi Raat Andy Williamson Parvyn Kaur Singh Shourov Bhattacharya Glyn Phillips WorldMusic.co.uk World Music CD review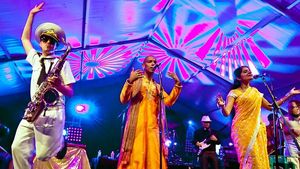 "You Me Bullets Love" is a new album by the Australian band The Bombay Royale from Melbourne, who specialise in bringing to life - and to the live stage - versions of many of the classics of India's Bollywood film industry.

The album (on Hope Street Recordings) is a 10 track CD/DL/Vinyl that showcases old songs such as the 1965 chestnut "Jaan Pehechan Ho" (from the film "Gumnaam") as well as entirely new pieces done 'in the style of' .

The 'golden years' for Bollywood films are often cited as the 60s and 70s and The Bombay Royale mix these old songs (in Hindi and Bengali) with newer material they have written themselves (including some with English lyrics) inspired by these classic masterpieces.
In fact "You Me Bullets Love" features eight original numbers and two re-workings of almost forgotten Bollywood production numbers (the other is "Sote Sote Adhi Raat").
"heavy retro vibe ... that - bizarrely - makes it sound very fresh and bang-up-to-date!"
There's a heavy retro vibe to the album that - bizarrely - makes it sound very fresh and bang-up-to-date! (obviously some weird tear in the time-space fabric…).
For instance the opening track "Monkey Fight Snake" features massed brass, swirling organs, siren-like vocals and sarangi in the background, sub-Spaghetti Western blaring trumpet (Spaghetti Eastern anyone?) and wouldn't sound out of place in some kind of drug-induced, trippy dream-sequence scene from The Avengers (the 1960s British series with the bowler-hatted, brolly-wielding Steed, not the Hollywood Marvel heroes one!).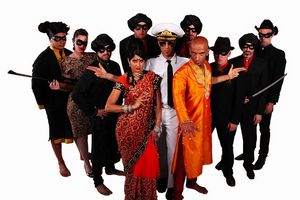 Conversely the title track is drenched in surf music, sort of 'Tarantino goes to Mumbai' (or is it India comes to South Melbourne Beach?).
At times the whole album sounds as if someone's taken a giant cocktail shaker and thrown in some vintage 50s, 60s and 70s Bombay kitsch, a shot of James Bond, a gaggle of Go-Go girls, two slices of Eddie Cochran and Gene Vincent, a pinch of Massive Attack, the serried ranks of saxophones, trumpets and trombones, a veritable forest of violins and yards and yards of orange, pink and turquoise silk, and then recorded the whole lot via the audio-equivalent of a Kodak Instamatic shot through a Dub filter.
Someone with more knowledge of Hindi music would probably be able to pick up on the Bollywood strands better than me, but that's about as near as I can get to it at the moment!
One of the Australian papers described it as being "where A R Rahman and Ennio Morricone converge, where Slumdog Millionaire meets Goldfinger head on, with Quentin Tarantino and Indiana Jones lurking in the corner".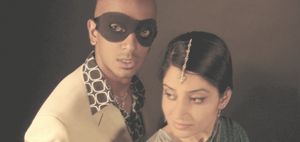 The vocalists are Parvyn Kaur Singh and Shourov Bhattacharya. The MD is Andy Williamson.
"You Me Bullets Love" is a whole lot of fun. A lot of it is, I'm sure, very tongue-in-cheek, but then again so is much of Bollywood, and it plays with all those elements of East meets West meets East again (and in the case of Australia, meets South).
So, if you like Bollywood music, or surf music, or the 60s, or trippy music, or just have a predilection for multicoloured kitsch and musical cheese to let your hair down to and shake your thang, then book yourself a night at The Bombay Royale.
The album was released this week and the website link for The Bombay Royale is: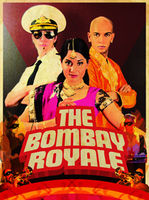 There's also a groovy video of the title track here:

Glyn Phillips (WorldMusic.co.uk)