The Tashi Lhunpo Monks of Tibet
24 June 2012 07:00 PM to Jun 25, 2012
A CELEBRATION OF TIBET
The Tashi Lhunpo Monks of Tibet will be coming to Bristol during their 2013 Tour for two very special mid-summer evenings of Music, Dance, Chant and Song.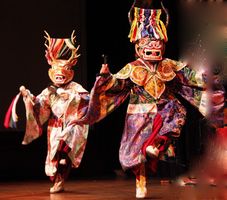 The Monks will perform in the historic and picturesque surroundings of Arno's Vale Cemetery and Chapel, in Bedminster, Bristol. The concerts begin at 7.00pm on Sunday 24 & Monday 25 June 2012 and will offer an evening of Tibetan Music, Dance and Ceremony - a rare opportunity to experience the sacred music of Tibet in a uniquely beautiful and tranquil setting.
The sacred world of Tibet is filled with the chanting of Buddhist texts, the recitation of mantras, the ringing of bells, the clash of cymbals, the booming of the great long horns and the beating of drums. The Tibetan monks from Tashi Lhunpo Monastery offer a dramatic presentation of their unique sacred dances, music and prayers, with colourful traditional costumes and ceremonial masks.
Tashi Lhunpo Monastery was founded by the first Dalai Lama in the 15th Century and became one of the most important monasteries in the Tibetan Buddhist tradition. Now re-established in exile in South India, the monastery is once again a major centre of learning, best known for its artistic tradition of masked dances and sacred music. The performances by the Monks offer a rare opportunity to witness a unique and endangered culture.
The Anglican Chapel at Arnos Vale is an acoustic dream for music and has been likened to many top venues in the UK. These singular concerts will take place within the chapel itself as well as outside in the breathtaking, neo-classical surroundings of Arnos Vale.
Tickets cost £11.50 inc P&P, for sale on line at www.arnosvale.org.uk