Tarkany Muvek - "Introducing Tarkany Muvek" (INTRO1222DD)
Tagged with: Tárkány Müvek Hungary Introducing World Music Network Balint Tarkany-Kovacs Julianna Paar Gergo Kovats Endre Papp Andras Bognar cimbalom viola jazz folk review Glyn Phillips WorldMusic.co.uk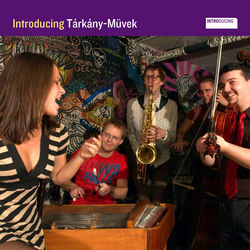 "singalong melodies, toe-tapping beats and wry musical humour"
From the prodigious stable of the World Music Network label comes the album "Introducing Tárkány Müvek" (INTRO122DD) released on 16th July 2012.
I am loving this one!! Definitely one of my favourites at the moment. The band come from Hungary and are all quite young. Led by one of Hungary's leading cimbalom players (Bálint Tárkany-Kovács) their blurb has them fusing "the intellectual rigour of classical music and the spiritual depth of avante garde jazz and poetry into one fabulous mix". Apparently they are as much influenced by John Coltrane and Dr Dre as they are Toni Iordache and Bela Bartók.
Well, dunno about all that, but I can confirm that they are very, very good! In fact the album is laced with singalong melodies, toe-tapping beats and wry musical humour. It's nowhere near as prohibitive as the PR references might lead you to believe. This is a very listenable album with bags of musical interest.
"jazz-folk cooked in paprika over a woodsmoke fire…"
If you like Hungarian music, you'll love their charmingly jazzy takes on traditional styles and instrumentation. The tenor sax especially reminded me at times of the playing of Koen de Cauter from the Belgian gipsy jazz band Waso. If you like jazz, then you'll be feeling this one and getting some Hungarian flavours infused throughout. This is jazz-folk cooked in paprika over a woodsmoke fire… Very more-ish!
Bandleader Bálint Tárkany-Kovács started playing cimbalom at 7 and is now in his 30s and well respected as a key player in the recent tánchaz or urban-folk movement. In Tárkány Müvek he is joined by singer Julianna Paár whose distinctly toned but clear, high, bell-like voice rings out through the album as a delicious foil to Gergö Kováts' smoky tenor saxophone, flute and bass clarinet - some really inventive contributions from him. There are also subtly nuanced but rock solid performances by Endre Papp on four- and three-string Transylvanian viola and by András Bognár on double bass.
"this album has a lot to listen out for"
With a mixture of fast cimbalom-led Hungarian numbers, slow ballads, wistful jazz and dark mood pieces this album has a lot to listen out for with masses of different influences, all lightly but masterfully accommodated within the melange of ideas. Really enjoyed the track "Csak Egyszer Volram Boldog" with its lurching double bass and viola, soulful sax and introspective cimbalom and vocals. There's also a version of Harold Arlen's "Nothing Compares To You". The whole album is surprisingly uplifting and you feel the artists had as good a time making it as you have listening to it.
"surprisingly uplifting ... highly recommended"
This is the band's first international release, but is as yet only available as a download via www.worldmusic.net. It's well worth checking out in my opinion - highly recommended.
Oh, and one last thing: it it just me, or can I taste "The Sunny Side of the Street", "Summertime" and even "Over The Rainbow" stirred into Tárkány Müvek's melodic cooking pot? Take a listen and let me know if you hear it too!
Glyn Phillips (WorldMusic.co.uk)
(10/7/12)