Urban Folk Quartet - "Off Beaten Tracks" - CD Review
Tagged with: Urban Folk Quartet Off Beaten Tracks Folk Jazz Frank Moon Joe Broughton Paloma Trigas Tom Chapman Galicia UK Oud Cajon Fiddle CD Review Glyn Phillips world music worldmusic.co.uk Birmingham

Urban Folk Quartet - "Off Beaten Tracks"
"from Celtic folk to reggae to arabic to jazz"
Birmingham and the UK's Urban Folk Quartet have just released an album called "Off Beaten Tracks" which was largely written whilst on the road during their 2011 tour of Europe and North America playing a mixture of venues from 30,000 strong festivals to small coves (many off beaten tracks, I shouldn't wonder).
The 'off beaten tracks' theme really suits their style of music, which although recognisably folk in feel and acoustic orientation sees them running free through the world's diverse musical genres like kids through a summer meadow. The music seamlessly weaves countless threads of varied styles into the whole - going from Celtic folk to reggae to arabic to jazz and elsewhere, almost in a single phrase at times.
"running free ... like kids through a summer meadow"

It's all quite beautifully done and so natural (I nearly said organic then!) that it's quite easy to miss the plethora of worldwide folk reference points and just treat it as... well, music! No bad thing I suppose.
Their PR has them as "a dozen instruments and four voices coming together to craft a knockout show of globally–influenced, electrifying acoustic music". Yeah, I'll buy that.
"quavering oud and soaring fiddle"
Watch out for Frank Moon's quavering oud and soaring fiddle aviatics from Galicia's Paloma Trigas and England's Joe Broughton - all topped off with Tom Chapman's rattling cajón.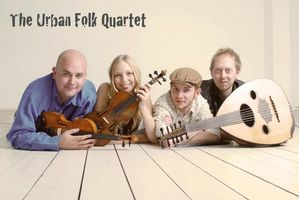 The album is described as: "a travelogue of musical snapshots from the road - compositions dedicated to Spanish bus rides or The Vancouver Island coastline, for example - and a collection of highlights from the set that had people dancing the night away at festivals from The Bay of Biscay to edge of The North Pacific."
There you go, does what it says on the tin!
For more info check here: www.theufq.com
Glyn Phillips (WorldMusic.co.uk)