Wara - UK Tour starts 18th April at La Linea, London
London-based latin fusioneros Wara will be kicking off their UK 2013 Tour at the La Linea Festival in London on 18th April at the Village Underground.
The young revolutionaries of the UK's Latin music scene, who fuse music from both the latin and RnB worlds amongst others will be taking their hot London-Havana soundclash on the road during a UK spring tour starting in April, presented by La Linea, in association with Movimientos and Global Local and supported by the Arts Council of England.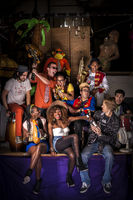 UK tour:
18 April - Village Underground, London (La Linea 13)
10 May - Dome Studio Theatre, Brighton ***sold out***
17 May - The Wardrobe, Leeds
29 May - Hay Festival, Hay on Wye
30 May - Chapel Arts, Bath
8 June - Band On The Wall, Manchester
14 June - The Cellar, Oxford
27 June - Glastonbury festival, Somerset
27 July - Secret Garden Party festival, Cambridgeshire

They will also be releasing their debut album, the genre-defying 'Leave To Remain', on 3 June on Movimientos Records.

'Leave to Remain' follows their cutting edge, critically acclaimed EP 'Flesh and Bone' (Movimientos Records, 2011). The album sees the band take their trademark sound to higher grounds, effortlessly combining Cuba's most danceable rhythms and styles – Timba, Salsa, Cha-Cha-Cha, Rumba - with contemporary urban elements such as Reggae, Soul, Hip-Hop and Jazz.
The songs are threaded with boundlessly multilingual and conscious lyrics that range from social and political commentary; with themes of migration, land grabs, identity and displacement in songs like "Somewhereland" and "Leave to Remain"; veering to the fickle whining party scene divas in "Caprichoso". Then there's "Run For Cover", with its London Riot fuelled theatrics, followed by an acoustic remake of "Flesh and Bone" that goes straight to the soul.

The London-based nine-piece band are a hot melting pot of identities with backgrounds that span the world map: Cuba, Argentina, Venezuela, Chile, Ghana, Congo, Spain and the UK.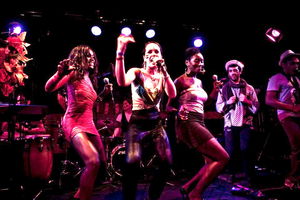 Wara formed in 2009 and soon found that they were doing what no one else was: namely portraying what Latin Americans face when moving to UK, using the music to bend stereotypes, genres and combine stories.
"We reinterpret what has already been done [in Cuban music] so it applies to young people living here in the UK in 2013," says Latin powerhouse Eliane Correa, MD and keyboard player.
The rest of the line-up includes Congolese-Argentinean lead vocalist Juanita Euka (niece of legendary Congolese musician Franco), London's Josh Solnick aka MC Murmur (from London's Afro Dub hip-hop crew FUR) as multiple-personality lyricist.
Add to this Afro-Cuban songstress Nana Aldrin Quaye on backing vocals, London's own George Cole on bass and Taurean Antoine-Chagar getting soulful on the saxophone. The rhythm section is held down by Venezuelan Ernesto Marichales tight on percussion, and Chilean Leandro 'Lele' Mancini on drums. Greg Sanders-Gallego plays guitar, his West African inspired riffs adding another geographical twist to the Wara sound.

The album also features some very special guest contributions including vocals from two of Cuba's up and coming singers Yanaysa Prieto and Grechen Méndez, as well as London-based Cuban violin virtuoso Ernesto Estruch (Ska Cubano) on "Leave To Remain" and "Pide A Yemayá", and Lokkhi Terra's Justin Thurgur and Graeme Flowers providing some additional brass flair on "Somewhereland", "Run For Cover" and "No Se Vende".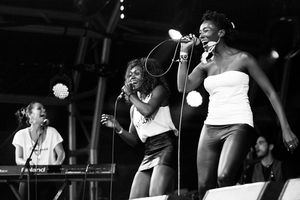 Wara have been packing dancefloors and starting parties on the global scene for the last two years. In 2012 they played Glastonbury, the Big Chill Festival, Secret Garden Party, Barbican's Blaze Festival, the Roundhouse, Ronnie Scott's to name a few.
Their 2013 spring tour will bring the Wara live experience to prestigious venues nationwide. With contagious, in-your-face vocals, inspired keyboard playing, a super tight Latin/UK mix on the rhythm section and their MC quick on the rhymes, Wara's musical energy is palpable. If there was ever a collective sound that could embody the global music scene and the world at present in all its multi-faceted beauty and madness, this is it.

"They mash Cuban jazz-funk, clubby beats and smart hooks – track "Flesh And Bone" is a Latin-London blast." Single of the week - Metro

"Wara are at the cutting edge… of the musical pulse." Lopa Kothari, BBC Radio 3

"Wara are young musical revolutionaries who simply ignore convention…they represent the true sound of contemporary Latin London in the 21st century." Lubi Jovanovic (UK Latin DJ/Promoter/Journalist)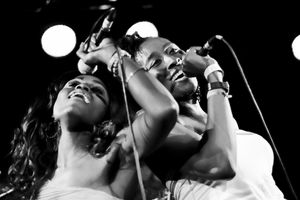 'Leave To Remain' track-listing:

1. Somewhereland 4:04
2. Leave To Remain 5:01
3. Pide A Yemayá 5:13
4. No se vende 5:24
5. Flesh and Bone (acoustic) 4:24
6. Run for Cover 5:09
7. Caprichoso 5:09

Wara links:

Website: http://www.movimientos.org.uk/wara-cuban-latino-salsa-timba-band-london.html
Facebook: http://www.facebook.com/waramusic
Twitter: @Waramusic
SoundCloud: https://soundcloud.com/wara-uk
'Leave To Remain' album sampler (6:22 mins): https://soundcloud.com/movimientos/wara-leave-to-remain-album
Introducing Wara (EPK): http://youtu.be/a12P3H5ukIY
Live at the Roundhouse ("Ne Se Vende"): http://youtu.be/eUPxmSYM7Qs
Live at Floripa (excerpts): http://youtu.be/Ivm6PHeKUGA


WARA 2013 UK Tour Dates:

Thursday, 18 April, 8pm - La Linea Festival, Village Underground, London
Supporting Mala Rodriguez at the La Linea Festival, http://www.comono.co.uk/live/mala-rodriguez/
Village Underground, 54 Holywell Lane, Shoreditch, London EC2A 3PQ, http://www.villageunderground.co.uk
Tickets: £18 in advance

Friday, 10 May, 9pm - Dome Studio Theatre, Brighton
Wara at Brighton Festival
Dome Studio Theatre, New Road, Brighton, East Sussex BN1 1UG, Tel: 01273709709, http://www.brightonfestival.org
Tickets: £10 in advance ***SOLD OUT***

Friday, 17 May, 9pm - The Wardrobe, Leeds
Soul Rebels Special with Wara (live) + Fayth Hope (Augusta Georgia) + Stop Motion Trio + DJ Lubi Jovanovic, http://www.thewardrobe.co.uk/live/event/soul-rebels-special-dj-lubis-birthday-party/
The Wardrobe, Quarry Hill, Leeds, West Yorkshire LS9 8AH, Tel: 0113 383 8800, http://www.thewardrobe.co.uk
Tickets: £6 in advance

Wednesday, 29 May, 8pm - Hay Festival, Hay on Wye
Llwyfan Cymru – Wales Stage, Hay Festival, Hay on Wye HR3 5AD, Tel: 01497822629, http://www.hayfestival.org, https://www.hayfestival.com/p-6143-wara.aspx
Tickets: £9

Thursday, 30 May, 8pm - Chapel Arts, Bath
Wara + Oncartel, part of Bath Fringe Festival
Chapel Arts Centre, St James's Memorial Hall, Lower Borough Walls, Bath, Avon BA1 1QR, Tel: 01225 463362, http://www.chapelarts.org
Tickets: £10

Saturday, 8 June, 8pm - Band On The Wall, Manchester
Ragtag feat. Wara + Jali Nyonkoling Kuyateh (live), plus So Flute DJs, DJ Irfan Rainy & DJ Lubi, http://bandonthewall.org/events/3976/
Band On The Wall, 25 Swan Street, The Northern Quarter, Manchester M4 5JZ, Tel: 0845 2 500 500, http://www.bandonthewall.org
Tickets: £6 in advance

Friday, 14 June, 10pm - 3am (Wara onstage 11pm) - The Cellar, Oxford
Bossaphonik Wara (live) + DJs, http://www.bossaphonik.com
The Cellar, Frewin Court (off Cornmarket St), Oxford OX1 3HZ, http://www.cellaroxford.co.uk
Tickets: £5 advance / £7 on the door

Thursday, 27 June - Glastonbury festival, Somerset
http://www.glastonburyfestivals.co.uk

Saturday, 27 July - Secret Garden Party festival, Cambridgeshire
http://www.secretgardenparty.com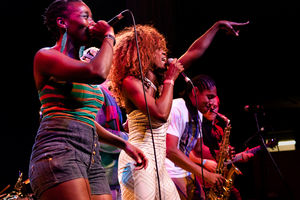 Wara's UK spring tour is presented by La Linea supported by the Arts Council of England. La Linea is The London Latin Music Festival which takes place in venues across Central London each April. Founded in 2001 the festival is a twenty first century presentation of all that is best and current in contemporary Latin music. In recent years, with assistance from Arts Council of England National Lottery funds the festival has sought to spread the sound to Latin Lovers around the UK. La Linea is proud to present Wara's first tour in association with Movimientos and Global Local.
http://www.movimientos.org.uk/wara-tour-2013
http://www.comono.co.uk/la-linea/