Watcha Clan - "radio Babel"
Tagged with: Watcha Clan radio Babel Marseille Mehdi Haddab Merlin Shepherd Fanfare Ciocarlia Maurice el Medioni Sista K Suprem Clem WorldMusic.co.uk world music Glyn Phillips Piranha Vai La Bott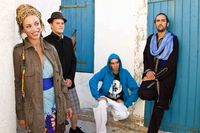 Watcha Clan - "radio Babel" (Piranha Musik) CD-PIR 2543
An enhanced CD wth 15 tracks and a bonus video ("We Are The One")
Released 4th April 2011 - distributed in UK by Proper Records
For years we've been told that the concept album is dead. Irrelevant. A footnote in musical history. Don't believe a word of it, kids.
Because Marseille-based Watcha Clan have produced an album based around a concept - and a really interesting and relevant one at that. The Biblical Tower of Babel has for centuries been synonymous with the idea of noise, confusion, misunderstanding, intolerance and the scattering of mankind never to live in harmony again (Babel being derived from the Hebrew word 'balal' - to jumble - and also the origin of Babylon). In the story it is built by humans in an act of unity but God decides to trick the humans in order to sow dissension, by making them all speak different languages (the so-called 'Confusion of Tongues') so they cannot communicate effectively and abandon the work and scatter around the earth.
However, Watcha Clan approach the story from the beginning not the end - that the really important point was that, when it was built, the residents all spoke the same language and understanding, communication and cooperation were the true achievements of the Tower. This new light on a dark story re-imagines the tower as a sort of prototype radio transmitter broadcasting harmony and comprehension. Highlighting the similarities between the cultures, instead of complaining about the differences.
So how do the Clan set about re-gathering the tribes of mankind and getting us to speak the same language metaphorically? Vocalist Sista K: "We want to be understood by everyone. Singing different languages is the first step in cultural integration, especially expressing the message in English, the international language. With "radio Babel" the message goes with the music, and also the words. Music has the power to pass through any border"
"Europe meets the Middle East in a Marseille 'bouillabaisse'"
The group embody the real message of the tower, with Sista K being the product of an Ashkenazi Jewish Polish mother and a Sephardic Jewish Berber father, keyboardist/producer Suprem Clem from the French alps, bassist Matt Labesse from Corsica and vocalist/guitarist Nassim Kouti from Oran in Algeria. Europe meets the Middle East in a Marseille 'bouillabaisse'.
"a balanced fusion of their studio perfection with the vibrant edgy live ambience"
There you have the concept in outline, but what about the music? Until now Watcha Clan have had (by their own admission) a dichotomy between their live work and their studio work almost as if they were two separate groups. They feel this new album is their highlight so far, a balanced fusion of their studio perfection with the vibrant edgy live ambience, so that the electronics have taken more of a backseat to more mature, rounded songwriting. "radio Babel" is predominantly concerned with destroying boundaries everywhere, to watching the walls tumble down.
"Compelling groove"
OK, you've waited long enough. So how does this translate into music (the so-called universal language)? The opening track "With or Without the Wall" clashes desert rock with electronica, jazzy piano licks, hints at dubstep and overlays it with statements about peace and the purpose of walls and asks the questions 'Land, or man? Man, or God? Who owns the land?', setting the agenda for the rest of the album. "We Are One" supplies the obvious answer or at least the desired result - a compelling groove of post-rock and pop delivered in many languages building a trance-like tower of tongues.
The Tuareg influenced "Hasnaduro" is a full-on dance song that showcases the harmonies of Kouti and Sista K over ululations, North African percussion, and electric guitars all driven by the throbbing bass-like gumbri.
"dubsteppy bliss with wonderful lush vocals "
I think my favourite track off the album has to be "Im Nin'Alu". Based on a 17th C Hebrew poem by Rabbi Shalom Shabazi - and made famous by the late great israeli singer Ofra Haza it features Merlin Shepherd on clarinet and duduk. It's 3.22 of glorious balkan brass influenced dubsteppy bliss with wonderful lush vocals from Sista K and glitchy tricks sitting next to centuries old musical traditions. Love it.
So many cultural influences go into this album it's quite hard to capture it in words: "Il Était Une Fois Dans L'est" (Once Upon a time in the East) comes across as a combination of yiddisher mama, French lust and Spaghetti Western. "Fever is Rising", which features Speed Caravan's oud virtuoso, Mehdi Habbab, is industrial and clubby and insistent, but with comic elements and moments of light and hope amidst the fever. "Tangos del Cachito" - hints at cumbia, Curtis Mayfield and Spanish-Pop. "Osfour" has a stripped down folkiness about it with hints of 1960s French pop, whilst "La Camel" has a grimey texture over arabic vocals that somehow resolves into some jazzy electro-swing.
The wonderful maghrebi pianist Maurice el Medioni (a sort of Algerian stunt-double for Cuba's Rubén González!) is now a Marseille neighbour of Watcha Clan and adds his evocative and inventive piano talents to "Viens Viens". The band are also joined by Balkan brass heavyweights Fanfare Ciocarlia for the track "Gypsy Dust", the aural equivalent of a herd of nimble, ballet-dancing elephants pitted against a skinny man running away whilst playing a cymbalom as if his life depended on it . . . A great dance track crying out to be remixed! And then North Africa meets House music meets '2001: A Space Odyssey' in "Ashanti", and to finish off, an upbeat dupstep remix extended version of the opening track "With or Without The Wall".
There's also a bonus track, a version of the famous Spanish song that came synonymous with the anti-fascist volunteers that made up the much revered and almost mythical '5th Regiment' so beloved of Europe's left wing who formed an elite military cadre to try and combat Franco in Spain in the 1930s, "El Quinto Regimiento".
Finally contained within this enhanced CD there is an amusing cartoon strip about the formation of the album, a pdf-booklet of lyrics and a video - a mini-documentary focusing on Mexican-American border issues, set to the song "We Are One" and featuring interviews with migrant workers and farmers.
"radio Babel" is the sound of one world united by music.
Watcha Clan have seen the writing on the wall - and they want to tear it down.
The signal has gone out from Marseille - tune into Watcha Clan now . . .
Glyn Phillips
WorldMusic.co.uk