Water Tower Bucket Boys - Birmingham, UK, (11/9/12)
Tagged with: Water Tower Bucket Boys Bluegrass Country Folk Josh Rabie Kenny Feinstein Gordon Keeper Oregon Where The Crow Don't Fly Sole Kitchen Catfish on the Line Hare and Hounds Birmingham World Unlimited WorldMusic.co.uk World Music Glyn Phillips review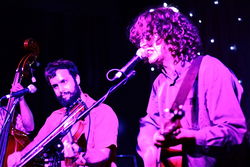 The curiously named Water Tower Bucket Boys are a four-piece - mostly bluegrass - band based in Oregon, USA, swapping between fiddle, mandolin, acoustic guitar, electric guitar, double bass, harmonica and drums.
"affable natures, innate courtesy and engaging and skilful music"
I'd first met them on a previous UK tour in 2010, when I was co-presenting a radio show on a community radio station in Birmingham. The Bucket Boys came to the studios for a combined interview and live set and I was impressed by their affable natures, innate courtesy and engaging and skilful music.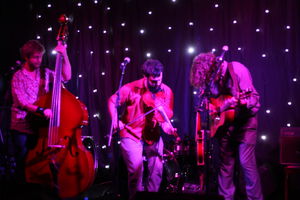 They crowded round a single mic and sang, scraped, plucked, picked and joked their hearts out before scooting off to Kings Heath's Kitchen Garden Café for their evening's gig. Sadly I couldn't go to the gig, but acquired a couple of CDs and played numbers from them on my own WorldBeatUK show during 2011, in particular the storming gut-bucket number "Blackbird Picking At A Squirrel" (don't ask!) from their 2010 album "Sole Kitchen".
So, I was particularly pleased when I heard they were returning for a tour of the UK and Ireland this year. Now with a slightly different line-up - banjo-player Cory Goldman being replaced by drummer, Jason Oppat the boys were back in a double bill with Lincoln Durham (who unfortunately I missed).
The current line-up is:
Kenny Feinstein: guitar, mandolin, electric guitar, vocals
Josh Rabie: Fiddle, guitar, harmonica, vocals
Gordon Keepers: Bass, vocals
Jason Oppat: drums, harmonica
"best experienced ... within easy reach of a dance floor"
The gig took place in Brum's Hare and Hounds and was put on by World Unlimited. It was a cosy seated affair with tables and candle-lights (great for introspective folk musing), but the Water Tower Bucket Boys are probably best experienced standing up, pint in hand, pumped up and within easy reach of a dance floor.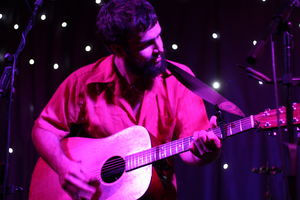 I was hardly seated when a young bearded man near me leant over to a long, curly-haired guy in shades and said "Let's do this!" and the band stood up from their seats in the audience and took to the stage. Straight into the first tune "Crooked Road". No messing: a fiddle-driven stomper with a chest-pumping bass drum sound that just bedded us all in before going straight into the next tune.
The two front men: the black-bearded Josh Rabie on fiddle and Kenny Feinstein (still wearing his shades!) exuded a confident authority on stage which allowed you to sit back and just be entertained.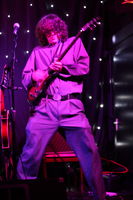 As I sat there watching them it occurred to me there was something reassuringly '70s' about their look… the hair, the beards, the whole country-rock vibe, even though the music itself was very rootsy. Maybe it's just me and it took me back to my childhood and teenage years but I found it very comforting!
In fact pretty much all of their music is self-penned and rooted in the bluegrass, folk and country side of what we now refer to as 'Americana'. It also feels strangely up-to-date and relevant, despite the sound harking back to the days of pioneers and mountain-men, smallholders and hill-billies. I've never set foot in Oregon, let alone Appalachia, but they took me right with them.
The boys have honed a lovely balanced sound, with warm harmonies and a lot of attention to the mix of textures between the different strings (from bass via guitar and mandolin to fiddle) and now the addition of drums. In a way the replacement of the banjo with drums has potentially freed the band up. Although I initially missed the archetypal hillbilly sound of a picked banjo, it allows the others to expand into other areas where they are not so neatly defined.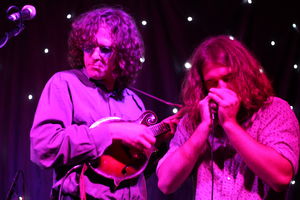 Kenny Feinstein in particular seemed fired up by the possibilities of new directions and was keen to explain that this was their last tour as the Water Tower Bucket Boys (apparently they will subsequently be named just 'Water Tower' - more on this later…) and that once back in the States they're heading off to the studio to record a new album with a whole load of new ideas.
I'd just like to mention the new drummer here, Jason Oppat, who besides playing some understated but nicely thought out drumming (combination of sticks, brushes and hot-rods) in support of the overall sound, also plays a mean mouth organ and twice left his kit to come up front and stomp along with the rest of them. The double-bass player, Gordon Keepers, didn't say a lot but, equally just held it all together.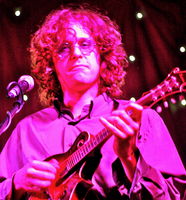 Singer-guitarist Kenny Feinstein (who reminded me a little bit like a cross between John Cooper Clarke and John Otway in a curious kind of way) asked the audience if any of them had been at their last Birmingham gig. At least one table of people raised their hands and shading his eyes and staring into the darkness said "Hey, aren't you the guy that gave me the pink tie?". Indeed it was! For some reason this led into a song about cheese (a little thread that ran through the evening bizarrely) entitled naturally enough "Fromage".
As the songs progressed the fiddle was replaced by acoustic guitar, acoustic by electric, electric by mandolin, mandolin supplemented by catfish… and the songs had progressed from cheese to cocaine and then logically into breakdowns. In this case a tune entitled, I think, London Breakdown, renamed for the night in our honour as "Birmingham Breakdown".
Just remember, son: cheese, it's the beginning of the slippery slope to damnation and ruin . . .
During a country tune I nipped out to get a drink (for some reason the bar was downstairs) and on my return caught Josh referring to Kenny as 'a fishmonger' (one of a few fishy references to rival the cheese theme that night). Luckily I just happened to have a papier-mache catfish with me that night (never leave home without one, kids) and was able to make the presentation. The catfish tucked under Feinstein's arm proceeded to oversee operations on the mandolin whilst the band launched into a waltz time song with bowed bass accompaniment.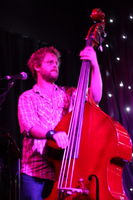 I must admit, after listening to their first couple of albums ("Catfish on the Line" - you can see where I'm coming from now, can't you? - and "Sole Kitchen" - these guys really like their food, don't they?) it occurred to me that most of their songs on the night were new (or maybe I just didn't recognise them without banjo, who knows).
They have a third album out "Where The Crow Don't Fly" (more of an EP really - only five tracks, compared to "Sole Kitchen"s thirteen and "Catfish"s fourteen). I love the artwork on these albums too (by Garrett Durrant) - check 'em out.
And so we got to the final number an uptempo stomper led by acoustic guitar and fiddle all about hanging out with your fish-buddies! I'm so glad I brought my catfish friend… (so if you see a blue van with a catfish on the dashboard, say 'Howdy!' and buy a CD).
"a fine show full of energy, ideas, talent, humour, personality and some very good music."
So, here's the thing: the Water Tower Bucket Boys deliver a fine show full of energy, ideas, talent, humour, personality and some very good music. The albums are very accessible (even if you're not sure whether or not you like bluegrass, etc, or not) and there's a new one bubbling away in their heads right now, set to take them off in another direction again. Like the tours and their restless shows, these boys don't stop striking out in new directions. According to the band, in future you'll have to look out for them as just 'Water Tower' (without the Bucket Boys suffix). This is all tied into their forthcoming re-invention of themselves.
Personally I'm not sure 'Water Tower' is as strong a name as the one they have now - I love the alliteration of 'Bucket Boys', the head-scratching silliness of the whole name, the incidental allusion to gut-bucket music and a tongue-in-cheek homage to the archetypal "The Good Old Boys" image. But, hey, that's just me! As long as the music, the CDs and the shows are as good as they are now, then long live whoever they decide to become.
Hey, lads! Why not just call yourselves "Catfish Fromage"? It'd save a lot of trouble . . .
Glyn Phillips (WorldMusic.co.uk)
(13/9/12)
(The) Water Tower (Bucket Boys) are currently touring in the UK and Ireland (Sept 2012). Check out their website: www.watertowerbucketboys.com for further details.