Whats On August - World Music Festival-Rhythmtree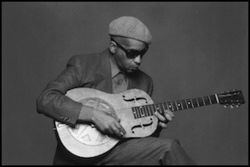 This August Bank Holiday there is a very special World Music Festival called the Rhythmtree Festival (normally held in July) in the Isle of Wight, but becuase of the floods in the early part of July, the organisers got special permission from the authorities to move the festival dates to the 24th to 26th August 2012.
So if you haven't made your mind up what to do this August get online and book your-self three days of World Music, Fusion, Blues, Dance, great food and excellent company. (Book Here)
It's easy to get to from most of the UK, just head to Southampton Docks (Red Funnel Ferries) and the whole trip from docks to East Cowes in Isle of Wight only takes around an hour or so, then a simple drive to the Rythmtree Festival site (SAT NAV ref: PO30-4NA).
(And folks, you don't need a passport !)
I know your sitting there thinking, well maybe later, do it now, nothing worse than being at home on a perfectly great bank Holiday when you could be listening to ;
Vieux Farka Toure - dubbed the Hendrix of the Sahara (YouTube Link)
Skip "Little Axe" McDonald - Blues Maestro (YouTube Link)
Dele Sosismi - 9 piece Afro Beat Orchestra (YouTube Link)
Colin & the Crawfish - Award winning Cajun band (YouTube Link)
Iryna Muha - Ukranian Singer & her special band MuHa (YouTube Link)
Wara - World Fusion Band
Diabel Cissokho & Ramon Goose - not to be missed (YouTube Link)
Lokkhi Terra - World Fusion Band (YouTube Link)
Grupo Lokito - Mmmh! Smooth! (YouTube Link)
Kadialy Kouyate - Incredible Griot Player (YouTube Link)
PLUS loads of other bands spread through the three days
AND in the RhumbarRumbar stage there are over 17 very talented DJ's pumping out music all evening as well. Come and have a listen to all the different types of music you will hear, BUT only if you book and and come to the festival, if not expect a quiet weekend at home !!
Have Some Fun at the Rythmtree Festival