World Routes: On The Road CD (BBC R3) Released 16 Jan 2012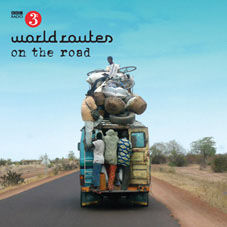 BBC Radio 3's flagship world-music show "World Routes" has just released a 2-CD, 30 track compilation (on the Nascente label - NASCE001) of previously unreleased material recorded on location by the World Routes programme over the last ten years, featuring some of the most thrilling artists from across the world, including Grammy award-winning Toumani Diabaté, Tito Paris, Ilham Al Madfai, Alim Qasimov and more.
The double CD (and 44-page booklet) was put together by the series' presenter Lucy Duran and producer James Parkin. Lucy is one of most in-demand world music producers who's lent her touch to Toumani Diabaté, Bassekou Kouyate and Yasmin Levy. She is also a lecturer in African music at the world's leading university of world music, SOAS. Lucy has been going backwards and forwards to Mali researching the music of its flamboyant divas, receiving her doctorate in 1999.
As the producer/ presenter of Radio 3's World Routes programme Lucy, together with producer James, travelled to over 50 countries to record the local music of the world. Whether dodging bandits in Madagascar, attending a week's worth of ear-splitting Greek weddings, surviving a near-death experience in Venezuela, being offered 'anus' for lunch in China and recording in places as varied as a volcano,
outrigger canoe and snowdrift, Lucy and James have done it all in the name of preserving the musical cultures of the world.
World Routes: On the Road' was released on Monday, 16 January. It can be ordered online (either CD or Download) via:
Amazon - http://www.amazon.co.uk/World-Routes-Various-Artists/dp/B005J4CCJ4/ref=sr_1_1?ie=UTF8&qid=1325172065&sr=8-1
HMV - http://hmv.com/hmvweb/displayProductDetails.do?ctx=341;1;9;49;6&sku=345790
iTunes - http://itunes.apple.com/gb/preorder/world-routes-on-the-road-itunes/id475532525

You can also check out some of the recordings via SoundCloud:
Listen on SoundCloud:
Toumani Diabate - Musu Maramba (Mali, 2003): http://soundcloud.com/nascentemusic/toumani-diabate-musu-maramba
Gochaq Askarov - Ay Qiz/Mugham Shahaz (Azerbaijan, 2007): http://soundcloud.com/nascentemusic/gochaq-askarov-ay-qiz-mugham
Michel - Homi di Fora (Cape Verde, 2009): http://soundcloud.com/nascentemusic/michel-homi-di-fora
Siba e a Fuloresta - Vale do Juca (Brazil, 2008): http://soundcloud.com/nascentemusic/siba-e-a-fuloresta-vale-do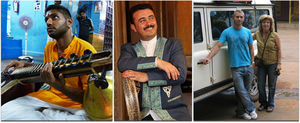 The Launch Event for the "World Routes: On The Road" CD takes place on Friday 3rd February 2012 (5.30-8pm) in The Front Room in the foyer of Queen Elizabeth Hall, Southbank Centre, Belvedere Road, London SE1 8XX
FREE ADMISSION

http://ticketing.southbankcentre.co.uk/find/music/gigs-contemporary/tickets/world-routes-on-the-road-63633
http://www.facebook.com/events/208709045882578/
This event is part of Southbank Centre's weekly Friday Tonic series.
The launch event includes a performance by Gochaq Askarov, Azerbaijan's finest exponent of the classical art form the mugham vocal style. The drama and virtuosity of Gochaq's voice, combined with his simplicity and modesty as a performer make him, without doubt, one of the finest voices in the world today. Gochaq's inclusion in this event has been made possible by The European Azerbaijan Society. Gochaq's song "Ay Qiz/Mugham Shahaz", recorded by World Routes on location in Azerbaijan, is featured on the compilation. Listen on SoundCloud: http://soundcloud.com/nascentemusic/gochaq-askarov-ay-qiz-mugham

Also featured on the compilation and performing at the launch event will be Hari Vrndavn Sivanesan, a young veena player from the UK who was the recipient of the BBC Radio 3 World Routes Academy scholarship in 2011. Hari has toured with sitar maestro Ravi Shankar and was chosen by him to perform on the Chants of India album, produced by Ravi and George Harrison.

At the launch, Lucy Duran and James Parkin will talk about some of the highlights of their travels over the last decade as well as signing copies of the album which will be on sale.