WorldBeatUK - Fantastic World Music 1st Night Launch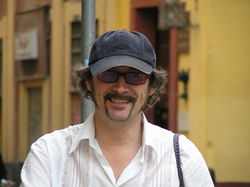 WorldMusic.co.uk Editor, Glyn Phillips started a brand new 2 hour world music radio show last Monday night, (Monday 28th Feb) from 6pm-8pm (GMT), on Rhubarb Radio (www.rhubarbradio.com).
The show, called WorldBeatUK, was accessed from listeners from all over the world via the following link: www.rhubarbradio.com (and then clicking the "Play" button (top right hand corner).
For those of you who emailed asking for Glyn's 1st night playlist of amazing world music cd's,here they are in the order they were played;
1 WorldBeatUK Jingle 1
2 Sangre Mandinga - Alex Wilson/Madou Sidiki Diabate/ Ahmed Fofana (Mali Latino)
3 Lona (Bamix) - Kristo Numpuby (Assiko City)
4 Sîrba Bulgareasca - Lelo Nika & Friends (Continuity)
5 Moribundo - Myrddin (Lucia Nieve)
6 Baraka - Kasba (Sodfa)
7 Vainajalan Tango - Lepistö & Lehti (Helsinki)
8 Chopin na Syberii - Maria Pomianowska & Friends (Chopin on 5 Continents)
9 Raag'n'Olé - Michał Czachowski's Indialucia (Indicalucia)
10 Prelude To You - Surinder Sandhu (The Fictionist)
11 Schladtzshe! - Sväng (Schladtzshel!)
12 Przebudzenie - Esus (Esus)
13 Angry Boy - Sexto Sentido (The Way)
14 WorldBeatUK Jingle 2
15 Uptown Top Ranking - Dub Colossus
16 Sombras - Buika
17 Abrigo - Danças Ocultas (Tarab)
18 Jungle Fever - Maguaré (Retrocumbia)
19 Blackbird Pickin At a Squirrel - Water Tower Bucket Boys (Sole Kitchen)
20 Boogie Shaker - Santa Macairo Orkestar (Novo Bal)
21 El Lodo - Liber Terán (Tambora SoundSystem)
22 La Rumba - Imam Baildi
23 Rumbo Nuevo - D'Callaos (Donde Termina El Mar)
24 Pa La Escuela Nene - Maria Mulata (Geko Jones vs Frikstailers rmx)
25 Triple Son - Amsterdam Klezmer Band vs. Beastie Boys (Balkan Hotsteppers rmx)
26 BASSFanthem2 - Delhi Sultanate
27 Amor De Nino - Joan Soriano (El Duque de la Bachata)
Don't forget Glyn's 2nd WorldBeatUK show is tonight at 6pm - 8pm UK time (GMT), Monday 7th March 2011 on www.rhubarbradio.com. If you can, say hello to Glyn when you tune in via the live chat window on the Rhubarb radio site, he will be pleased to hear from you!.
His long term Facebook address for this show is at:
http://www.facebook.com/WorldBeatUK
or if you are a Band, Agent, or Record Label wanting to contact him to play your music, then email him via info@worldmusic.co.uk.