WorldBeatUK - new world music radio show launches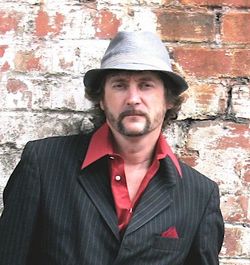 WorldMusic.co.uk Editor, Glyn Phillips is due to start a brand new 2 hour world music radio show every Monday night, beginning Monday 28th Feb from 6pm-8pm (GMT)* on Rhubarb Radio (www.rhubarbradio.com).
The show, called WorldBeatUK, can be accessed from anywhere in the world via the following link: www.rhubarbradio.com and then clicking the "Listen Now" button (top right hand corner).
"newest releases to time-weathered classics ... dustiest originals to the freshest remixes"
'Join Glyn on a musical journey around the planet as he shares everything from the newest releases to time-weathered classics, from the dustiest originals to the freshest remixes.
Whether you want to get your soul soothed or your ears spanked, you'll find something to tickle your palate. An eclectic, idiosyncratic mix that might include beguiling beguines, balkan bangers, chippy chichas, flamboyant flamenco, festive festejo, frenetic frevo, langurous landó, punchy pachanga, rumbunctious rebetika, rebellious rai, skanking ska, soulful soukous, tempestuous tango . . . and so much more. There's a whole world of sound out there!
From Digbeth to Dakar, from Birmingham to Buenos Aires, Rhubarb Radio's very own 'Glyndiana Jones' surfs the net, rides the waves and scours the global souks to dig up hidden gems, unearth forgotten treasures and track down 'the ones that got away' . . .
Tired of one-dimensional music? Then join me every Monday from 6-8pm as I go "Around the World in Weighty Grooves" - for your sonic delectation and spiritual delight!
Hope you can log on to the show and join me - and listen out, I might play some of your music!'
You can also reach me via www.facebook.com/WorldBeatUK
Glyn Phillips
WorldMusic.co.uk
* Remember to factor the difference between UK time (currently on Greenwich Mean Time - GMT) and where you live (just Google "time zone" to see converters), eg UK time is the same as Portugal, Ireland, Iceland and most of West Africa; the majority of Europe is on GMT+1, so should be 7-9pm over there; East Europe & Turkey is GMT+2 (8-10pm) and so on.