Yussef Ahmed - "Circles" CD Review
Tagged with: Yussef Ahmed Circles Fusion World Dub Rap Hip hop reggae funk soul pop rock rumba flamenco World Music WorldMusic.co.uk Glyn Phillips Review Alvin Davies
"poet and proclaimer, observer and oracle"
"Circles" is an interesting album that effortlessly encompasses world, jazz, hip-hop, dub, funk, soul, rock, pop, rumba-flamenco, electro, old school rap… I could go on and on. Yussef Ahmed filters and fuses these different genres and influences (circles within circles) to create a world where he is in the centre as poet and proclaimer, observer and oracle. Ahmed takes a seething mass of music, politics, cultural references, history, personal experiences, observation and mindfulness and sends it all back out again to land where it may (ripples upon ripples).
"a great listen"
In my mind he comes from a tradition of conscious lyricists (think Last Poets, Gil Scott Heron, et al). So, yes, it's deep, but not at all heavy. 'Circles', the album, is a great listen. Full of surprising musical genre elisions, catchy hooks, humour and hope as well as thoughtfulness, poignancy and anger. Not maybe a typical album for inclusion on WorldMusic.co.uk, but it was too fascinating to ignore.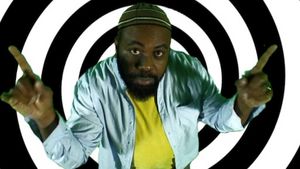 The album starts with the jazzy, rippling, liquid groove of "The Weather Man" - a vibe that takes me back to somewhere in my youth in the 70s for some reason I can't quite put my finger on. When Ahmed's voice comes in it's a bit of a surprise, much higher than you expect and almost a cartoon vocalisation as the 'Weather Man' brings you the news broadcast warning of the approaching winds of change. Love this track - there's a mesmerising and insistent groove to it, a forward pulse driven by the cymbals, congas and bluesy acoustic guitar.
Ahmed's not 'a singer' as such, he has a limited vocal range but he uses what he has to good effect (a tongue-in-cheek, very retro 70s rap & 80s pop vibe that belies the seriousness of his songs). He seems to lay out his words before you, allowing you to go over, pick them up, turn them over and around and make up your own mind about them. He also lays down plenty of percussion alongside the programmed sounds.
In fact, Ahmed's recruited some great musicians to perform with him including Paul Brook (nuff instruments…), John Blackford (basses), Mel Jones (guitars), Alvin Davies (sax, flute, trumpet), Errol Smith (trombone) and backing vocalists: Shaz Akira and Prince Jamo - as well as musical contributions from David Saylor (Spanish vocals), Jeremiah Thompson (keys), Tony Jones (drums) and Steve Wilson (bass). All these guys bring many years of total musical immersion - and it shows. There's an easy and reassuring confidence throughout.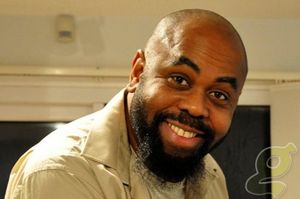 There's 10 original tracks on the album with some alternative versions of three of them: the radio edit of the title track "Circles", a jazzy reworking of the "Remember Lumumba" song (retitled as "Remember the Music") and the Spanglish version of "Got a Gun" (very distinct from the original - sort of slow, moody, 'spaghetti hip-hop').
I must draw attention to a few tracks in particular. "Got a Gun" has a definite David Bowie feel to it. "This Train" brought Massive Attack to mind and "Our Destiny" has echoes of Lou Reed and JJ Cale at times in the early stages before Shaz Akira and the children's choir kicks in (lovely!).
"Remember Lumumba" uses an experimental spacey dub reggae matrix to honour Patrice Lumumba, the first democratically elected leader of Congo, deposed, tortured and murdered by a combination of Belgian authorities, CIA and the UK. Truth is, these are just a few of the 'voices' that I hear inside the music - each person will take away something different from the whole album: there's plenty to mull over, both musically and lyrically.
The title track "Circles" takes hip-hop and Spanish rumba-flamenco and melds them in a smooth fusion underneath Ahmed's rap delivery. As he puts it in the liner notes:
"The message on this album title track "Circles' speaks of the fast moving fragile secular life we have and our longing for inner peace and security which cannot be found through material possessions".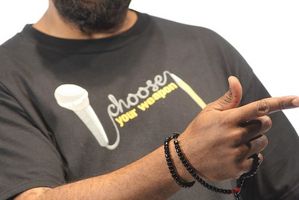 "Superfluous Myths" seems to blend funk and pop - again love the chorus line, pure catchy pop used to great (presumably ironic)! effect to reinforce Ahmed's thoughts on the mind-numbing effects of popular culture: comic book heroes, TV and computer games.
"Remember The Music" (which for some reason has had its lyrics missed out of the booklet) is a jazz dub-hop reworking of the chorus line from "Remember Lumumba" with Alvin Davies's sinuous sax skills prominent throughout and especially near the end.
"Power People" starts with a 'freak of the week' funk rhythm and b-line, has echoes of classic Talking Heads and is laced throughout with elements of early electronic music and yet another catchy pop-hook.
Finally, "The Journey Has Just Begun" seems to throw the whole history of electronica into the blender, yet still remains relentlessly funky.
"what makes this album stand out is the sheer musicality and inventiveness"
There are plenty of other lyricists around with Ahmed's skills with words and obvious depth of feeling; but what makes this album stand out is the sheer musicality and inventiveness of the tracks and musicians on it and the overall creativity in the production. You can actually feel the amount of thought behind the whole process.
"relevant messages over a soundtrack that is engaging, humorous, crafted and brimming with energy."
With 'Circles' [Hilal On Wax 023 CD; 2012], Yussef Ahmed is delivering some very relevant messages over a soundtrack that is engaging, humorous, crafted and brimming with energy.
Glyn Phillips (WorldMusic.co.uk) - 7 April 2013
For more info: www.yussef.com/
'Circles' official album launch will be on 14th June 2013 at the Drum Arts Centre, Newtown, Birmingham, UK where Yussef Ahmed and his band will be performing tracks from previous and recent recordings. www.the-drum.org.uk/