WorldBeatUK (29th Show) - Broadcast Notes (5/10/11)
Tagged with: WorldBeatUK Glyn Phillips Cedric Watson Whiskey River Francesca Ancarola Tomas de Perrate 1EYE Martin Alvarado Diwan Project Seckou Keita Mabon Horace Trahan Cobra Verde Si Bemol Mdungu Huba Manteca Sidestepper Fissunix Pedro Moutinho Pilao de Pif
WBUK29 (5/10/11) - SHOWNOTES
1 "Intro-Mat" (1:47) by Matchatcha - "Nyekesse" (Melodie)
"Hello! Are you sitting comfortably? Then I'll begin… (Pause) Welcome to another weekly dose of wonderful world music right here on Rhubarb Radio. You're listening to WorldBeatUK with me, Glyn Phillips, tirelessly scouring the outer reaches of global musicality to bring you the stuff the others don't!
Stick with me here on Rhubarb Radio until 9pm tonight (UK time) whilst I bring sonic treasures from Argentina, Chile and Brazil, audio gems from Romania, Finland, Wales and Israel, harmonic gold from Holland, Spain, Portugal and Gambia and auricular riches from Louisiana, Hereford and even dear old Brummajum itself!
[Pause]
Yes, climb aboard the Good Ship WorldBeatUK because deep in the holds I've got another treasure chest packed with musical booty - and there's plenty more junk in the trunk with some dirty, accordion-pumping, squeezebox action as well! There's also a definite jazzy, soulful, funky undercurrent coursing beneath the hull throughout the evening, but you'll feel that later on as we hit the High Seas of the World Music Oceans.
But for the moment let's just stow you all aboard, break open the rum, distribute the ship's biscuits, cast off, catch the tide and set sail out of the harbour…"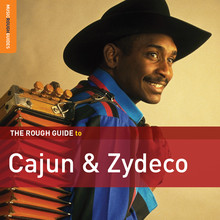 Now I've just got hold of a new release by World Music Network - the people behind the Rough Guide series of CDs. If you don't know them, then they give you a very useful overview of the current state of play in different areas of world music. For instance, recent releases have included the Rough Guides to English Folk, Sufi Music, and Brazilian Cafe.
The nice thing is that when you buy a CD you get another one highlighting the work of one of the groups featured on the compilation for free. So, for instance with the Rough Guide to English Folk you also get included a CD retrospective of the work of the amazing Yorkshire acapella trio Coope, Boyes and Simpson.
The CD I'm featuring at the moment is the Rough Guide to Cajun and Zydeco, which I can thoroughly recommend, some great stuff on it indeed.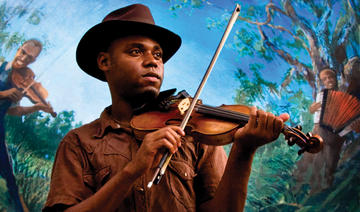 I'm going to be playing a couple of tracks from it tonight and first up is someone I've played before on the show, the great Cedric Watson and his band Bijou Creole and a track called "Afro Zydeco"
2 "Afro Zydeco" (5:07) by Cedric Watson & Bijou Creole - "The Rough Guide To Cajun & Zydeco" (World Music Network)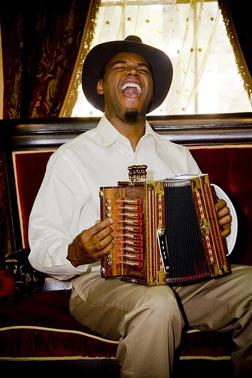 Always a lot of fun when Cedric's in the house! That one's going out to Dylan.
If you go to www.worldmusic.co.uk and look in the Galleries section you can see some photos of Cedric Watson at a concert a couple of years ago or so.
I've got some more great zydeco coming up later on in the show, so keep your ears open for that 'cause I'm really excited about that one too!
Cedric's from Louisiana, but you don't have to necessarily travel there to hear great American music.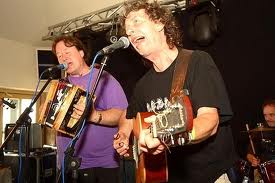 Just a couple of hours or so down the road from Birmingham (England, not Alabama) is the ancient market city of Hereford.
And from there comes a great band called Whiskey River who play a mixture of Blues, Country, Cajun, Zydeco etc, etc.
They've just released a new album called "Hot Sauce!" and I'm playing a couple more tracks from it tonight.
First off is a lovely country ballad called "Wild Horses" with vocals by Marty Blake.
3 "Wild Horses" (4:42) by Whiskey River - "Hot Sauce!"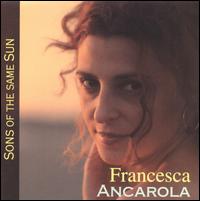 Yeah, beautiful. Now I promised a jazzy, soulful undercurrent to the show tonight and here's the first offering. I absolutely love this, not at all what I expected when I got the CD through.
The singer is from Chile in South America and she's called Francesca Ancarola. She blends jazz and soul with traditional latin american songforms and sings in a mixture of Spanish and English.
This is from her album "Sons of the Same Sun" and is called "To The Shore Of The Sea".

4 "To The Shore Of The Sea" (4:06) by Francesca Ancarola - "Sons of the Same Sun"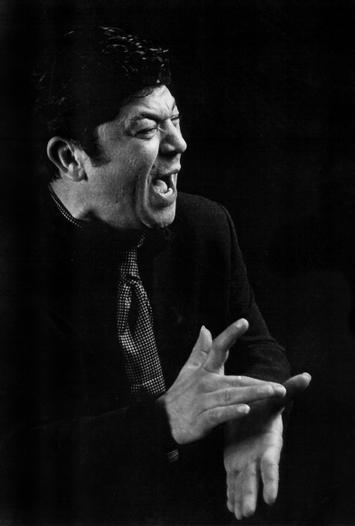 Yeah, loving that - especially the way it seamlessly goes from jazz and soul and waltz and ends up with that flamenco flavour!
Which leads me on effortlessly onto one of Spain's many great flamenco singers. This is one I came across a few years ago in Seville.
His name is Tomás de Perrate and from his album on the Flamenco Vivo label called "Perraterías" a great piece of Reggae-Flamenco in the style of 'tangos de Málaga' called "El Piyayo"

5 "El Piyayo (Tangos de Málaga)" (4:06) by Tomás de Perrate - "Perraterías" (Flamenco Vivo)
OK, Here's another group of which I'm playing two songs tonight.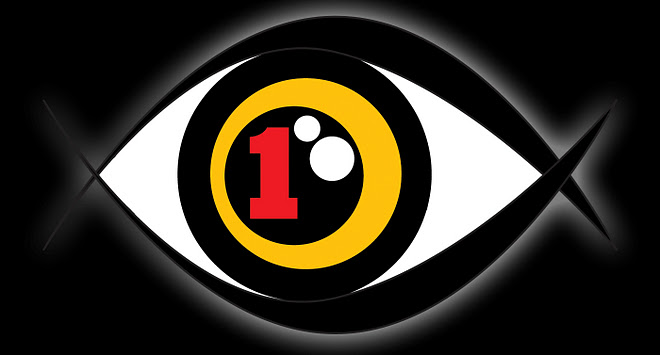 The band is from right here in Birmingham, England and are called 1EYE.
I saw them in concert at the Hare and Hounds a couple of week's ago and can thoroughly recommend them! Their new album still doesn't have a name, but here's a sneak preview from the promo CD.
This a lovely piece of Brummie rocksteady (produced in Jamaica) and it's called "Lately".

6 "Lately" (3:08) by 1EYE - (Industry Records 2011)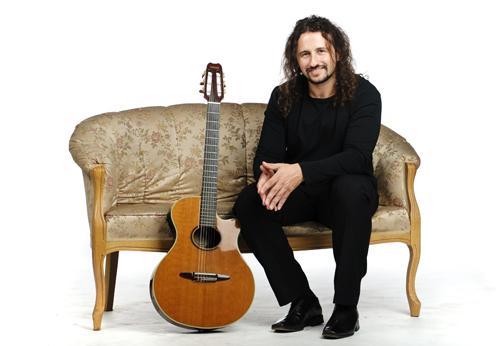 And a real change of pace now - I'm going to call into one of the great ports of South America - Buenos Aires, Argentina! From there comes the young tango singer Martin Alvarado.
Martín will be touring the UK in November and will be coming to Birmingham on Sunday 19th November to perform at the mac. I'm definitely going and really looking forward to that.
Here's a little taste of what to expect. This is from his first album "Así Es Mi Tango" on the Fonocal label and a track entitled "Estás En Mi Corazón" (You are in my heart).

7 "Estás En Mi Corazón" (2:53) by Martin Alvarado - "Así Es Mi Tango" (Fonocal)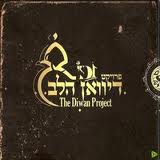 Wasn't that lush! I've got a couple more sonically gorgeous tracks lined up. The first is from a CD called The Diwan Project.
Now, I've had this CD a little while, but like many deep things, be they books, music or people, it sometimes it takes time, patience and the right approach to understand what they are all about. It was like this for me with this album and I'm glad I've gone back to it and can appreciate it now.
The Diwan Project was founded in 2003 by Gil Ron Shama (whose work always searches for the similarities and connections between disparate communities such as Jews and Muslims) and Alon Amano Campino. The Diwan Project is not so much a musical band as a cultural experiment to bring musicians and audience together to mutually experience sacred music.

The Jews of Medieval Spain had a tradition of meeting outside a synagogue after a prayer session and combining song and piyut (a kind of sacred poetry) and searching for shechina (ie the divine presence) through this exploration of both performers and audience. This was the Diwan.
So what you're about hear is an ensemble performing traditional music and song but in a free and contemporary style on old instruments from the Jewish Diaspora. This is called "I Heard That Crushed"

8 "I Heard That Crushed" (5:38) by The Diwan Project - "The Diwan Project"

This weekend down in Bristol at the Colston Hall there's going to be special event called the Schumacher Centenary Festival to mark the 100th anniversary of E F Schumacher the green pioneer who coined the phrase and wrote the book "small is beautiful" and was also founder of the Soil Association.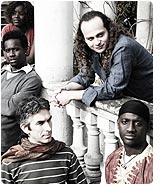 During the daytimes there will be lectures and discussions and workshops, but on the Saturday - the 8th October - they are putting on a mini-festival programmed by WOMAD's former Artistic Director Thomas Brooman, with an impressive array of World Music artists including Trilok Gurtu, The Dhol Foundation, Colores de Colombia, Jamie Smith's Mabon and Seckou Keita as well as more local artists.
So to give you a taste of what's on there here's a couple of tracks from two of the artists appearing.
First is the experimental Gambian kora player Seckou Keita - here with his quintet - Gambians Surahata Susso on percussion and Binta Suso on vocals, Italian Davide Mantovani on bass and the Egyptian violinist Samy Bishal.
This is is a track from his album "The Silimbo Passage" on the World Artventures label and it's called "Dingba Don".
9 "Dingba Don" (3:58) by Seckou Keita Quintet - "The Silimbo Passage" (World Artventures)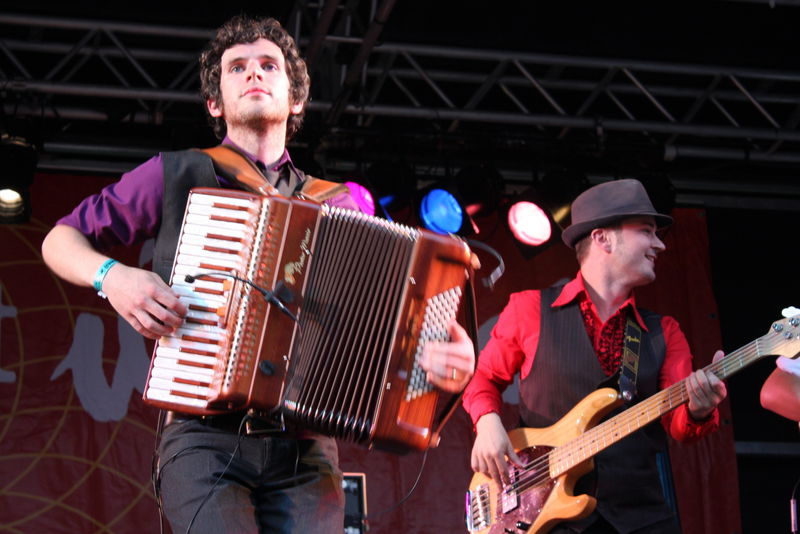 And following on from Seckou Keita, a band that is also appearing at the smallWorld mini-festival in Bristol this weekend, the British Interceltic folkers, Jamie Smith's Mabon.
I've played numerous tracks by them over the last year and also written about their appearances at both last year's Womex and this year's Womad (both reviews can be seen at www.worldmusic.co.uk if you're interested - Womad review here: www.worldmusic.co.uk/jamie_smiths_mabon_radio_3_stage_womad_29711).
This one's a an up-beat headbanger from their award-winning "Live at the Grand Pavillion" album and it's called "The Hustler".
10 "The Hustler" (Live) (4:16) by Mabon - "Live At The Grand Pavillion" (Easy On the Records 2010)
That was the first of four accordion-based pieces in a row I'm playing. I've already spun you some wonderful zydeco at the top of the show and now's the time for some more from the Rough Guide to Cajun and Zydeco.
This is my absolute favourite from the album, it's a dirty, funky, groover by Horace Trahane sung in both English and Creole French and takes its title from a Jamaican expression apparently.
This is "Same Knife Cut The Sheep, Cut The Goat" - Turn up the volume and laisser le bons temps rouler!

11 "Same Knife Cut The Sheep, Cut The Goat" (3:49) by Horace Trahan - "The Rough Guide To Cajun & Zydeco" (World Music Network)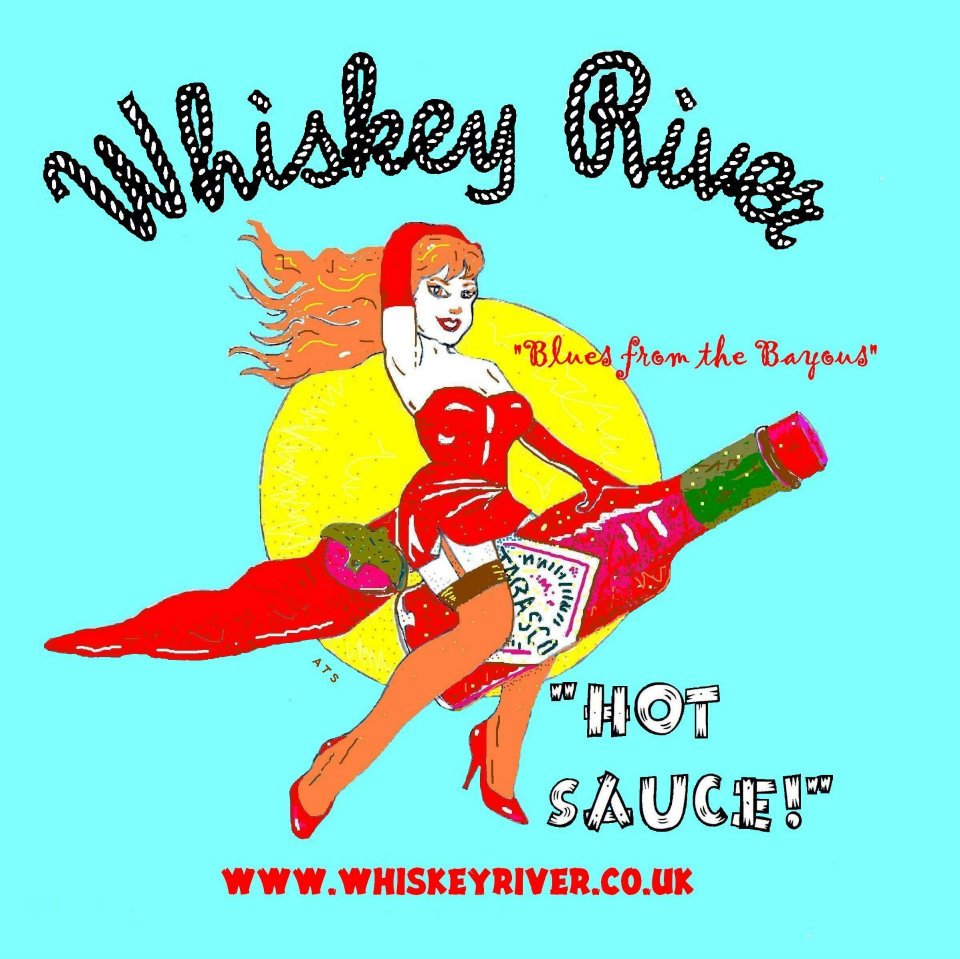 Ha ha! Love that one!
Ok so time now for the second one from Hereford's Whiskey River from their new album "Hot Sauce!" and it's a cajun dancefloor filler called "Les Flammes d'Enfer".
If you live anywhere near the Welsh Marches either side of the border you might come across these guys so keep your eyes peeled for them.
Now where's that gumbo?

12 "Les Flammes d'Enfer" (4:27) by Whiskey River - "Hot Sauce!"
[CONTINUOUS]
13 "Forró de Cobra Verde" (2:50) by Cobra Verde - "Forró do Baú" (Cinq Planetes)
[CHANGE THE CDs!!]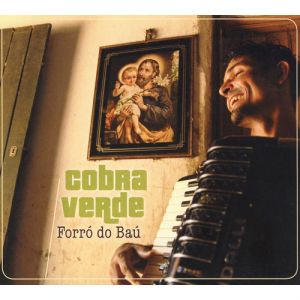 You're listening to WorldBeatUK on Rhubarb Radio with me, Glyn Phillips, taking you on a musical journey around the world.
Don't forget you can join me every Wednesday on www.rhubarbradio.com between the hours of 7-9pm (UK time) and I'll try to bring you the best in world music from across the Seven Seas...
OK, what you heard before was the last of four accordion-driven pieces and was a forró from the State of Sergipe in North-East Brazil called "Forró de Cobra Verde" by the accordionist Cobra Verde from the album "Forró do Baú on the French Cinq Planetes label.
We're going to stay in North-East Brazil for this next one. This is a style of music based on the Brazilian pifano instrument - a type of reed flute - originally played by the indigenous inhabitants of the sertão region.
Here in the hands of the band Pilão de Pif it's used to great effect in the tune "Meu Pilão de Pif"

(1) 14 "Meu Pilão de Pif" (2:48) by Pilão de Pif - "Music from Sergipe" (promo CD)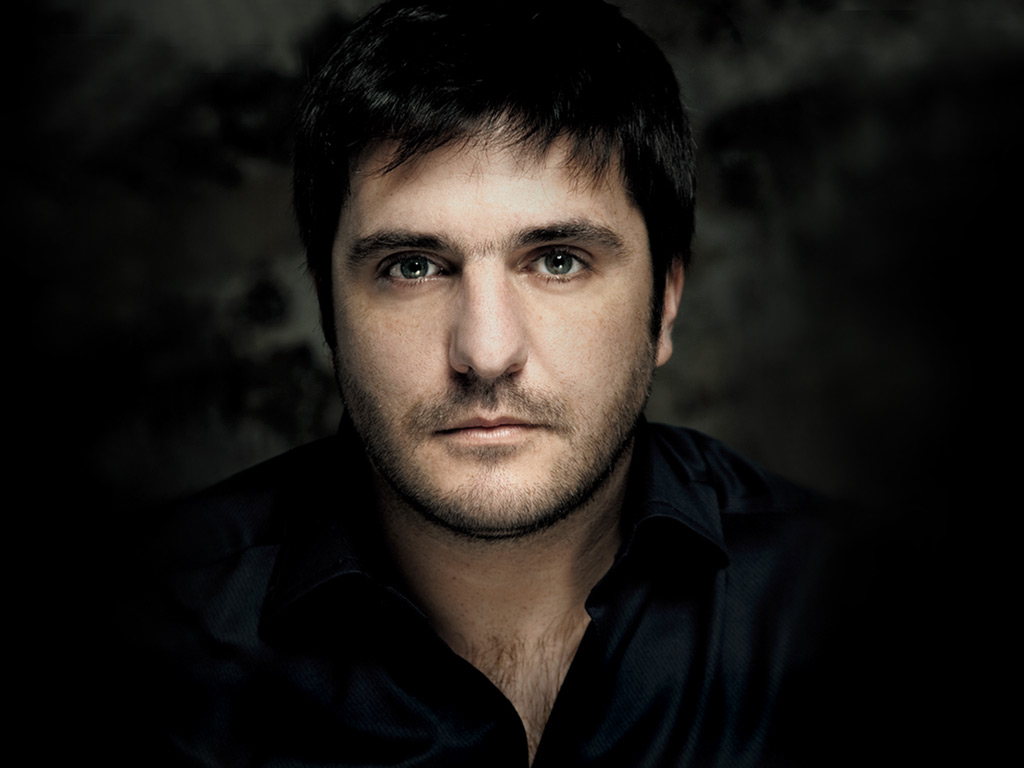 What about that then?
The majority language spoken in Brazil is Portuguese of course, so I'm going to indulge us in some lusophonic lyricism from the mother country for the next couple of numbers.
This is the fadisto Pedro Moutinho, and a traditional sounding track from the promo album "Lisboa Mora Aqui" called "Não Sabe Como Voltar"

(2) 15 "Não Sabe Como Voltar" (2:11) by Pedro Moutinho - "Lisboa Mora Aqui"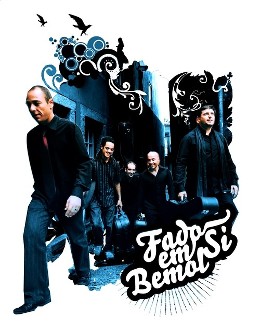 Well, as I said that was a very traditional take on Portugal's most famous song form, the sometimes playful, oft-times melancholic, but always beautiful fado.
But you'd be mistaken to think that the Portuguese are afraid to experiment with this almost sacred artform.
This is the band Si Bemol from their album "Fado Em Si Bemol" and their jazz-fado take on an absolute classic, originally made famous by Amália Rodrigues.
This is their live version of "Coimbra"

(3) 16 "Coimbra" (4:18) by Si Bemol - "Fado Em Si Bemol"
You see, someone else like me who can appreciate the artistic merits of the mouth-trumpet and silly scat-singing! Love it!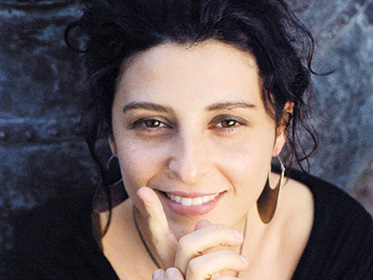 OK, once more back to a second helping of someone who I've already featured earlier on tonight.
And just as Si Bemol have taken classic fado and given it a jazzy twist, so the Chilean singer Francesca Ancarola takes the old afro-peruvian song form of landó and gives it a jazz and soul interpretation.
I'm loving this. From the album "Sons of the Same Sun" this is called "Scarebadthings".

(4) 17 "Scarebadthings" (4:46) by Francesca Ancarola - "Sons of the Same Sun"
[CONTINUOUS]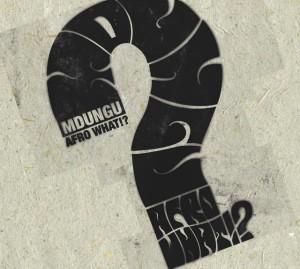 (5) 18 "Pick Up"(4:24) by Mdungu - "Afro What?" (Zimbraz)
That was a track called "Pick Up" by the Dutch band Mdungu from their album "Afro What?" on the Zimbraz label.
I've got about two more shows after this one before I take off for Copenhagen for Womex and that band is definitely one I want to see live when I get there. How could you not want to start jiving to that one!
Don't forget, before that you heard Francesca Ancarola and her jazzy-RnB take on an afro-peruano landó tune.
I told you I'd got some jazzy-funky-soul undercurrents to the show and this next track is no exception.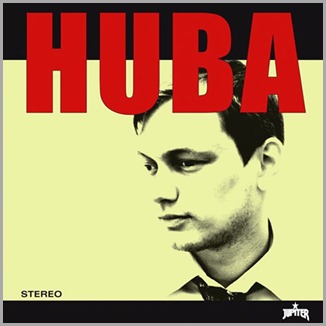 The band is from Finland, I played them last week to great acclaim, in particular to Billy Green - who incidentally has won himself a Womeximiser CD in last week's draw! So well done Billy - send us an email with your address and I'll get it sent out to you.
So here's another one for you from the wonderful Helsinki band Huba.
This is a sublime piece called "Summer Morn".

(6) 19 "Summer Morn" (4:20) by Huba - "Huba"
[CONTINUOUS]

(7) 20 "Accidental Love" (3:18) by 1EYE - (Industry Records 2011)
Yeah, that was the second offering from Brummie Rocksteady crew, 1EYE, from their as yet unnamed album to be released on Industry Records a track called "Accidental Love". Check 'em out if you get the chance.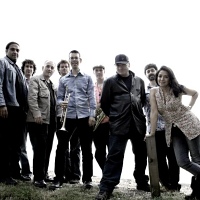 OK, so let's take ourselves up to the end of the show by going up the gears with some rockers and dancefloor fillers!
First up is British band Manteca and a rocketing piece of latin-jazz-funk called "De Todo".
Oye!! Les traigo de todo para guarachar - A Gozaaaaaaaaaaaarrr!!!

(8) 21 "De Todo" (4:16) by Manteca - Manteca Promo CD (2010)
[CONTINUOUS]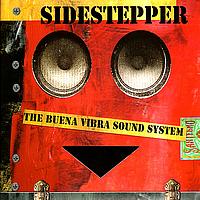 (9) 22 "Papaya 07 (3:35)" by Sidestepper - "Buena Vibra Sound System" (Sony 2008)
Yeah that was Colombia's Sidestepper and their indubitably funky remixed "Papaya 07" from the Buena Vibra Sound System album.
Now that's a dancefloor filler - it's enough to make your shoulders unhinge and your spine turn to jelly . . .
What shall we follow that with then?
Hmmm… how about a bit of Hendrix?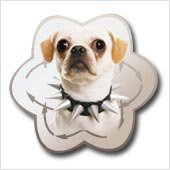 Well, as re-envisaged in a sort of funk-meets-afrobeat fusion by remixer Fissunix.
This is "Foxy Funky Lady"

(10) 23 "Foxy Funky Lady" (3:40) by Fissunix
Ha ha - yeah, definitely one for all the foxy ladies out there tonight!
OK, time for bye-byes etc
[shout-outs and reminders]
I'm going to leave you with this amazing mash-up - or maybe I should say crash-up between Romania's Mahala Rai Banda and Diana Ross. Yes, that's what I said, Diana Ross.
It's all orchestrated by TJF Sound and Mykol Orthodox. And it's pure madness!
The song you will know - trust me, you'll know it! Not originally by Ross, but if I say who it was by I'd give the game away.
In fact I'm going to say good night right now, light the blue touchpaper and skedaddle before this baby rockets up into the air and explodes all over your consciousness in a sticky sonic mess.
This is a Marmite song - you're either going to love it or hate it!
I love it - but I ain't sticking around to get your responses!
See y'all next week!! Ciao, babies!
(11) 24 "I Will Survive in Mahalageasca" (4:37) by Mahala Rai Banda & Diana Ross (TJF Sound & Mykol Orthodox)
WorldBeatUK (8th Show) - Broadcast Notes (20/4/11)
Tagged with: WorldBeatUK Glyn Phillips Rhubarb Renato Martins Ialma Imam Baildi marco Andre Fandango Duende Taraf Echocentrics Dub Colossus Surinder Sandhu Appietus Mangwana Stars Grupo Socavon Ophex Manteca Real World Otrabanda Ubiquity Boris Gaquere Salah Ragab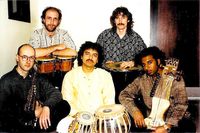 Show notes for WBUK8 (20/4/11)
1 "Intro-mat" (1.47) Matchatcha "Nyekesse" (Melodie)
Hi and welcome to another WorldBeatUK, with me Glyn Phillips and 2 hours of the best world music from around the planet. Coming up on the show tonight a very special guest from Brazil, music from Lithuania, Chile, Colombia, Ghana, Ethiopia, Mexico, Brazil, Greece, and even Birmingham! First up though ever wondered what it would be like to Dance like a Galician?
2 "Dance Like a Galician" (3:13) Ialma "Simbiose" (Do Fol Musica/Boa)
That was the Galican female quintet Ialma from their new album Simbiose on the Do Fol Musica/Boa label and the track of course was their reworking of the Bangles's "Walk Like an Egyptian". So how would a self-confident resident of Cairo walk? I think he'd follow Salah Ragab's example and do the "Egypt Strut" of course . . .
3 "Egypt Strut" (3:57) Salah Ragab "The Imam Baildi Cookbook" (EMI Greece)
(Imam Baildi Remix feat. BnC & Lady Faye)
- - - CONTINUOUS - - -
4 "Pequeno Dicionario do Amor" (3:55) Marco André "Beat iú"
That last track was by Amazonian musician, Marco André off his wonderful 2007 album, "Beat iú" and was called "Pequeno Dicionario do Amor" (Small Dictionary of Love). As you might have guessed that was a Brazilian piece, which provides a nice intro to my special guest in the studio this evening. From Sao Paulo, Brasil, the brilliant percussionist and composer, Mr Renato Martins!
Hi Renato, Tudo Bem? I'm very glad you could fit a visit in to "WorldBeatUK" here at Rhubarb Radio on your trip to the UK.
§§§ (Renato answers here - but I don't have the transcripts)
Now, I'd better explain that I first met Renato many, many years ago in the early 1990s right here in Birmingham. So, Renatinho, can you explain to the listeners how it was you came to leave Brazil and what brought you to the UK and to Birmingham in particular?
§§§
Can you say a little of what you found musically here in Birmingham and also what bands and musicians you worked with here?
§§§
[Mention that we used to play together in the Sabri Ensemble with Sarwar Sabri (tabla), Chris Conway (Keys), Martin Speake (Sax) and later on Birmingham's own Alvin Davis (on soprano sax), myself Glyn Phillips on percussion and Renato Martins on percussion too and Surinder Sandhu on sarangi (who I'll be coming back to later on in the show).]
§§§
How long did you stay in Birmingham and where did you go afterwards?
§§§
This is probably a good point now to play some of your music. You've brought a couple of your albums along and some of your fantastic udu pots which I'm hoping you'll play live later on in the show. So what track are we going to go with first?
§§§
5 "Indiaiá" by Renato Martins from the album "Indiaiá"

You're listening to WorldBeatUK with me, Glyn Phillips, bringing you 2 hours of the best world music from around the globe, right here on Rhubarb Radio coming from Birmingham UK.
Now then, Renato, can you tell me what you've been up to since you ended up living in Belgium. In fact first can you tell me what took you to Brussels and what has happened to you since.
§§§
OK so let's hear something from your more recent output. Tell me about this track:
§§§
6 "Fala Seu Luis" by Renato Martins
I'm going to return to Renato later on in the show and we should be hearing him perform for us live on air using his Udu pots which I'm very excited about.
But first I'm going to share some more great cds with you and this next piece is by a Mexican/Arab/Spanish quartet called "Fandango, Duende y Taraf" from their 2005 album, "Las Tres Orillas del Atlántico" (The Three Shores of the Atlantic), on the Mexican Alebrije label.
The band's aim is to explore the interplay between three different but interrelated musical cultures: the Fandango of the Son Jarocho tradition of Veracruz in Mexico, the duende (or mystical spirit) of the Andalusian flamenco tradition of Southern Spain and the 'taraf' which comes from the North African Arab Al'Andaluz tradition. This is a beautiful track and it's named after one of the great cities of Andalucia: "Granada"
7 Granada (6:40) Fandango, Duende y Taraf Les Tres Orillas del Atlántico (Alebrije)
Yeah, that was the group Fandango, Duende y Taraf and a track called "Granada" featuring Abdelm'jid Moutana on Moroccan oud or lute, Angel Chacón on Spanish Guitar, Vihuela (a form of lute-like guitar played in Spain with 12 paired strings) and the Jarana Jarocha (an 8 string instrument typical of the Vera Cruz region of Southern Mexico), Armando Montiel on Percussion and J. Cristóbal Pérez Grobet on double and electric bass. If you can find their music please check them out - they're certainly on YouTube.
[Speak to Renato again. Introduce next track ("Pixaim") by Renato Martins and his Belgian collaborator Boris Gaquere].
8 "Pixaim" by Renato Martins/Boris Gaquere Duo
This next track is off a brand new album on the American Ubiquity label called "Sunshadows". The band is the Echocentrics and is based around the work of producer Adrian Quesada of Brownout fame. It's a good representation of the increasingly common form of world music that utilises a melting pot of influences to create something almost indefinable. The album's blurb states that it's for fans of Quantic & his Combo Barbaro, Karen Elson, Charlotte Gainsbourg, Bonobo, Ennio Morricone, Thievery Corp, David Axelrod and Shawn Lee (who I featured on the show a few weeks ago). If that isn't a cultural mashup I don't know what is.
This track has more of a latin funk meets afrobeat meets Brazilian folk vibe to it and features the vocal talents of Tita Lima the daughter of Liminha, the bass player for Os Mutantes. The album was released last week and this track is entitled "Mundo Penqueno" or Small World:
9 Mundo Pequeno (4:11) Echocentrics Sunshadows (Ubiquity)

Now, then a few weeks ago as a special preview, I played you a wonderful re-working of Althea and Donna's tune "Uptown Top Ranking" by the Anglo-Ethiopian band "Dub Colossus", from the upcoming album "Addis Through the Looking Glass" (a follow-on from their debut album "A Town Called Addis").
The new album is due out next week on the 25th April on the Real World Records label and is very much a mixture of styles and musicians, all beautifully recorded I might add. It goes from atmospheric jazz-dub instrumentals to breathy love songs and earthy traditional pieces along with jazz, funk, brass band and of course reggae. It's all produced by Nick Page better known as Dubulah from Transglobal Underground and features a veritable slew of contemporary Ethiopian talent.
I'm going to play you the track "Guragigna" which features Sintayehu "Mimi" Zenebe on lead vocals and is described in the liner notes as a ferociously funky Ethiopian song that sounds "like a blue taxi going at full speed with no brakes during rush hour in Addis Ababa". Oh, well, wish me luck: Taxi!!
10 Guragigna (5:15) Dub Colossus Addis Through The Looking Glass (Real World Records)
Dub Colossus will be bringing an expanded 12 piece band to tour the UK this summer and are already booked to play the Womad festival at Charlton Park in late July.
Ok back to our special guest tonight on WorldBeatUK, world renowned Brazilian percussionist, Renato Martins, originally from São Paulo, but now a resident of Brussels (via Birmingham of course!).
We're going to do a little live feature now utilising just Renato and a beautiful and intriguing percussion instrument and I'm going to ask Renato to describe it:
§§§ [Renato talks about the Udu Pot (or 'moringa' in Portuguese)]
What are you going to play Renato? OK, the mic's all yours:
§§§
11 Sampraladebão (percussion piece performed live in studio on Udu pot by Renato Martins)
[His sponsorship by Latin Percussion, any plugs he wants to do, etc, reminder that we'll be round the corner at the Old Crown at Digbeth after the show.]
[Feed into the connection with Surinder]:
Earlier on I mentioned that Renato and I used to perform together. In that same band almost 20 years ago was one Surinder Sandhu, originally from Wolverhampton and now an internationally renowned composer, bandleader, producer and musician in his own right, with three highly acclaimed albums under his belt and a new one almost finished which I shall certainly feature when it's out later this year which is from his new Funkawallahs project, which aims to fuse the ethos, energy and fun of the great funk bands of old (such as Earth, Wind & Fire, Parliament and James Brown) with the global palette of cultures and sounds that shows such as this one revel in. I'm very excited about the project - particularly because I'm on the album and in the band!
In the meantime however I'd like to play a more meditative piece from his last album "The Fictionist" on the Saurang label and this is called "To You (A Mother's Love)"
12 To You (A Mother's Love) - Surinder Sandhu from the album "The Fictionist"
[Shout outs to people - reminder of who they're listening to - any more speech from Renato]
Ok let's pick the tempo and the energy up a bit now and this is a track from the recent album: "Chop Our Music - Akwaaba 2 year Anniversary Super Release!" on the Akwaaba label and is a number to really shake yer bits along to. This is "Sala" by the band Appietus featuring D-Flex, Screw-Face & Mohamed.
13 Sala - (5:14) - Appietus - "Chop Our Music - Akwaaba 2 year Anniversary Super Release!" (Akwaaba Music)
Staying with the Dutch label connection, last week I played you a piece of music from the so-called Dutch speaking Caribbean in the ABC islands of Aruba, Bonaire and Curação off the coast of Venezuela - a piece of papiamentu son from Oswin Chin Behilia. Well, his label, Otrabanda Records, based in the Netherlands has a wealth of little known stars and styles in its archives.
This next track is off a terrific 2007 album called "Bokoor Beats - Vintage Afro-beat, Afro-rock and electric Highlife from Ghana" from the archives of musician and studio engineer John Collins who during the 1970s recorded and played with countless great Ghanaian bands. This track I adore and is called "Atiadele" by the Mangwana Stars. It's a total groove, music lovers!
14 Atiadele (7:12) Mangwana Stars Bokoor Beats
Now don't say that that didn't get you grooving!! Now, same label, Otrabanda Records, different album; this is the sound of Colombia's Pacific coast, the sound of the marimba - utterly, utterly compelling! The album's called "Pacifico Colombiano", the band's called Grupo Socavon and the track is called "Homenaje a Justino".
15 Homenaje A Justino (5:32) Grupo Socavon Pacífico Colombiano

16 Danca da Lituania (2:35) Ophex

Ok, you just heard the sound of some Lithuanian samba and folk music given the Baile Funk treatment by DJ Ophex - just going to prove that almost everything is musical grist to the producer's mill these days!
Thanks to special guest, Renato Martins, and remember: details to all the music I play can be found on the website: www.worldmusic.co.uk/radio; thanks to all who listened in and especially those who commented.
Don't forget the special Rhubarb Radio Presents open day event at the Hare and Hounds Kings Heath , Birmingham, THIS Sunday 24th April - upstairs in the big room - come and find out about us, and how you can be involved in Rhubarb, meet the presenters, see live bands, and watch us actually broadcasting live from the event. Midday to almost midnight - come along, I'll be there and will be doing a special one hour WorldBeatUK live from the Hare & Hounds - loads of good stuff, check it out on Facebook.
Otherwise tune in next week, Wed 27th April (7pm - 9pm) and meet me here when I'll be clipping yer tickets for another 2 hour journey around the world! All aboard!
Going to leave you with some UK latino drum bass madness now. Formed for Edinburgh's Hogmanay Festival in 2001 by Colombian singer Martha Acosta & bassist Javier Fioramonti, the band Manteca released this heavenly slice of dancefloor locura from their 2009 album on Freestyle Records called "Planet Latino". Are you ready? "Tremendo Boogaloo"
16 "Tremendo Boogaloo" (4:03) by Manteca from the album "Planet Latino"
WorldBeatUK (7th Show) - Broadcast Notes (13/4/11)
Tagged with: WorldBeatUK Glyn Phillips Rhubarb C Sharp Seth Lakeman Berroguetto ialma Serjao Loroza Parno Grazst Gypsy Groovz Blind Boys of Alabama Michel Ongara Oswin Chin Behilia Jolly Boys Bellon Maceiras Imam Baildi Azucah Manteca Rudeboy Rigolitch Huun Huur Tu
Show notes for WBUK7 (13/4/11)
1 Intro-mat (1.47) Matchatcha Nyekesse (Melodie)
Welcome back to another edition of WorldBeatUK right here on Rhubarb Radio. My name's Glyn Phillips and for the next two hours I'll be taking you on a musical journey around the oceans of world music.
On the show tonight we're going to be sailing down to Galicia in Northwestern Spain for some fantastic folk-fusion, cruising over to the Caribbean for some reggae and mento from Jamaica and some papiamentu son from Curação, riding the iron horse to hear some gospel from Alabama, and on up to Canada for some afro-jazz fusion and ska, and somewhere along the way we'll be calling in at Brazil, Kenya, Greece and two widely differing parts of Russia (St Petersburg in the Northwest and Siberia in the South East) as well as attending a wild gypsy festival in Southern Serbia. Just don't say I don't ever take you out anywhere…!
First up tonight let's get it on - and get in the mood - with some 'Lovers Rock' from Jamaica's C-Sharp - this is "My Love":
2 My Love (3.35) C-Sharp
Well, ya feelin' all loved-up now? Ready for a change of pace? This is England's current face and voice of young English folk, Seth Lakeman, and the rocking title track off his 2010 album called "Hearts & Minds":
3 Hearts & Minds (3.53) Seth Lakeman
And talking of folk music, last week I played you some glorious folk music from Galicia: the remote, verdant, Celtic region of Spain.
It went down so well that I'm returning there for a number of tracks tonight, kicking off with the first Galician band that really rocked my boat - the multifarious, multi-talented Berrogüetto and a track from their brilliant 2001 "Hepta" album on the Spanish Boa Music label.
This is called GaliATmatiasDOTtacom - or it might even be Galiamatiastacom - difficult to tell! Anyway, wrap yer lug'oles round this!
4 Galiamatiastacom (3.42) Berrogüetto Hepta (Boa Music)
And sticking with Galicia a wonderful band of women called Ialma. In celebration of their 10 year anniversary these five beautiful singers or 'cantareiras' have just released a new album "Simbiose" (which means "Symbiosis") on the De Fol Musica label, which fuses traditional folk with everything from rap to medieval music. This particular funky jazzy song is entitled "6am".
5 6am (3.40) Ialma Simbiose (De Fol Musica)
The Galician language, Galega, is very similar to Portuguese, and Portuguese is also the language of Brazil. Which takes me very nicely onto the next track.
Serjão Loroza is a singer/composer from Rio de Janeiro who is also a comedian, as well as an actor of stage, film and TV. He's well known for his tracks in the ubiquitous Brazilian style of MPB (musica popular brasileira) as well as samba, rap, soul, funk, reggae and beyond.
This laidback tune - with a peculiarly Brazilian reggae undercurrent - is from a live concert by Serjão and his band Us Madureiras and is entitled "A Dois Passos de Paraíso" (Two Steps from Paradise) . . .
6 A Dois Passos do Paraíso (3.44) Serjão Loroza Serjão Loroza & Us Madureira
Last Friday (8th April) was officially the International Day of the Roma and I'd like to give a shout out and a BIG big up to Rhubarb Radio's very own ElliNoire and her Balkanic Eruption night. If you weren't there, you missed another winning combination of gypsy joy and balkan madness.
I'd especially like to mention the Romany Diamonds from Poland, a trio of Roma musicians who mesmerised the audience using just an acoustic guitar, an accordion and the astounding voice of the violinist. He was no mean violinist either, I can tell you! All the more amazing considering they had to follow a very large, amplified Balkan-style wedding band called Aistaguca from Nottingham! So if you get the chance check them out!
OK so that must mean it's now time for some Gypsy music. Parno Grazst are a Hungarian Roma gypsy ensemble founded in 1987. Their name means 'White Horse', whereby white is a symbol of purity and the horse a symbol of freedom. Their debut album "Rávágok a Zongorára" which translates into English as the much-easier-to-say: "Hit The Piano" reached No 7 on the World Music Chart Europe in Oct 2002. This is the title track from that and I'm dedicating it to the lovely ElliNoire whose balkan show you can hear on Rhubarb Radio tomorrow at 1pm. Opre Roma!!
7 Rávágok a Zongorára (2.44) Parno Grazst Rávágok a Zongorára (ie 'Hit The Piano') PPR Records
More Roma madness, this time from Serbia and the wonderful Gypsy Groovz Orchestra led by trumpeter Ekrem Sajdic. They are joined here by no less than 7 other ensembles on a huge jam which was recorded and made into a compelling album. This is the first part ("Djul Zulejha") and the third part (for which I don't have a name) of a 35 minute piece called "Festival Tople Volde" (which translates as 'Hot Water Festival'), recorded last year, I think, at the Guca Festival.
Their management described this recording to me as - and I quote - "made by 75 brass musicians from South of Serbian village Vranjska Banja and 10 nyabinghi rastafarian drummers of freedom who played together on live 35 minutes long song as 1-100 catharsis." Nope, I don't understand what that means either - but who cares, the music's great! The album is on the Network label and is called "Night Train for Lovers and Thieves". The Gypsy Groovz Orchestra Goes Tuttimundi!
8 Festival Tople Volde (Pt 1: Djul Zulejha) (2.10) Gypsy Groovz Orchestra Goes Tuttimundi Night Train for Lovers and Thieves (Network)
- - - CONTINUOUS - - - - - -
9 Festival Tople Volde (Pt 3) (4.06) Gypsy Groovz Orchestra Goes Tuttimundi Night Train for Lovers and Thieves (Network)
Now, the last few weeks I've been trying to balance the music on the show between uptempo and slow, between country and urban, and between dancefloor fillers and those of a more medit-at-ive nature and there's usually one tune every show that demands a certain level of aural attention and openness of mind, yet delivers in turn a special spirituality or transcendency. The next track is one of those. It's a collaboration between the Bulgarian vocal group Angelite, the Moscow Art Trio and the Siberian overtone singers Huun Huur Tu. Recorded at a live concert (always so much better than dead ones, I find!) this track - called "Fly Fly My Sadness" - is 10 minutes and 28 seconds of ethereal sonic beauty . . .
10 Fly Fly My Sadness (10.28) Bulgarian Voices Angelite, Huun Huur Tu & The Moscow Art Trio Gone To The Dogs sampler (Jaro)
Well, that certainly was music for the soul - and this next track is too, although in a more overtly religious sense. From Central Asia and Eastern Europe we're going all the way to the Deep South of America and to the Blind Boys of Alabama.
Formed over 70 years ago in 1939 (yep, that's what I said: 1939) by a group of young men from the Alabama Institute for the Negro Blind, they have consistently poured out heartfelt gospel and RnB songs full of lush harmonies and deep roots, decade after decade. In that time they've won five Grammy's, as well as a Grammy Lifetime Achievement Award and profoundly influenced countless artists from the genres of gospel, blues, rock'n'roll, soul and rock.
This track is a preview taken off their forthcoming album to be released on May the 9th called "Take the High Road". It's on the Saguaro Road Records label and is distributed by Proper Records and it's the first time the Blind Boys have released a traditional country-gospel album.
Co-produced by Jamey Johnson it features guests spots by Willie Nelson, Lee Ann Womack, The Oak Ridge Boys and Hank Williams Jr amongst others. However the track I've chosen features just the Blind Boys themselves, so that you can really hear what all the acclaim is about.
So come on, scrub your neck, comb your hair and put on your Sunday best, boys and girls - let's go to church: "Jesus, Hold My Hand"!
11 Jesus Hold My Hand (4.31) The Blind Boys of Alabama Take The High Road (Saguaro Road/Proper)
- - - CONTINUOUS - - - - - -
12 Nashanga (5.15) Michel Ongaro Senta Lain
- - - CONTINUOUS - - - - - -
13 Intro-Mat (1.47) Matchatcha Nyekesse
You're listening to Rhubarb Radio. I'm Glyn Phillips and this is WorldBeatUK - 2 hours of the best world music coming at you live from the Custard Factory in Digbeth, Birmingham, in the United Kingdom.
Before the jingle break you heard the sounds of The Blind Boys of Alabama with "Jesus Hold My Hand" followed immediately by - coincidentally - another blind musician: multi-instrumentalist Michel Ongaro from Kenya and a track called "Nashanga" from his album "Senta Lain" - which mixes up traditional Kenyan benga music with soukous, gospel and cuban son - and that's on the Dutch label Hippo Records.
If you're wondering what the music is that I use as my theme tune for WorldBeatUK that came after that and you hear at the start of the show, it's called "Intro-Mat" and is by Congolese guitar supremo Diblo Dibala and his band Matchatcha.
Details of all the tracks that I play can be found on my own world music website: www.worldmusic.co.uk - couldn't be simpler! (so go to: www DOT World Music DOT co DOT uk) FORWARD SLASH 'radio' and look for the details there. We usually post them straight after the show - or by the next day at the latest.
OK, let's set sail again and take our imaginary clipper up the Baltic Sea past Estonia and Finland onto Russia where we'll dock in the ancient city of St Petersburg. There we'll find a band called the St Petersburg Ska-Jazz Review playing a South African melody done Russian ska stylee!
If any of you own or once owned a 1962 album called "Swinging Safari" by Bert Kaempfert & his Orchestra then you might well recognise the melody. This is called "Skokiaan"!
(14) Skokiaan (3.23) St Petersburg Ska-Jazz Review Too Good To Be True (Megalith)
Lot of fun, lot of fun, the St Petersbug Ska-Jazz Review and Skokiaan!
Well we might have disembarked from the ship, but it's time now to get on yer bike! Toronto-based Canadian band Mr Something Something are as well known for their methods of powering their shows as for their music. The band have taken the energy-wasteful music industry head on and are seriously trying all kinds of ways to reduce their carbon footprint. And one of those ways is via their Soundcycle system.
Audiences at their shows are asked to personally power the band using 10 special bicycles hooked up to dynamos that can create a current of about 200 watts per bike. The energy is stored in a bank of batteries and used to run the band's equipment during concerts; the audience volunteers each spend about 10-15 minutes on average cycling during a show and it's proved a big hit with them, giving a new outlet for dance floor activism.
And the music? Well it's a sort of loose blend of jazz and afrobeat. Check it out. This is from their last album "Shine Your Face" and it's called "The Antidote".
(15) The Antidote (5.13) Mr Something Something Shine Your Face
When British people think of the Caribbean the default image is usually of Jamaica - or maybe Barbados, Trinidad, St Lucia or any other of the English speaking West Indies.
There are those who might be into latin american music and who will add Spanish speaking islands such as Cuba or Puerto Rico into the equation, or Francophiles who will mention Haiti, Guadeloupe and Martinique to the list.
But how many people are familiar with the Dutch speaking Caribbean? - Oh Yes, it exists! - in particular the islands of Aruba, Bonaire & Curação - or as they are often known: the ABC islands. ABC. Aruba, Bonaire, Curação… Geddit?
The great little Dutch label "Otrabanda Records" have long since sought out and tracked down all manner of artists and musics that deserve better attention and in the weeks to come I hope to play some of their recordings from the Pacific Coast of Colombia as well as vintage afrobeat, afrorock and electric highlife from Ghana.
But today I'm going to play you a piece by one of Curação's most revered musical icons, Mr Oswin Chin Behilia from his album on Otrabanda Records called "Liber".
The music shares many similarities with Cuban son - and there is a vibrant interchange between the ABC islands and their much larger neighbour, Cuba, to the North and with their nearest neighbour, Venezuela, to the South; but you've probably never heard the language before - it is the indigenous creole language of the islands called Papiamentu - a hybrid between Cape Verdean creole, Portuguese, Dutch, Spanish, English, Sephardic Jewish Ladino, Arawak and various African tongues. This track is "Den Bo Kushina".
(16) Den Bo Kushina (3.32) Oswin Chin Behilia Liber (Otrabanda Records)
Staying in the Caribbean and a group I featured two weeks ago this is the fantastic Jolly Boys from Jamaica and another track from last year's "Great Expectation" album on the GeeJam label. The last time I played their version of Amy Winehouse's hit "Rehab"; this time Steely Dan get the jollification treatment.
Some people, like my mate Neil, don't like Steely Dan;
I, however, do - connected forever in my mind as they are to a wonderful summer spent hitch-hiking around Europe and in particular an amazing car journey through Western France on a warm balmy evening rolling along the French highways against a deep peachy-orange sunset and to a soundtrack of East St Louis Toodle-oo, Show Biz Kids, Bad Sneakers, Reelin' In The Years, Bodhisattva and Rikki Don't Lose That Number. Yes, I know, all terribly indulgent - but it's my show and I'll play what I like.
This time The Jolly Boys work their stripped-back mento magic on Steely Dan's "Do It Again" - quite an appropriate title for a band who take their name from a strap-on female pleasuring device . . . (Steely Dan, that is! No, seriously!)
(17) Do It Again (3.21) The Jolly Boys Great Expectation (Gee Jam)

And talking of Doing It Again - here's a track that I'd promised you all last week and had to pull at the last minute. From one of my favourite French producers, mashers and remixers of the moment, this is M'siou Rigolitch and his metal-reggae mash-up of Martinique's Papa Tank and Australia's AC/DC (yep, you heard right!) and a track called "Back In Babylone".
(18) Back in Babylone (4.13) M'siou Rigolitch (AC/DC vs Papa Tank)
- - - CONTINUOUS - - - - - -
(19) Ska Father (1.54) Rudeboy Shut Up and Dance (Socan / Stomp Records)
Yes, yes, yes! That was the sound of Canadian ska band Rudeboy from Ottawa and off their 1998 album "Shut Up and Dance!" - a track I'm sure loads of you recognised as the theme from the Godfather film - that was the "Ska Father".
Here's another upbeat offering - returning to the Galician focus I had earlier on, this is a great number from the Bellón Maceiras Quinteto from their recent album "Folk Fusion" on the De Fol Musica label - called "Licantropia"'.
(20) Licantropia (4.09) Bellón Maceiras Quinteto Folkfusion (De Fol Musica)
- - - CONTINUOUS - - - - - -
(21) Azul Graso (3.53) Berrogüetto Hepta (Boa Music)
And there you had another track from a Galician band I played earlier, Berrogüetto, from their "Hepta" album and a special guest adding a bit of Hungarian groove on the cimbalom, Kalman Balogh, and a fantastic piece called "Azul Graso".
Now here's a piece of folk from the other end of Southern Europe, in this case Greece, as the international mash-up phenomenon that is the Falireas Brothers' band: Imam Baildi take a traditional song by Dimita Galani and give it the cumbia dancehall treatment courtesy of MC Yinka. This is "Ta Hartina" and I defy you not to bounce up and down to this!
(22) Ta Hartina (4.16) Dimitra Galani (Imam Baildi rmx) The Imam Baildi Cookbook (EMI Greece / Sonic Bids)
Coming up towards the end of the show now - just another couple of tracks or so to go!
From the free download compilation album "Azucah Selectah" on the Latino Resiste! label and project, this is a mad piece of latin jungle by DJs Caballo and TMFK, featuring a compelling guajeo and some heavy, heavy, heavy effects!! "Azucah!"
(23) Azucah! (4.12) Caballo & TMFK Azucah Selectah
And if that wasn't enough for you this is another mad drum'n'bass treatment of urban latin funk. Formed for Edinburgh's Hogmanay Festival in 2001 by Colombian singer Martha Acosta & bassist Javier Fioramonti, the band Manteca released this heavenly slice of dancefloor locura off their 2009 album on Freestyle Records called "Planet Latino". Are you ready? "Tremendo Boogaloo"!
(24) Tremendo Boogaloo (4.03) Manteca Planet Latino

1