Mid-May Round-up (Part 1) - Boogaloo, Bombay & Pop
Tagged with: Glyn Phillips blog world music worldmusic.co.uk boogaloo bombay pop surinder sandhu funkawallahs karma machine los fulanos barcelona si esto se acaba lovemonk joe bataan vampisoul Bombay Royale You Me Bullets Love Hope Street Bollywood India Katzenjammer
As this cold, wet, truculent, so-called Spring trundles on towards an uncertain Summer, I'm sitting here staring out of the window at a monochrome grey sky, which has just spat hailstones over my poor flowers, complete with thunderous belches (the sky, not me). Really not the most inspiring of days.
However, I think it's time to try and address some of the almighty backlog of music that endlessly flows down my digital river.
Except of course that now my youngest son wants help with his homework . . . And you wonder why I never write about all the things I ought to. Yes, yes, I'm just coming! Hold on, uncompleted maths homework from the previous weekend to do. SuperDad to the rescue. Kind of. Back in a mo. Or two. Or three.
Right I'm back. Oh, bloody hell, now the missus is calling me for dinner. Yeah, I know, I shouldn't complain, especially when someone else is cooking it for me. I'm not. I love the food. I just wish I had a 30 hour day and a 9 day week, that's all.
OK, it's now 'tomorrow' today, so let's try again. Spent last night at the house of my dear friend and ace producer/musician, Surinder Sandhu editing some Spanish language interviews for use as promos for his new project, the Funkawallahs and the forthcoming album, "Karma Machine". Very exciting indeed - but keeping all that under wraps until it's all ready to go . . .
"Spanish heat, urban cool and Nuyorican sabor"
So, now to all these new albums pouring in.
First up, I'm listening to the sounds of Barcelona's Los Fulanos who deliver a modern take on that 60s hybrid boogaloo.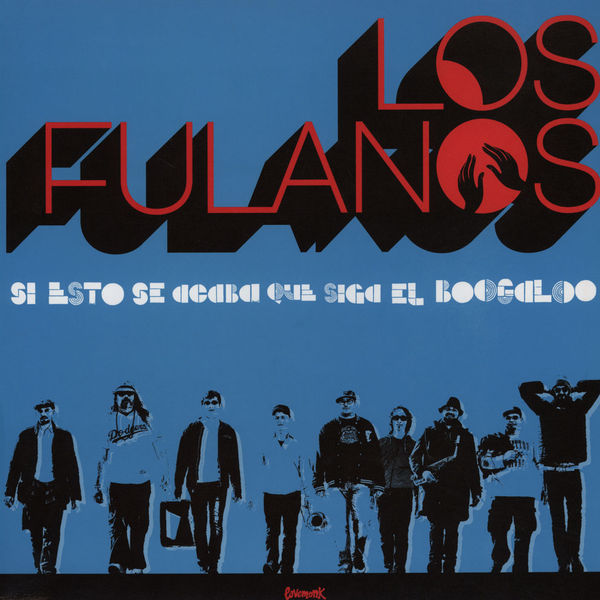 Very tasty indeed, with enough foundations in 60s latin soul groove (a controversial mix itself in its own time!) to be really grounded, some added retro-psychedelia, Spanish heat, urban cool and Nuyorican sabor and all marinated in a rhythm'n'blues salsa.
It might look backwards for inspiration but it all works very well in today's world. Sweet as a nut!
This debut album is entitled "Si Esto Se Acaba Que Siga El Boogaloo" ('If All This Ends, Keep On With The Boogaloo') and it's on the Lovemonk label (LMNK46).
There are 10 tracks (and a prelude) and it's sung in a mixture of English and Spanish with bags of energy and credibility and what I can only describe as a very authentic 'American sound' - especially the horns. Very infectious album indeed.
"great ideas ... well-produced album, all executed with ... clear vision and a big dollop of gusto!"
Mixed in with the boogaloo and disco, there are also plenty of other genres represented. For instance, there is some great rumba and explosive 70s style funk on "El Que No Está Se Lo Pierde" (Parts 1 & 2 respectively), "Sobran Cuero" is a very danceable salsa whilst "Manny" leans more towards rhythm and blues.
There's also a jazzy New Orleans vibe on "Kind of Guy", groovy proto-rock on the New Order tune "Blue Monday","Hold On (Baby Hold Me)" is a bolero underpinned with wonderfully cheesy organ, and we get a nice jazzy montuno on "The End of the World", to name but a few.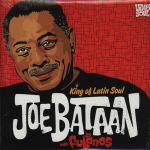 There are lots of great ideas in this well-produced album, and all executed with slick musicianship, clear vision and a big dollop of gusto! The producer is Miguelito Superstar (from Fundación Tony Manero)
I first came across Los Fulanos a few years back when they recorded an album "King of Latin Soul" on the Vampisoul label) with the Latin Soul legend, Joe Bataan ("Subway Joe", "Ordinary Guy", "There's a Riot Going On", "Gipsy Woman", etc) and loved how they'd tastefully updated what I had always considered were anthems so classic that to mess with them would be foolish. So, respect where it's due!
Next up is the Australian band The Bombay Royale from Melbourne, who specialise in bringing to life - and to the live stage - versions of many of the classics of India's Bollywood film industry.
The album's called "You Me Bullets Love" (on Hope Street Recordings), and is a 10 track CD/DL/Vinyl that showcases old songs such as the 1965 chestnut "Jaan Pehechan Ho" (from the film "Gumnaam") as well as entirely new pieces 'in the style of'.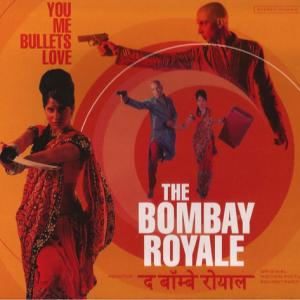 The 'golden years' for Bollywood films are often cited as the 60s and 70s and The Bombay Royale mix these old songs in Hindi and Bengali with newer material they have written themselves (and including some English lyrics) inspired by these classic masterpieces.
In fact "You Me Bullets Love" features eight original numbers and two re-workings of almost forgotten Bollywood production numbers (the other is "Sote Sote Adhi Raat").
"heavy retro vibe ... that - bizarrely - makes it sound very fresh and bang-up-to-date!"
There's a heavy retro vibe to the album that - bizarrely - makes it sound very fresh and bang-up-to-date! (obviously some weird tear in the time-space fabric…).
For instance the opening track "Monkey Fight Snake" features massed brass, swirling organs, siren-like vocals and sarangi in the background, sub-Spaghetti Western blaring trumpet (Spaghetti Eastern anyone?) and wouldn't sound out of place in some kind of drug-induced, trippy dream-sequence scene from The Avengers (the 1960s British series with the bowler-hatted, brolly-wielding Steed, not the Hollywood Marvel heroes one!).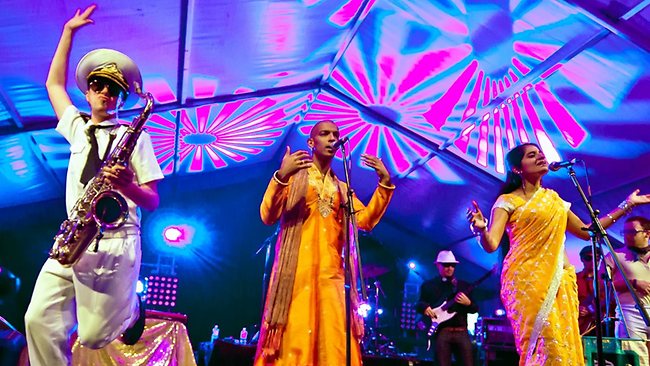 Conversely the title track is drenched in surf music, sort of 'Tarantino goes to Mumbai' (or is it India comes to South Melbourne Beach?).
At times the whole album sounds as if someone's taken a giant cocktail shaker and thrown in some vintage 50s, 60s and 70s Bombay kitsch, a shot of James Bond, a gaggle of Go-Go girls, two slices of Eddie Cochran and Gene Vincent, a pinch of Massive Attack, the serried ranks of saxophones, trumpets and trombones, a veritable forest of violins and yards and yards of orange, pink and turquoise silk, and then recorded the whole lot via the audio-equivalent of a Kodak Instamatic shot through a Dub filter. Someone with more knowledge of Hindi music would probably be able to pick up on the Bollywood strands better than me, but that's about as near as I can get to it at the moment!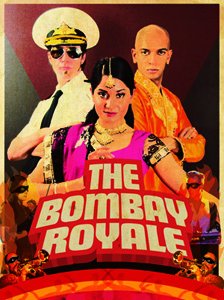 The Australian papers have described it as being "where A R Rahman and Ennio Morricone converge, where Slumdog Millionaire meets Goldfinger head on, with Quentin Tarantino and Indiana Jones lurking in the corner".
Now, what's really weird is that description has some parallels with my preceding paragraph; weird because I deliberately make a point of NOT reading Press Releases or other people's reviews until after I've written my own - so as not to be influenced by anyone else in the initial stage . . .
I just happened to consult the band's Press Release to check the singers names and spotted the above quote.
Well, I must be doing something right! Ha ha! Just noticed they also use the words 'surf' and 'spaghetti' too in another part of it. As I always say: 'Mate Grinds Link Athike'…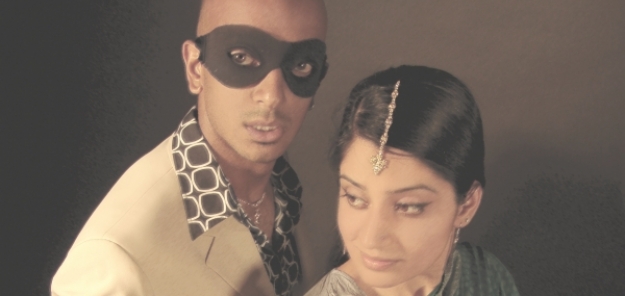 Incidentally the vocalists are Parvyn Kaur Singh and Shourov Bhattacharya. The MD is Andy Williamson.
It's a really fun album. A lot of it is, I'm sure, very tongue-in-cheek, but then again so is much of Bollywood, and it plays with all those elements of East meets West meets East again (and in the case of Australia, South).
So, if you like Bollywood music, or surf music, or the 60s, or trippy music, or just have a predeliction for multicoloured kitsch and musical cheese to let your hair down to and shake your thang, then book yourself a night at The Bombay Royale.
The album was released this week and the website link for The Bombay Royale is:
There's also a groovy video of the title track here:
"highly polished album"
As a real contrast comes the all-girl outfit, Katzenjammer from Norway and their highly polished album "A Kiss Before You Go" (Propellor Recordings - released May 2012).
The whole album is sung in English and comes across as an uplifting blend of pop, folk, acoustic, country, bluegrass and rhythm'n'blues, a sprinkle of balladry, whimsy, acapella and rock, and all laced through with a healthy dose of idiosyncratic eccentricity and sonic cabaret theatricality.
"enough singalong lyrics to keep you going all through the summer"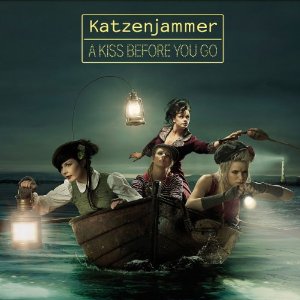 However, it is also all bound together with very credible pop production values, accessible melodies and enough singalong lyrics to keep you going all through this summer's festival season (especially the tracks "Rock-Paper-Scissors" and "I Will Dance When I Walk Away").
I must admit, I was slightly dubious as to whether or not I'd like Katzenjammer at first, since their music is far more 'poppy' than I'm used to writing about or even listening to, but a bit of suspended disbelief paid dividends and I'm now quite happy to recommend them.
Formidable ladies, these Katz . . . !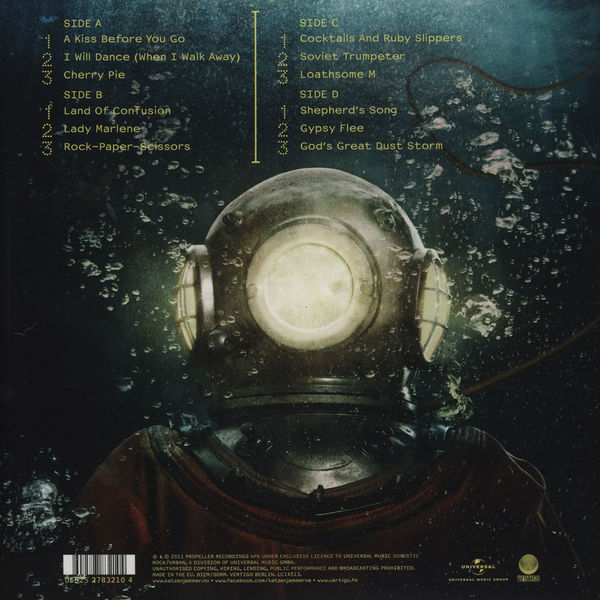 Here's a link to their website and other contact points:
www.facebook.com/katzenjammerne //
and also to some YouTube Videos:
www.youtube.com/watch?v=WqmbqnjbLc
www.youtube.com/watch?v=YZEDMIZZSug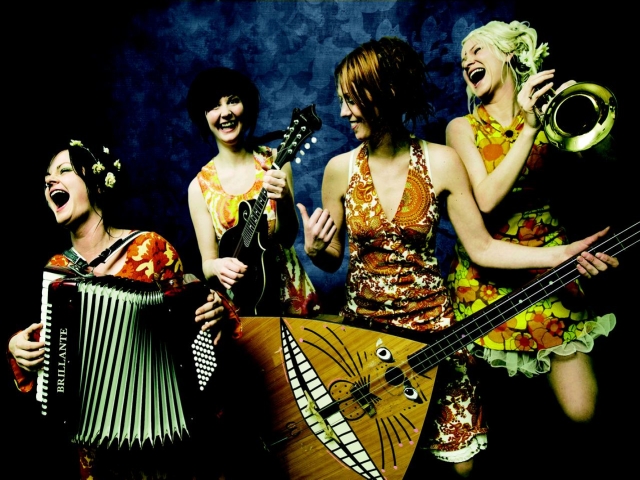 Katzenjammer are touring the UK this month:
Thu 17th BRISTOL, Academy 2
Fri 18th MANCHESTER, Academy 3
Sat 19th GLASGOW, King Tuts
Sun 20th BIRMINGHAM, Academy 2
Tue 22nd BRIGHTON, Concorde 2
Wed 23rd LONDON, XOYO
See the RPS video here: www.youtube.com/watch?v=WqmbqnjbLco
Host RPS here: www.soundcloud.com/yourfriendbam/katzenjammer-rock-paper
and don't forget you can get a Free Download of "Cherry Pie" here:
www.facebook.com/katzenjammerne/app_113345305387225
So there you go - three albums down and only *mumble, mumble, mutter, mutter* to go (I've even taken my shoes and socks off and have still run out of toes to count on).
I'll sign off this blog here and carry on soon. Off to yet another rehearsal with yet another band (sweet reggae, soul and nyabinghi behind some very conscious lyrics). Time to make some music myself now!
Glyn Phillips (WorldMusic.co.uk)
(16/5/12)
WorldBeatUK (8th Show) - Broadcast Notes (20/4/11)
Tagged with: WorldBeatUK Glyn Phillips Rhubarb Renato Martins Ialma Imam Baildi marco Andre Fandango Duende Taraf Echocentrics Dub Colossus Surinder Sandhu Appietus Mangwana Stars Grupo Socavon Ophex Manteca Real World Otrabanda Ubiquity Boris Gaquere Salah Ragab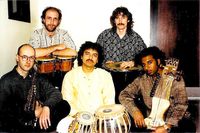 Show notes for WBUK8 (20/4/11)
1 "Intro-mat" (1.47) Matchatcha "Nyekesse" (Melodie)
Hi and welcome to another WorldBeatUK, with me Glyn Phillips and 2 hours of the best world music from around the planet. Coming up on the show tonight a very special guest from Brazil, music from Lithuania, Chile, Colombia, Ghana, Ethiopia, Mexico, Brazil, Greece, and even Birmingham! First up though ever wondered what it would be like to Dance like a Galician?
2 "Dance Like a Galician" (3:13) Ialma "Simbiose" (Do Fol Musica/Boa)
That was the Galican female quintet Ialma from their new album Simbiose on the Do Fol Musica/Boa label and the track of course was their reworking of the Bangles's "Walk Like an Egyptian". So how would a self-confident resident of Cairo walk? I think he'd follow Salah Ragab's example and do the "Egypt Strut" of course . . .
3 "Egypt Strut" (3:57) Salah Ragab "The Imam Baildi Cookbook" (EMI Greece)
(Imam Baildi Remix feat. BnC & Lady Faye)
- - - CONTINUOUS - - -
4 "Pequeno Dicionario do Amor" (3:55) Marco André "Beat iú"
That last track was by Amazonian musician, Marco André off his wonderful 2007 album, "Beat iú" and was called "Pequeno Dicionario do Amor" (Small Dictionary of Love). As you might have guessed that was a Brazilian piece, which provides a nice intro to my special guest in the studio this evening. From Sao Paulo, Brasil, the brilliant percussionist and composer, Mr Renato Martins!
Hi Renato, Tudo Bem? I'm very glad you could fit a visit in to "WorldBeatUK" here at Rhubarb Radio on your trip to the UK.
§§§ (Renato answers here - but I don't have the transcripts)
Now, I'd better explain that I first met Renato many, many years ago in the early 1990s right here in Birmingham. So, Renatinho, can you explain to the listeners how it was you came to leave Brazil and what brought you to the UK and to Birmingham in particular?
§§§
Can you say a little of what you found musically here in Birmingham and also what bands and musicians you worked with here?
§§§
[Mention that we used to play together in the Sabri Ensemble with Sarwar Sabri (tabla), Chris Conway (Keys), Martin Speake (Sax) and later on Birmingham's own Alvin Davis (on soprano sax), myself Glyn Phillips on percussion and Renato Martins on percussion too and Surinder Sandhu on sarangi (who I'll be coming back to later on in the show).]
§§§
How long did you stay in Birmingham and where did you go afterwards?
§§§
This is probably a good point now to play some of your music. You've brought a couple of your albums along and some of your fantastic udu pots which I'm hoping you'll play live later on in the show. So what track are we going to go with first?
§§§
5 "Indiaiá" by Renato Martins from the album "Indiaiá"

You're listening to WorldBeatUK with me, Glyn Phillips, bringing you 2 hours of the best world music from around the globe, right here on Rhubarb Radio coming from Birmingham UK.
Now then, Renato, can you tell me what you've been up to since you ended up living in Belgium. In fact first can you tell me what took you to Brussels and what has happened to you since.
§§§
OK so let's hear something from your more recent output. Tell me about this track:
§§§
6 "Fala Seu Luis" by Renato Martins
I'm going to return to Renato later on in the show and we should be hearing him perform for us live on air using his Udu pots which I'm very excited about.
But first I'm going to share some more great cds with you and this next piece is by a Mexican/Arab/Spanish quartet called "Fandango, Duende y Taraf" from their 2005 album, "Las Tres Orillas del Atlántico" (The Three Shores of the Atlantic), on the Mexican Alebrije label.
The band's aim is to explore the interplay between three different but interrelated musical cultures: the Fandango of the Son Jarocho tradition of Veracruz in Mexico, the duende (or mystical spirit) of the Andalusian flamenco tradition of Southern Spain and the 'taraf' which comes from the North African Arab Al'Andaluz tradition. This is a beautiful track and it's named after one of the great cities of Andalucia: "Granada"
7 Granada (6:40) Fandango, Duende y Taraf Les Tres Orillas del Atlántico (Alebrije)
Yeah, that was the group Fandango, Duende y Taraf and a track called "Granada" featuring Abdelm'jid Moutana on Moroccan oud or lute, Angel Chacón on Spanish Guitar, Vihuela (a form of lute-like guitar played in Spain with 12 paired strings) and the Jarana Jarocha (an 8 string instrument typical of the Vera Cruz region of Southern Mexico), Armando Montiel on Percussion and J. Cristóbal Pérez Grobet on double and electric bass. If you can find their music please check them out - they're certainly on YouTube.
[Speak to Renato again. Introduce next track ("Pixaim") by Renato Martins and his Belgian collaborator Boris Gaquere].
8 "Pixaim" by Renato Martins/Boris Gaquere Duo
This next track is off a brand new album on the American Ubiquity label called "Sunshadows". The band is the Echocentrics and is based around the work of producer Adrian Quesada of Brownout fame. It's a good representation of the increasingly common form of world music that utilises a melting pot of influences to create something almost indefinable. The album's blurb states that it's for fans of Quantic & his Combo Barbaro, Karen Elson, Charlotte Gainsbourg, Bonobo, Ennio Morricone, Thievery Corp, David Axelrod and Shawn Lee (who I featured on the show a few weeks ago). If that isn't a cultural mashup I don't know what is.
This track has more of a latin funk meets afrobeat meets Brazilian folk vibe to it and features the vocal talents of Tita Lima the daughter of Liminha, the bass player for Os Mutantes. The album was released last week and this track is entitled "Mundo Penqueno" or Small World:
9 Mundo Pequeno (4:11) Echocentrics Sunshadows (Ubiquity)

Now, then a few weeks ago as a special preview, I played you a wonderful re-working of Althea and Donna's tune "Uptown Top Ranking" by the Anglo-Ethiopian band "Dub Colossus", from the upcoming album "Addis Through the Looking Glass" (a follow-on from their debut album "A Town Called Addis").
The new album is due out next week on the 25th April on the Real World Records label and is very much a mixture of styles and musicians, all beautifully recorded I might add. It goes from atmospheric jazz-dub instrumentals to breathy love songs and earthy traditional pieces along with jazz, funk, brass band and of course reggae. It's all produced by Nick Page better known as Dubulah from Transglobal Underground and features a veritable slew of contemporary Ethiopian talent.
I'm going to play you the track "Guragigna" which features Sintayehu "Mimi" Zenebe on lead vocals and is described in the liner notes as a ferociously funky Ethiopian song that sounds "like a blue taxi going at full speed with no brakes during rush hour in Addis Ababa". Oh, well, wish me luck: Taxi!!
10 Guragigna (5:15) Dub Colossus Addis Through The Looking Glass (Real World Records)
Dub Colossus will be bringing an expanded 12 piece band to tour the UK this summer and are already booked to play the Womad festival at Charlton Park in late July.
Ok back to our special guest tonight on WorldBeatUK, world renowned Brazilian percussionist, Renato Martins, originally from São Paulo, but now a resident of Brussels (via Birmingham of course!).
We're going to do a little live feature now utilising just Renato and a beautiful and intriguing percussion instrument and I'm going to ask Renato to describe it:
§§§ [Renato talks about the Udu Pot (or 'moringa' in Portuguese)]
What are you going to play Renato? OK, the mic's all yours:
§§§
11 Sampraladebão (percussion piece performed live in studio on Udu pot by Renato Martins)
[His sponsorship by Latin Percussion, any plugs he wants to do, etc, reminder that we'll be round the corner at the Old Crown at Digbeth after the show.]
[Feed into the connection with Surinder]:
Earlier on I mentioned that Renato and I used to perform together. In that same band almost 20 years ago was one Surinder Sandhu, originally from Wolverhampton and now an internationally renowned composer, bandleader, producer and musician in his own right, with three highly acclaimed albums under his belt and a new one almost finished which I shall certainly feature when it's out later this year which is from his new Funkawallahs project, which aims to fuse the ethos, energy and fun of the great funk bands of old (such as Earth, Wind & Fire, Parliament and James Brown) with the global palette of cultures and sounds that shows such as this one revel in. I'm very excited about the project - particularly because I'm on the album and in the band!
In the meantime however I'd like to play a more meditative piece from his last album "The Fictionist" on the Saurang label and this is called "To You (A Mother's Love)"
12 To You (A Mother's Love) - Surinder Sandhu from the album "The Fictionist"
[Shout outs to people - reminder of who they're listening to - any more speech from Renato]
Ok let's pick the tempo and the energy up a bit now and this is a track from the recent album: "Chop Our Music - Akwaaba 2 year Anniversary Super Release!" on the Akwaaba label and is a number to really shake yer bits along to. This is "Sala" by the band Appietus featuring D-Flex, Screw-Face & Mohamed.
13 Sala - (5:14) - Appietus - "Chop Our Music - Akwaaba 2 year Anniversary Super Release!" (Akwaaba Music)
Staying with the Dutch label connection, last week I played you a piece of music from the so-called Dutch speaking Caribbean in the ABC islands of Aruba, Bonaire and Curação off the coast of Venezuela - a piece of papiamentu son from Oswin Chin Behilia. Well, his label, Otrabanda Records, based in the Netherlands has a wealth of little known stars and styles in its archives.
This next track is off a terrific 2007 album called "Bokoor Beats - Vintage Afro-beat, Afro-rock and electric Highlife from Ghana" from the archives of musician and studio engineer John Collins who during the 1970s recorded and played with countless great Ghanaian bands. This track I adore and is called "Atiadele" by the Mangwana Stars. It's a total groove, music lovers!
14 Atiadele (7:12) Mangwana Stars Bokoor Beats
Now don't say that that didn't get you grooving!! Now, same label, Otrabanda Records, different album; this is the sound of Colombia's Pacific coast, the sound of the marimba - utterly, utterly compelling! The album's called "Pacifico Colombiano", the band's called Grupo Socavon and the track is called "Homenaje a Justino".
15 Homenaje A Justino (5:32) Grupo Socavon Pacífico Colombiano

16 Danca da Lituania (2:35) Ophex

Ok, you just heard the sound of some Lithuanian samba and folk music given the Baile Funk treatment by DJ Ophex - just going to prove that almost everything is musical grist to the producer's mill these days!
Thanks to special guest, Renato Martins, and remember: details to all the music I play can be found on the website: www.worldmusic.co.uk/radio; thanks to all who listened in and especially those who commented.
Don't forget the special Rhubarb Radio Presents open day event at the Hare and Hounds Kings Heath , Birmingham, THIS Sunday 24th April - upstairs in the big room - come and find out about us, and how you can be involved in Rhubarb, meet the presenters, see live bands, and watch us actually broadcasting live from the event. Midday to almost midnight - come along, I'll be there and will be doing a special one hour WorldBeatUK live from the Hare & Hounds - loads of good stuff, check it out on Facebook.
Otherwise tune in next week, Wed 27th April (7pm - 9pm) and meet me here when I'll be clipping yer tickets for another 2 hour journey around the world! All aboard!
Going to leave you with some UK latino drum bass madness now. Formed for Edinburgh's Hogmanay Festival in 2001 by Colombian singer Martha Acosta & bassist Javier Fioramonti, the band Manteca released this heavenly slice of dancefloor locura from their 2009 album on Freestyle Records called "Planet Latino". Are you ready? "Tremendo Boogaloo"
16 "Tremendo Boogaloo" (4:03) by Manteca from the album "Planet Latino"
1